How a dog named Boom is helping us learn more about the lives of service animals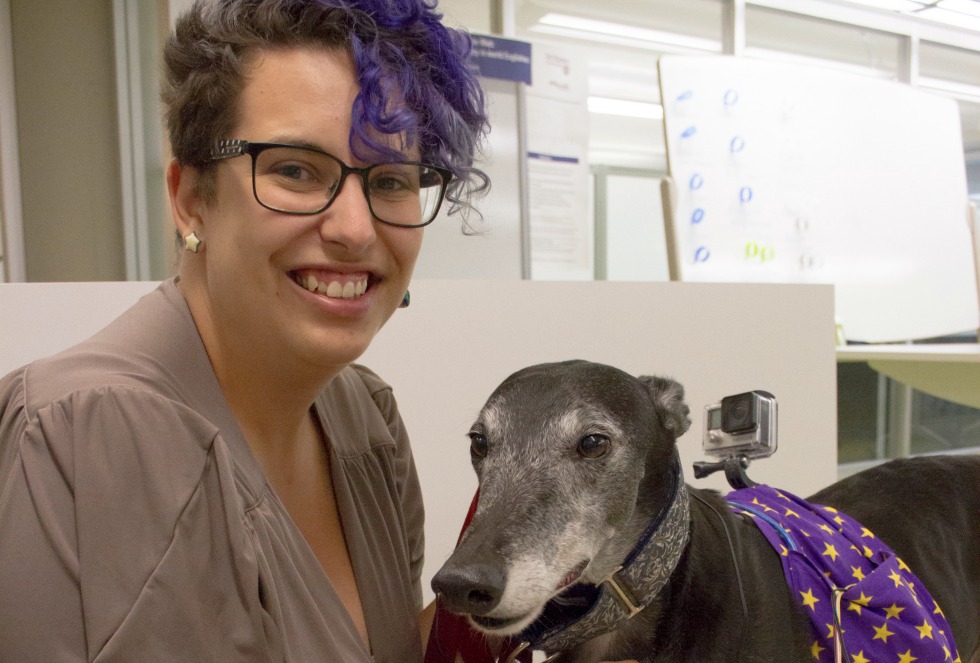 With the help of the Lewis and Ruth Sherman Centre for Digital Scholarship, PhD student Melissa Marie (emmy) Legge, pictured here with therapy dog Boom, has built an electronic sensor package to help better understand the experiences of therapy dogs.
---
BY Erica Balch
November 7, 2016
When Melissa Marie (emmy) Legge first started as a graduate fellow in the Lewis and Ruth Sherman Centre for Digital Scholarship* a little over a year ago, the PhD candidate in Social Work had no idea how a computer processor works, let alone how to program one.
Now, with help from the Sherman Centre, Legge has not only learned electronics and coding skills, but has used those skills to build a specialized sensor package, which has become a key part of Legge's dissertation research.
"In Social Work we don't really work with technology but there's so much potential, especially in research," says Legge who will use the sensor to gather data aimed at better understanding the experiences of therapy animals while they're working.
Legge recently came to the Sherman Centre, located in Mills Library,  to talk to the Daily News about this research and to demonstrate how the sensor works:
Tell me about your dissertation research
I grew up as an animal activist. I had always had pets and worked with animals and so I was really excited about the increasing popularity of that kind of social work, but once I got involved in it myself, I found that it was more complicated than I thought. Just because a dog is suited for therapy work, it doesn't mean they'll be comfortable in every environment– every dog is different.
I wanted to get an idea of what it's like for the animals that do all this work for us. What do they see, or hear while they're working? I wanted to find ways to collect both qualitative and quantitative date about the animal's experience– hopefully the sensor will paint a picture of what the animal is experiencing.
What does the sensor package do?
I built the package using an Arduino – a little computer that you program and give instructions. It has a number of sensors plugged in. My package measures things like heart rate and breathing rates. But I also wanted to get more nuanced data, so there's a sensor that measures the volume levels of the (ambient) noise, and a video camera mounted on a go-pro harness, which is great because you can see where the animal is looking, and because the animal's head is in the shot, you can see whether their ears go up and down.
I'm also hoping to put a sensor on the tail because when dogs are happy they really express that physically.
You don't have a technical background – how did you learn these skills?
I had never done anything like this – literally zero – before my fellowship. I had done basic programming in high school which is pretty obsolete now, but that was it.
I worked at the Sherman Centre and a makerspace in Toronto and I asked a lot of questions. I found that the first steps were the hardest in the learning process, but once I got going I found there were lots of resources available. People here in the Sherman Centre provided me with support, education and space to work. It's so valuable to have a space where you can sit and make a mess and, if you get totally stuck, have people around to help. So many people here have a wealth of knowledge.
Anything you want to add?
I feel in so many ways that I didn't understand what could be done in research with digital technologies before I started working in the Sherman Centre–I think not everyone in every discipline knows what's out there. It's been really exciting– I have more enthusiasm for research now after having been here for a year, it's such a valuable resource.
* The Sherman Centre, which is a part of McMaster University Library, provides consulting and technical support to faculty and graduate students with all levels of technological experience. The Sherman Centre consults on any stage or aspect of a digital scholarship or pedagogical project to help determine the digital tools, techniques and methods that best suit the project whether big or small.