How grassroots groups increased vaccine confidence in South Asian communities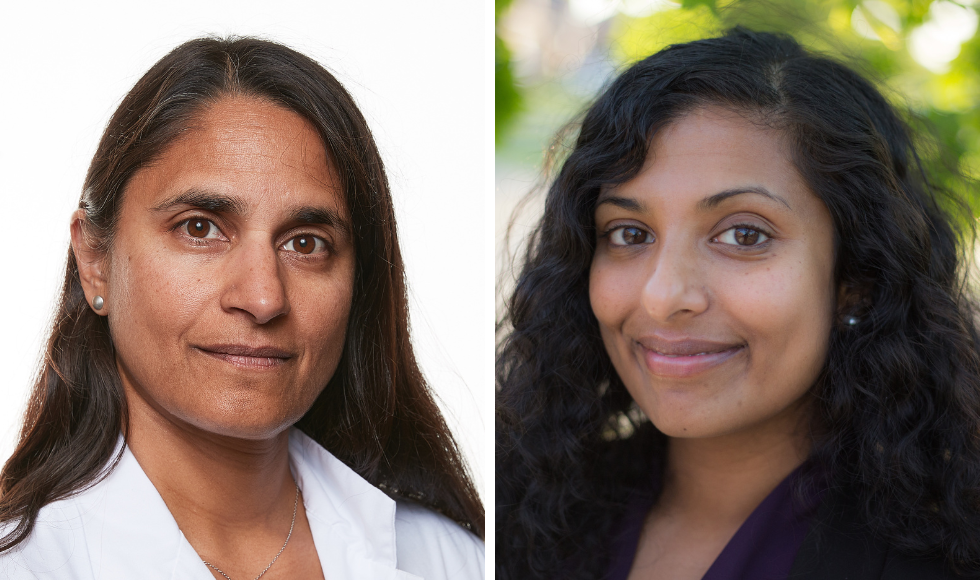 South Asian communities in Canada were hit hard during the early days of the pandemic, but local community groups helped increase vaccination rates in later waves, research by Sonia Anand, left, and Sujane Kandasamy shows.
---
BY Beth Gallagher, the Global Nexus School for Pandemic Prevention and Response
September 15, 2023
Grassroots advocacy and partnerships with local community groups drove an increase in vaccine confidence and access in South Asian communities, some of the worst affected in the early days of the pandemic, a McMaster study finds.
"Being aware of the grassroots organizations and key trusted partners in a community, and having these partnerships in place, ready to move quickly, is key to pandemic preparedness," says Sonia Anand, a professor of medicine and lead researcher of the COVID CommUNITY – South Asian research program.
Community organizations helped public health officials increase vaccine access and confidence while developing health messages that considered the different languages and cultures of new immigrants, researchers noted.
The research team interviewed community members, advocacy group leaders and public health staff in the Greater Toronto, Hamilton and Vancouver areas, home to the largest South Asian communities in Canada.
Effective partnerships among physicians, public health and community organizations proved invaluable when the pandemic hit, Anand notes.
Her research team was able to pivot and assess the impact of COVID-19 South Asian community members because of pre-existing research partnerships focused on Type 2 diabetes prevention and cardiovascular health in the Peel Region.
As well, Peel's medical officer of health at the time, Lawrence Loh, recognized the vulnerability of new immigrants working as essential and health-care workers, often in multigenerational homes.
"South Asian health focused groups had trusting partnerships with the South Asian community, and Dr. Loh was very quick to extend these partnerships and provide supplies that allowed them to open testing centres in banquet halls where South Asians are used to coming for weddings and other gatherings," Anand notes.
Lost in translation: Public health messaging
Punjabi-speaking physicians, like McMaster professor and emergency physician Raj Grewal, were important communicators and connectors, she says.
"He and some other family doctors set up the testing centre at the Embassy Grand Hotel in Brampton and had materials presented in South Asian languages," Anand says.
"Physicians from the South Asian community who got involved at the ground level deserve a lot of credit."
Anand and most of the McMaster researchers involved in the recent study are of South Asian ancestry.
Language and culture matching between health-care workers, researchers and community members builds trust, while poorly translated health messaging erodes it, agrees Sujane Kandasamy, lead investigator of the qualitative study.
Study participants concur. "When you see someone who looks like you and speaks like you, you will listen," one participant said.
Another participant said: "We were always chasing information. And what I mean is that when information was coming up from authorities, whether it's the government or from the health authority, it was always coming out in English … things get lost in translation, the meaning can get altered."
Meet people where they're at
"Meeting people where they're at, with language and trust, is key," says Anand, pointing to the work of physician Sabina Vohra-Miller as another example of that.
Vohra-Miller, who led the South Asian Health Network, worked tirelessly to hold South Asian-specific webinars, and produced infographics tailored to the South Asian community throughout the pandemic, Anand says.
Information and misinformation about COVID-19 was frequently shared through WhatsApp, the recent COVID CommUNITY paper showed, with South Asian families often deeply connected to the news of what was going on in their home country. Older adults were more likely to use ethnic media and traditional media.
The Global Health Equity Symposium
Kandasamy will present the findings at the Andrea Baumann Health Equity Symposium to be held at McMaster on Oct. 30. Experts will speak about health equity in the COVID-19 pandemic.
Beyond connections to community groups, seeking out partnerships with professional communicators and digital creators can help build trust, Kandasamy says.
She worked with digital content specialists to develop a media toolkit of COVID-19 information that can easily be shared on WhatsApp. Students and trainees are also involved in social media efforts to further amplify key messages.
Grassroots community groups, physicians, health-care workers and researchers who had close ties to the South Asian communities acted as important voices for lower income, essential workers who were marginalized due to poor access to healthcare and language barriers, Anand says.
"If these communities were white, wealthy and living in high income postal codes in Toronto, they would not have had the problems they had."
The Covid CommUNITY program is extending its research into Hamilton's Riverdale West neighbourhood, where more than 30 languages are spoken, and more than half of the residents are born outside of Canada.