How McMaster engineers are paving the way for new standards for medical masks in Canada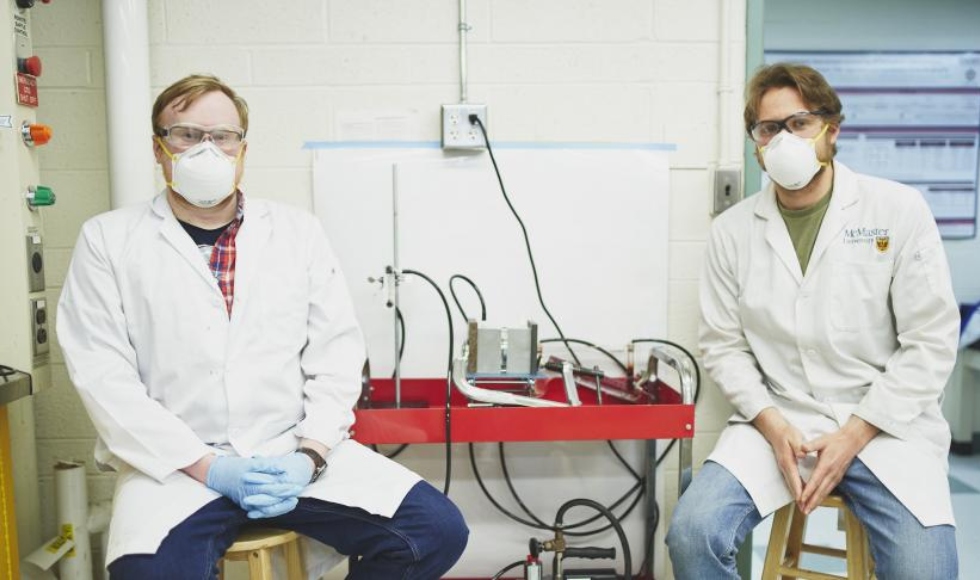 Ryan LaRue and Patrick Morkus, PhD students in chemical engineering, are part of a team testing how breathable different surgical masks are. Photo by Jin Lee
---
BY Jessie Park, Faculty of Engineering
May 12, 2020
Researchers at McMaster Engineering are rigorously testing surgical and N95 mask designs in innovative ways.
Since mid-March, an ambitious group of 68 engineers and students – and the number is growing all the time – have been working around the clock to help bring more protective gear to the public, including masks.
Their work has largely been behind the scenes — in labs and on virtual calls — testing mask prototypes made by industry partners, re-testing them, and refining the technology needed to establish new Canadian testing guidelines for medical masks.
"It didn't take us very long before realizing that much of the raw materials, testing and certification for masks has been done outside of Canada for a long time," says John Preston, associate dean of research and external relations in the faculty of engineering.
Their mission became clear: efficiently test and validate masks for immediate use, then look ahead to advise on a much-needed standard for testing and certifying masks in Canada. Their goals are to equip the public with more protective masks, and ultimately create better masks for the next generation.
"Lots of companies are coming out with their own mask prototypes, and we're building devices that can evaluate how effective these masks are," says Charles de Lannoy, an assistant professor of chemical engineering, who is working alongside his students Amin Halali and Scott Laengart.
Five lab groups in the Faculty of Engineering are now developing technology to move the needle toward this goal. They're led by Ravi Selvaganapathy, professor of mechanical and biomedical engineering; Suvojit Ghosh, managing director of the Computing Infrastructure Research Centre (CIRC) at McMaster Innovation Park; David Latulippe, associate professor of chemical engineering; Zeinab Hosseini-Doust, assistant professor of chemical engineering; and de Lannoy, along with a team of students.
"We want to work with the manufacturers who are interested in pursuing a high-quality product, and help them to get as far as they can, as fast as they can. And there's lots of them," says Preston.
"We recognize there's going to be a need for protective gear for a long time."
When a manufacturing company reaches out to the McMaster team with a mask prototype, it's swiftly put through a battery of tests.
First, they get feedback on the mask's comfort from Dr. Alison Fox-Robichaud, clinician-researcher in McMaster's department of medicine and staff physician at Hamilton Health Sciences (HHS). Dr. Fox-Robichaud and Bryan Herechuk, manager of quality and value improvement at HHS, have been key to providing the team with feedback and guidance, says Preston.
Latulippe and his PhD students, Patrick Morkus and Ryan LaRue, will then test how breathable the mask fabric is using a "pressure drop" test. If the device has a high pressure drop, it means it would be more difficult to breathe through the mask.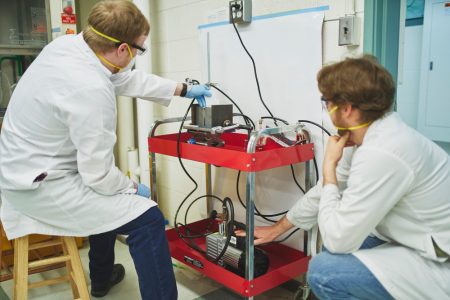 Next, it will go through a system that tests how well a mask prevents tiny latex particles in aerosols – about 100 nanometres in size – from going through the mask.
Aerosols, or tiny solid/liquid particulates suspended in air, are a vehicle for carrying viruses, and the device in de Lannoy's lab uses a special nebulizer to blast the aerosol toward a mask. The particles on the other side of the mask are then analyzed. This system, still under development but with promising early test results, is expected to be up and running soon.
"The challenge is striking the right balance between good breathability that also filters out aerosol particles," says Latulippe.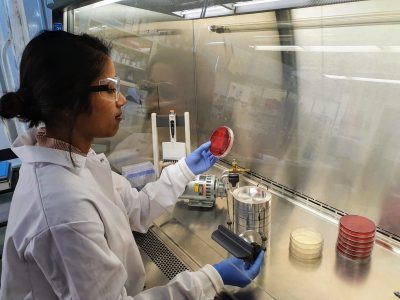 In Hosseini-Doust's lab, the masks are then sprayed with an aerosol containing bacteria or non-harmful viruses to test how the mask blocks them. She says the plan is to eventually use this testing method with coronaviruses in a Level 3 lab.
The team is working closely with Myrna Dolovich, director of St. Joseph's Hospital's aerosol lab and a professor of medicine in McMaster's department of medicine, to better understand the ideal testing setups for studying aerosols.
Latulippe says there's been an "incredible team effort" behind the projects, within the university, with healthcare partners and industry.
Industry collaborators lend a hand
Mississauga-based company Cambridge Materials Testing is helping the researchers perform tests to see how splatters of blood spread across the mask material. They have tested about a dozen masks so far, says Latulippe.
Kinectrics in Etobicoke and APC Filtration in Brantford are also helping to perform tests with aerosol particles, and the early results from the companies will be used in the team's growing database .
"Now we're in the rapid-testing phase to generate as much data for various masks as possible. After many tweaks and calibrations, our tests are producing very reproducible results," says de Lannoy.
Preston says the team's approaching a successful Level 1 surgical mask, with the goal to validate Level 2 and 3 surgical masks and N95 respirators – the "gold standard."
While the team's goal is not to become a certified testing lab for masks, they're working to pave the way for Canada to be able to perform such testing independently.
"It's a unique experience and things are changing by the hour," says Hosseini-Doust. "We're trying to hit a running target."
The McMaster team is also making its own masks, testing different materials from suppliers across Canada and seeing which combinations are most effective.
"We need to be looking ahead and pushing mask technology to get better, and better," says Latulippe, noting that the N95 respirator technology was developed in the 90's.
"If you saw a healthcare worker 10 years from now, what does their PPE look like compared to what it is now? I would hope it's not the same."
Sustainability is top of mind for the team as they look to a new mask prototype that can filter viruses, potentially self-clean, or at least be able to withstand sterilization treatments for safe, multiple uses. This will  continue to be a priority project for the summer, de Lannoy says.
They're also in contact with Health Canada and the Canadian Standards Association to start a conversation around making virus testing mandatory for medical masks.
"We want the masks to be a barrier against viruses, but unlike the mandated bacteria filtration tests, virus filtration testing is not actually a regulatory requirement," says Hosseini-Doust. "Maybe it's time to set up a Canadian standard that takes viruses into account, and hopefully our data can support that."