How McMaster's inhaled COVID-19 vaccines would work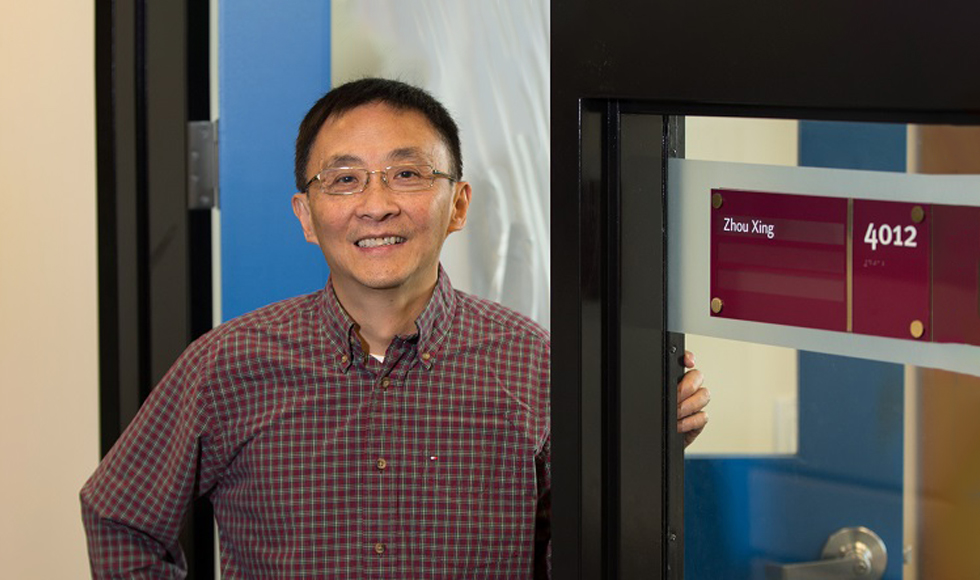 Immunologist Zhou Xing explains how he, along with a large team of colleagues quickly mobilized 20 years of vaccine research to rapidly develop and test two new second-generation COVID-19 vaccine candidates. (Faculty of Health Sciences photo)
---
BY Michelle Donovan
March 8, 2021
A team of approximately 30 principal investigators and researchers at McMaster have mobilized to rapidly develop and test two new second-generation COVID-19 vaccine candidates. Both would be two-stage vaccines, with one component designed to be inhaled rather than injected.
It is a unique delivery system, the first in Canada to deliver COVID-19 vaccines by inhalation through the mouth, and draws on two decades of vaccine research and development involving Zhou Xing, a professor in the department of medicine and McMaster Immunology Research Centre, and an expert on respiratory mucosal immunity, infectious diseases and tuberculosis vaccine development.
Xing leads McMaster's efforts alongside Brian Lichty, an associate professor in the department of medicine and director of the Robert E. Fitzhenry Vector Laboratory; Fiona Smaill, professor of pathology & molecular medicine; Matthew Miller, associate professor of biochemistry & biomedical sciences; and a large team of experts, who are part of Canada's Global Nexus for Pandemics and Biological Threats.
We asked Zhou Xing about the development of second-generation vaccines at McMaster. Here is an edited version of that interview:
Can you explain the pillars of the COVID-19 vaccine strategy in your research group?
We have been pursuing tuberculosis mucosal immunity research. From there, using the new knowledge we have gathered over the years, we applied that to developing the next generation of tuberculosis vaccines. So that line of work has been ongoing for the past 20 years. That tells you, conventionally, how long that journey has been compared to work on the COVID-19 vaccine.
We have built up a very strong "bench-to-human" translational pipeline, which is where our strength lies. So we could easily apply all the knowledge, experiences and expertise to developing COVID-19 vaccines strategies.
The program consists of three tracks. The first track is pre-clinical development that includes engineering recombinant COVID-19 vaccines and the testing of the vaccines in preclinical animal models. The second track deals with GMP manufacturing of the vaccines and the third track is clinical trial development. This is a huge team effort.
We are operating under what we call a pandemic vaccine development scheme or paradigm.  All of the three tracks are moving forward in parallel. That speaks to the importance of having a strong infrastructure for basic research, GMP manufacturing, and clinical vaccine trials under one roof.
We were ready to jump in as soon as we received our CIHR funding in June 2020.
Tell us about the vaccines that you are developing, specifically, and how do they differ from the current first-generation vaccines?
We call our vaccine strategy a second-generation, or next-generation COVID-19 vaccine strategy. Primarily, our strategies differ in two major aspects. First of all, our vaccine was bioengineered to express three select SARS-CoV-2 antigens. The current front running vaccines target only one, the spike protein.
The second major difference is that our vaccine will be delivered via a brand new route: the respiratory mucosal route. We directly deliver our vaccine into the respiratory tract of humans. Whereas current front-runner vaccines, all of them, are being administered via the skin into the muscle.
We believe our vaccines will engage what we call an all-around, or holistic protective mucosal immunity.  We aim to release or induce the broadest possible protective immunity, right at the site of viral entry. The different vaccine design and different route of administration lead to what we believe to be much better protective immunity.
How do these vaccines position us to fight the next pandemic?
If our vaccines prove successful in earlier trials, our vaccines will be applied over the background of previous COVID-19 immunization history. All the current-generation vaccines are being given to the masses, and that is where we think our vaccine strategies come into play, working as immunity boosters.
It works by not only boosting the immune response to the early vaccine shots, but by inducing a new layer of immune protection mediated by broadened T cell immunity. Thus, it will help fight the current and the next pandemics caused by coronaviruses. That is how we envision it will play out.
What about the implications for the variants? Are these vaccines better positioned to provide immunity for the variants?
Absolutely. This is why we label these as next-generation vaccines which have to perform better than the first-generation vaccines. This goes back to earlier scientific considerations or why we want to express more than one SARS-CoV-2 antigen and why we would like to administer the vaccine through a very different route into the site of viral entry.
Our vaccine was developed to create balanced immune responses including innate immune cells, antibodies, and T cells. The first-generation vaccines aim to primarily produce neutralizing antibodies.
Our vaccine was designed to not only induce neutralizing antibodies but more importantly, to induce a different arm of immunity, the T cell immunity. When the protection from neutralizing antibodies becomes suboptimal in the case of variants of concern, the next line of defense rests on the shoulder of innate and T cell immunity.
In the fight against emerging variants of concern, we're convinced immunologically we need to have strong T cell immunity aiming to prevent severe disease and hospitalization.
We need to induce not only T cell immunity against the spike protein, but also against other select SARS-CoV-2 antigens that normally wouldn't undergo rapid genetic mutations, like the spike protein has. Meaning, the other two antigens we selected would be genetically more stable and our vaccines could be effective against other coronaviruses.