How the delivery of mental health care services can be improved to help the country's most vulnerable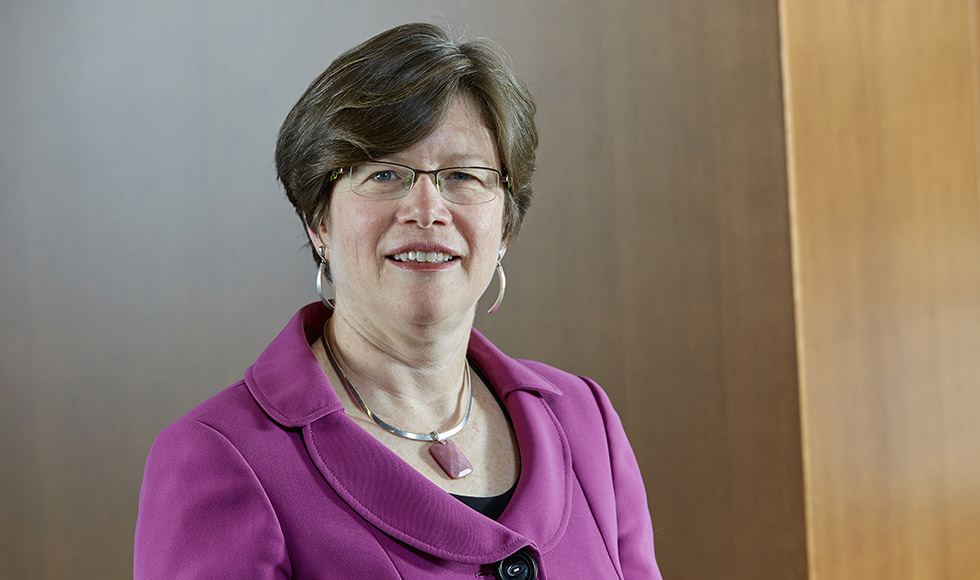 January 30, 2018
You might not think an economist would study mental health services, but Gillian Mulvale – an assistant professor of health policy and management at McMaster's DeGroote School of Business – has long been curious about how public policy affects the delivery of health care services.
She's particularly interested in how mental health care delivery fails vulnerable populations.  
"It's fragmented," says Mulvale. "And it fails to take a holistic view of clients. We need better access and coordination of care."
Clients often need multiple services to meet their mental health care needs. Current models deliver mental health services in 'silos,' says Mulvale.
"There's community-based care, hospital care, physician care. Those systems are quite separate from each other." And children's services are a separate system from adult mental health services. The result is that youth can fall through the cracks between the services they use or when they transition to the adult system.
Mental health service professionals often must deal with several different providers while trying to help a client. "They are seeing someone for trauma and someone else for addictions, and it's really hard to keep it all coordinated," said one provider. "And I thought to myself, if it's hard for you I wonder what it's like for the client."
It's a responsibility that can be daunting to any person, but those dealing with mental illness may be facing additional burdens such as fatigue. "A young person with a mental disorder shouldn't have to have the weight of that on their shoulders," says Mulvale. "What they're dealing with already is very demanding."
Mulvale wanted to explore the areas where mentally ill youth were particularly vulnerable to falling through the cracks. The challenge was in getting those youth to talk to her.
Gillian Mulvale: Big Data at McMaster

Seeking treatment for a mental health problem can be daunting for young people. Offering feedback on treatment can be even more intimidating. McMaster University's Gillian Mulvale came up with a way to improve the situation. Working with WeUsThem Inc., her team developed myEXP. It's an online tool young people and their families can use to safely and comfortably give feedback about their experiences using smartphones. Data collected through myExP can be used to improve the way the healthcare system serves young people who need help.Dr. Mulvale is an assistant professor in the Health Policy and Management area at DeGroote.(Captions available on YouTube: https://youtu.be/ZzOpB6vEAe8)

Posted by DeGroote School of Business – McMaster University on Wednesday, December 16, 2015
Mentally ill youth, traditionally, may feel stigmatized and can be uncomfortable sharing information about their illness researchers.
But Mulvale came up with a way to make information sharing more appealing to youth: working with her research team, she designed myEXP, an app that participants could install on their phones.
The app allowed study participants to report their experiences as they transitioned through services over time. Youth were keen to participate. The data was collected at McMaster for analysis. The methodology is a first in Canadian research.
In a second study, Mulvale technology was a suggested solution to a myriad of problems with mental health services delivery in the Yukon.
Yukon is a territory roughly the size of Spain but a population of just 38,000 people.
"That's a huge challenge in terms of resources and geography," says Mulvale. Many of those who need services are in small towns. "Everybody knows everybody. If you get services, that's not a secret."
Further complicating matters is the legacy of colonialism. Many of Yukon's remote communities are comprised of First Nations peoples, some of whom have had experience with residential schools and have a profound distrust of the current mental health care model, which can require youth to be flown out of town for access to services.
Beginning in 2012, Mulvale partnered with Stan Kutcher, a professor of psychology at Dalhousie University and an expert in child and youth mental health. They set up two studies in partnership with local communities, their youth and family members, and their service providers. The questions were: How do we better coordinate care? And how do we transition youth who reach adulthood to adult care?
In the case of very ill youth, they could be sent to Whitehorse to benefit from the full array of mental health services there. But more common are cases of moderate mental illnesses—people dealing with grief or depression, for example, who may not have access to services in their tiny community. And without access to this first line of defence, their health may deteriorate to the point where they need to leave their community, and family, to get help—an expensive and, for some, a daunting prospect.
Mulvale and her colleagues wondered how mental health care budgets could be maximized to deliver healthcare to all who needed it.
They suggested what Mulvale calls a "cascading" model of service delivery, to be phased in over 10 years. The goal being that even in a community of 200 people, there could be at least one go-to person with the skill and competence to help them get help for the problem they're facing.
"It doesn't require a registered health professional in the community, but you could take people who are in the community interfacing with youth on a regular basis and provide them with those competencies. That was one of the key messages of the framework."
Furthermore, her study suggested the community use readily available technologies and services such as telehealth to make out of town mental health services more easily available in their communities.
Mulvale credits participatory research with the community's acceptance of her suggested service delivery model.
"Ninety-eight percent of the participants were from Yukon. We didn't just go in there and tell them what to do. I think this study really embraces an approach that's so necessary to break down what are often walls between young people, family members, and service providers when it comes to something like youth mental health services."