Improving policymaking with strong global partnerships and the best research evidence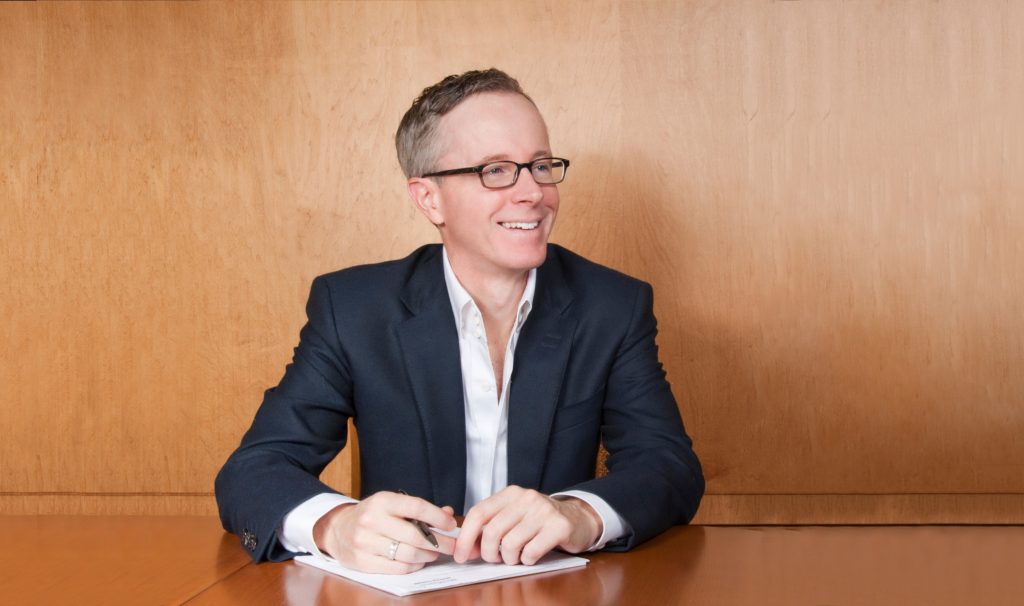 John Lavis is helping policymakers and stakeholders make evidence-informed decisions, something more important than ever during — and after — the pandemic.
---
BY Ruth Adair
December 15, 2020
"When governments get together to make commitments, it's important that we try to inject research evidence to inform how they approach those efforts. To achieve the SDGs, it's going to take partnerships among diverse groups, playing to their comparative advantages – and leveraging the work of others." 
John Lavis
Director of the McMaster Health Forum
Canada Research Chair in Evidence-Informed Health Systems
There are once-in-a-lifetime opportunities to rethink and revive efforts to achieve the SDGs in the response to COVID-19, says John Lavis. And he's leading efforts to ensure the best available research evidence underpins every initiative.
Lavis has long been committed to helping policymakers and stakeholders make evidence-informed decisions, something he says is more important than ever during – and after – the pandemic.
The director of the McMaster Health Forum and the Canada Research Chair in Evidence-Informed Health Systems, Lavis believes the starting point for meeting the SDGs has to be the best available synthesized science on all of the questions that come into play within the goals.
---
Beating COVID-19: Canada's Global Nexus and Saskatchewan-based VIDO join forces to protect Canadians from pandemics and accelerate vaccine and drug development.
---
While his work supports all the goals, it directly underpins SDG 17: Strengthen the means of implementation and revitalize the global partnership for sustainable development.
That's why he and his team launched Social Systems Evidence (SSE), the most comprehensive, free access point for evidence on strengthening 20 government sectors and achieving the development goals.
To complement SSE, the team set up COVID-19 Evidence Network to support Decision-making (COVID-END) inventory of best evidence syntheses to support decision-making about COVID-19. Both of these rich evidence repositories are examples of the strength of McMaster Health Forum (and Forum+, which goes beyond health to all social systems) in putting the best science in front of national and global decision-makers.
We spoke to Lavis about the role of the SDGs in his work and his thoughts on an evidence-based pandemic response. 
---
More: John Lavis' work exemplifies McMaster's commitment to advancing the United Nations' Sustainable Development Goals (SDGs).
---
How is your work at the McMaster Health Forum aligned with the SDGs?
I think the SDGs are critically important. It's rare that governments around the world come together to agree to a set of commitments.
Because so much of our work in the McMaster Health Forum is global, as soon as the SDGs came out, we began to orient our work toward them where appropriate. One thing – the most important thing – we did in the early days was set up Social Systems Evidence (SSE) and create a search function that allows decision-makers to find the best evidence by SDG. 
What made you broaden your focus from health to social systems evidence, and the focus on the SDGs?
At the McMaster Health Forum. we were increasingly hearing from people working outside health lamenting the fact that health seemed very far ahead in the use of evidence in-policymaking. I realized that we're all dealing with big-picture societal questions, whether the policies are in health, education, employment or any other sector. So, we began to expand our partnerships and build out our evidence in other areas, ultimately resulting in Social Systems Evidence. It's allowed us to move into this broader landscape that includes the full array of SDGs.
How is your work supporting the COVID-19 response, while still promoting the SDGs?
The COVID-19 pandemic has created extraordinary opportunities for the SDGs. We'll likely never see this level of global disruption again in our lifetimes. Societies are asking themselves fundamental questions about how they could do things very differently in the future. My hope is we can increasingly align the pandemic response with the SDGs, so we can respond more effectively to COVID-19 and simultaneously move toward achieving the goals.
We created COVID-END to support both the evidence-demand and evidence-supply side of the pandemic response. The network brings together more than 50 of the world's leading groups with expertise on evidence-synthesis, technology-assessment and guideline-development. Decision-makers in public health, clinical management, health-system arrangements or any of the economic and social responses in low-, middle- and high-income countries can easily find the best and newest evidence in one place.
How has COVID-19 accelerated evidence-informed decision-making?
I've never seen such widespread invocation of research evidence as the basis for government decisions as during the pandemic, including among most politicians who had historically been resistant to it. There's been a positive trend that we hope to capitalize on in the months and years ahead.
We need 'living' evidence syntheses because every government in the world wants to know when the science changes around key issues such as testing, treatments, school operations, and so many others. We need to get all these different groups around the world to work on a smaller number of high-quality living evidence syntheses, instead of everybody pumping out their own products, not updating them, and often not producing them to the highest standard.
Who's using the evidence you make available?
Our target audience is always decision-makers, typically in government, and the people trying to inform or influence them. With our COVID-END inventory, we envision our prototypical user as a 25-year-old policy analyst in government. They could be in Argentina, Zambia, Canada or anywhere, and they're routinely being asked about the best evidence on a particular COVID-19 topic. With the COVID-END inventory, they can do that quickly and easily.
Can you explain the concept of "living evidence syntheses"?
Essentially, this means continually updating the evidence in a synthesis and incorporating relevant new evidence as soon as it's available. You don't just do the synthesis, put it on the shelf and hope for the best. You revise it every time the science changes. It's a crucial approach in the COVID-END inventory and likely will be in all future evidence inventories.
What drew you to the field of evidence-informed decision-making?
I originally trained in medicine, and while I enjoyed clinical practice immensely, I couldn't imagine working 50 or 60 hours a week only doing clinical practice. So, I went back and did a master's degree at the London School of Economics, which opened up this whole world of health policy.
Then I became exposed to evidence-based medicine at McMaster and I found myself constantly saying, "How does this apply when governments make decisions, as opposed to an individual physician making a decision?"
I realized that if I wanted to pursue that, I needed to do additional studies. So, my Ph.D. at Harvard was about the role of research in government decision-making.
When I returned to Canada, I decided to focus on how the lessons from the world of evidence-based medicine could be adapted and applied in government decision-making. I've been doing that for more than 20 years and it's now a big area of research and practice. It used to be we were outliers, but now we feel like we're part of a much bigger family of people focused on supporting the use of evidence in policymaking.
What do you hope the impact of your work will be?
We want to see much more consistent use of research evidence as a vital input in policymaking. Most of us live in democracies around the world where our elected representatives are making very difficult decisions on our behalf. We understand that those decisions are influenced by many things, including public pressure, individual values and interest groups. Our goal is to have research evidence consistently part of the equation.
I feel like this approach is cyclical and it's trending upwards over the long term. In the 1970s the United States was very focused on using research evidence in government. During the Reagan era, it went down. Then it reached a peak under Obama. These aren't happy days right now in the United States with respect to the use of research evidence, and other countries are going through similar cycles. But, overall, there's much greater attention to the use of evidence in policymaking and a lot of reasons to be hopeful that this will continue.
John Lavis' work exemplifies McMaster's commitment to advancing the United Nations' Sustainable Development Goals (SDGs). Learn more about the best ways to align research with the UN's SDGs.