In nuclear safety, there's no room for failure to communicate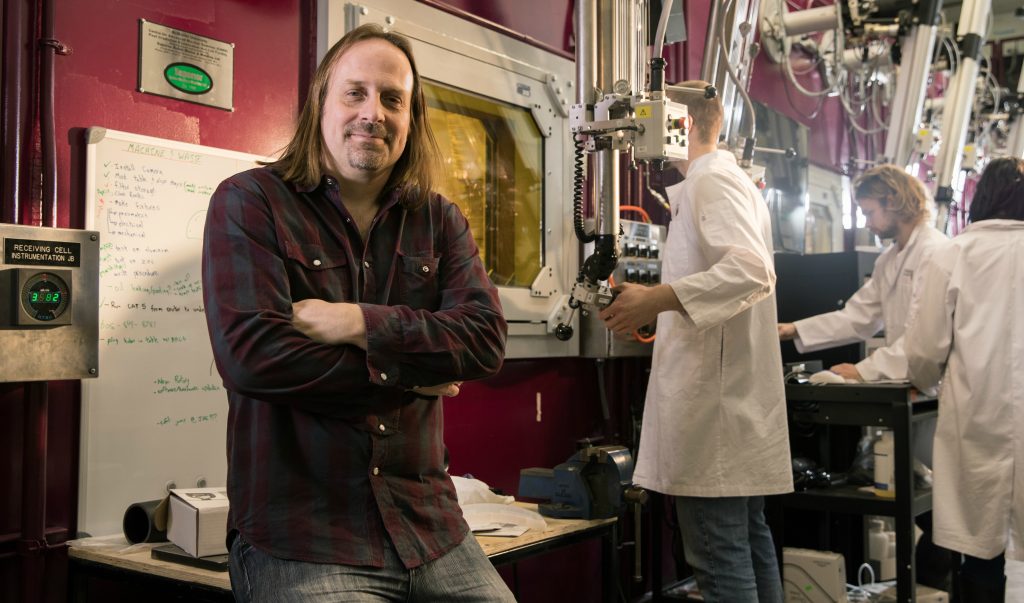 From running a nuclear power plant to creating and implementing an emergency response plan, clear communication is the key to keeping people safe, says nuclear engineer Dave Novog. Photo by JD Howell
---
BY Sonia Verma
March 14, 2018
David Novog is a leading expert on nuclear safety. He's one of five advisers whose recommendations helped shape Ontario's newly updated Nuclear Emergency Response Plan. He's a professor in the Faculty of Engineering, a researcher, part of the group that oversees the nuclear reactor on McMaster's campus and the director of the McMaster Institute of Energy Studies.
And somewhere along the way, he became an evangelist for communication.
Novog wants better communication between the public and policy makers, and between the moving parts that work together in a machine, a nuclear reactor or a society.
And he says clear communication is critical to a good emergency plan.
"In any emergency, even more important than where people go, or how far they are from the affected zone, what makes them safe is having a plan they can understand and follow," Novog says.
He didn't always feel this way. "When I was younger, I thought an emphasis on communication was just mumbo jumbo – I thought safety was all about the science, the technical equipment and the plan," Novog says. "But I know now, it doesn't matter how good a safety plan is if you can't get it out to people, or if they don't know how to put it to use."
Ontario's nuclear emergency response plan, released in December, marked the first time the province opened the process up to public consultation. Novog and his fellow panellists read hundreds of submissions and met with people from around the province, listening to their concerns about nuclear power plants and the potential effect of a nuclear accident on their homes, their businesses and their climate.
Once again, communication proved pivotal.
"We heard from people who had direct impact on our recommendations," Novog says.
He points to the issues of Ontario cities that are close to U.S. power plants, like Amherstberg, which is not far from the Fermi power plant in Michigan. Because the generating station isn't in Ontario, Amherstberg didn't have same the kind of resources in place as communities near Ontario plants.
Now, as a result of the panel's recommendations, provincial plans have been made much more explicit in this regard.
The actual running of a nuclear power generating station is a constant exercise in communication, too, Novog says. A nuclear power plant involves multiple disciplines and processes on a number of physical scales: From massive buildings housing huge turbines to reactions on an atomic level.
"When you're an expert in your field and you're working in a power plant, your field is what you have to be focused on," Novog says. But being so focused makes it hard to see how all the moving parts work together.
That's where Novog comes in – his goal is to train nuclear engineers who understand the science but have an eye on the bigger picture, from safety to reactor physics to software to turbines.
Nobody starts out as an expert in process integration or emergency planning, Novog is quick to say. Like his dawning appreciation for communication, the big-picture expertise came with time. When he started working in nuclear technology – after his PhD at McMaster, his first long-term job was with Ontario Power Generation – Novog focused squarely on heat transfer.
Early into that career, his manager asked him to take on a project outside his field. "I talked to my dad about it," Novog says. "He said, 'If you want to only work on heat transfer, stay where you are, but if you want to keep learning, go someplace uncomfortable.' "
So Novog kept on learning. As his career progressed, he started trying to figure out how to limit risk on a large scale, and quickly learned how many factors come into play, and how vital the human element is in even the most high-tech situation. "Managing risk often boils down to human factors and human communication," he says.
That's a key aspect of his research as well, as Novog and his students continue to analyze how reactors – and their operators – behave under a variety of circumstances.
"We look at historical events like Three-Mile island, and we look at events like the Fukushima nuclear disaster of 2011, and we try to model them with computers," he says. "We also try to model what the people did and how they responded." This is the challenging part of the job, he says.
And his favourite part of the job? Hands down, working with students. "I love that I can see their skill sets starting out and watch how they approach problems and how they grow." From his first grad student to the one who challenged him the most, "when you see them finish their degree, you're as proud as their parents."
Besides the technical aspects of their work, Novog pushes his students to get out and meet people in industry, to travel, to talk to policy makers and to explain to anyone who'll listen how nuclear technology works, says PhD student Kendall Boniface. He stresses to his students that a large degree of his success is built on the relationships he has established with others.
"It's not just his technical skills and his knowledge base," Boniface says. "Novog really wants to set us up for good careers, and he's constantly telling us to get out there and try new things."
Boniface says she might go on to work in industry after she's done her PhD, but eventually, she wants to teach.
"I want my students to be as inspired by me as we are by him."