In the news: Expert Ravi Selvaganapathy on masks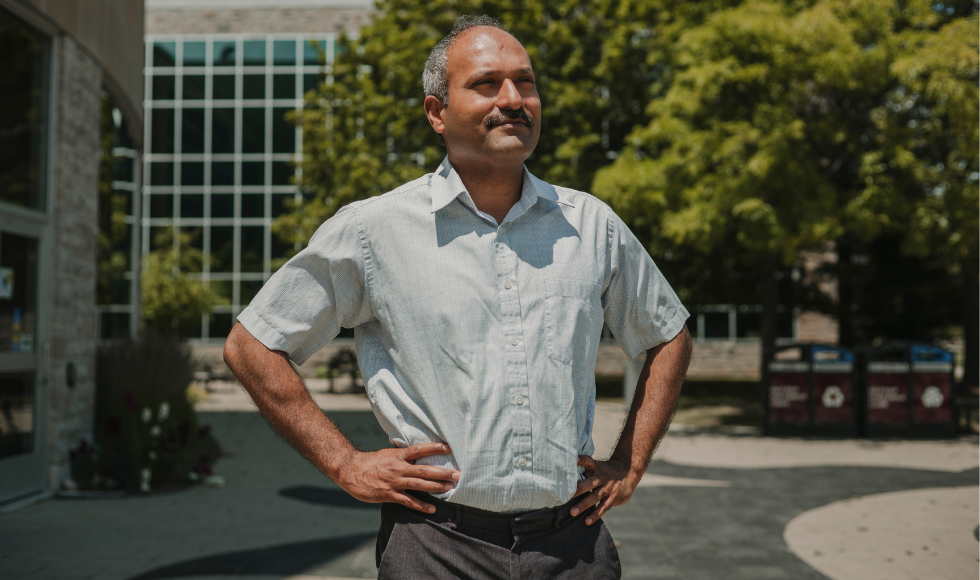 Engineering Prof. Ravi Selvaganapathy is the director of the Centre of Excellence in Protective Equipment and Materials at McMaster.
---
BY Andrea Lawson
November 30, 2021
The Public Health Agency of Canada has updated its mask guidelines, suggesting medical masks and respirators provide better protection than cloth masks.
While material is important, it is not the only consideration in selecting a mask, says Ravi Selvaganapathy, a professor of biomedical engineering and director of McMaster's Centre of Excellence in Protective Equipment and Materials, who spoke on the subject in the news last week.
"Fit is essential in terms of how effective filtration happens in a real setting," he told CBC News. "You can have the best quality material out there, but if it doesn't fit one's face, then most of the air goes through these large gaps that exist, and not through the filter material."
As COVID-19 restrictions and capacity limits have eased, Selvaganapathy says masks have become more important, because settings with large crowds carry more risk of spread.
The certification level listed on surgical masks provides consumers with useful information about the quality of the mask and how well it filters particles, including viruses and other pathogens.
Cloth masks don't require these certifications and vary in quality, he says.
"Some of these masks incorporate the materials that go into medical masks and therefore are good quality. Others are simple cloth material sewn together, and therefore may not have the same level of filtration quality."
People need to evaluate their own risk levels, Selvaganapathy says.
Being outside, in an empty space or briefly visiting an indoor location is less risky than going somewhere where you know there is someone with COVID, for example, or to a crowded public place where you don't know who is vaccinated.
While Selvaganapathy doesn't think we will be wearing masks on a regular basis after the pandemic, he says mask-wearing has become more widely accepted and is a great, low-cost preventative measure.