Study of archaeological cooking vessels sheds light on Indigenous histories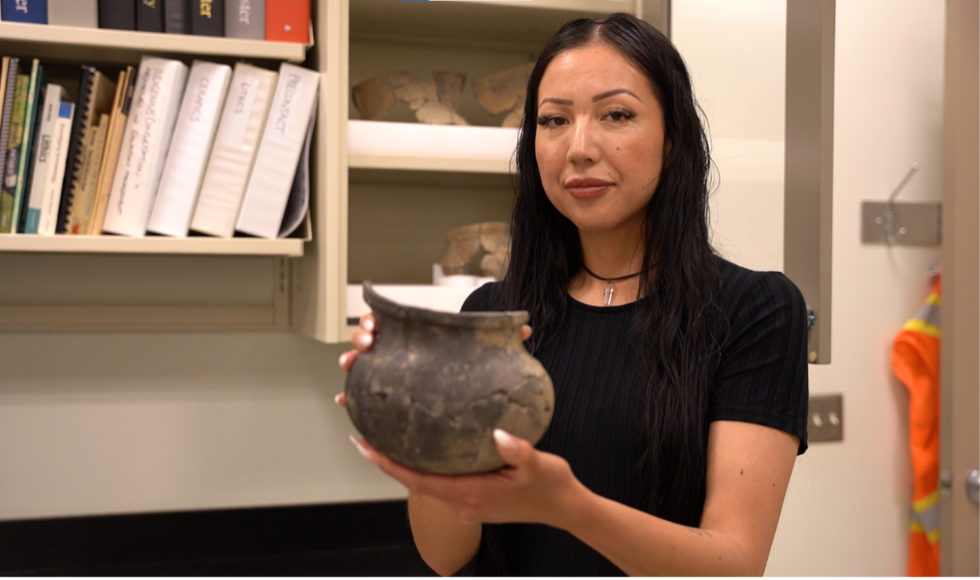 McMaster anthropology student Jackie Porter holding a clay cooking vessel that's part of a repository of 16th– and 17th-century pottery and cookware fragments being studied by McMaster students, researchers and community members.
---
BY Chris Pickles
June 23, 2023
In the basement of McMaster Innovation Park, hidden among rows of shelves, are boxes upon boxes of Indigenous history. And now they're being put to work.  
This repository of 16th– and 17th-century pottery and cookware fragments unearthed in Southern Ontario is helping researchers and local communities learn about a vanished Indigenous Nation as they work to decolonize the practice of archaeology. 

Working with communities from Six Nations of the Grand River, researchers from McMaster's Collaborative Archaeologies (CA) project are studying hundreds of these artifacts, mostly unearthed during development in the 1960s and '70s.  
The project is rooted in the recognition that the historical practice of archaeology and anthropology have typically been settler-driven and colonial, much more extractive than collaborative. Artifacts unearthed in the past would be whisked away to be examined in a lab before being stored out of sight. 
The focus of the project is on foodways — the food and eating practices of a culture or group — but the information gleaned from the pots can also be used to fill in gaps in the historical record, especially of the history of the Neutral nation, which isn't as well understood.
Sustainable Archaeology
"The history of anthropology, the history of archaeology, have not been kind to Indigenous communities," said Adrianne Lickers Xavier, assistant professor in Indigenous Studies, jointly appointed to Anthropology.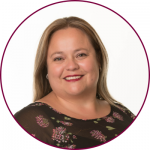 "They have a reason to be fearful of us, even though today we don't want to do those things." 
Partly out of that recognition came the idea for the Sustainable Archaeology (SA) lab. The lab looks to use existing pot sherds (fragments of pottery) to shed light on and contribute to the cultural history of the Indigenous inhabitants of the region — without the need to dig up any more artifacts, says operational manager Scott Martin, an adjunct faculty member in the Faculty of Social Sciences.
The sherds used in the CA project come from six sites across Southern Ontario. Five of those sites are in the Hamilton area, from villages that were inhabited by Neutral Iroquoian people in the 16th- and 17th centuries before they died out or were assimilated into neighbouring cultures. 
---
Read more: What was The Neutral Nation?
---
Researchers are also studying pots from a site in Cootes Paradise near McMaster. 
Most of the pots date from the late 1500s to mid 1600s, but one sherd dates back around 2,000 years. 
The ceramics were generally uncovered when developers built new projects such as roads or buildings. Researchers would catalogue the pieces, before storing them away.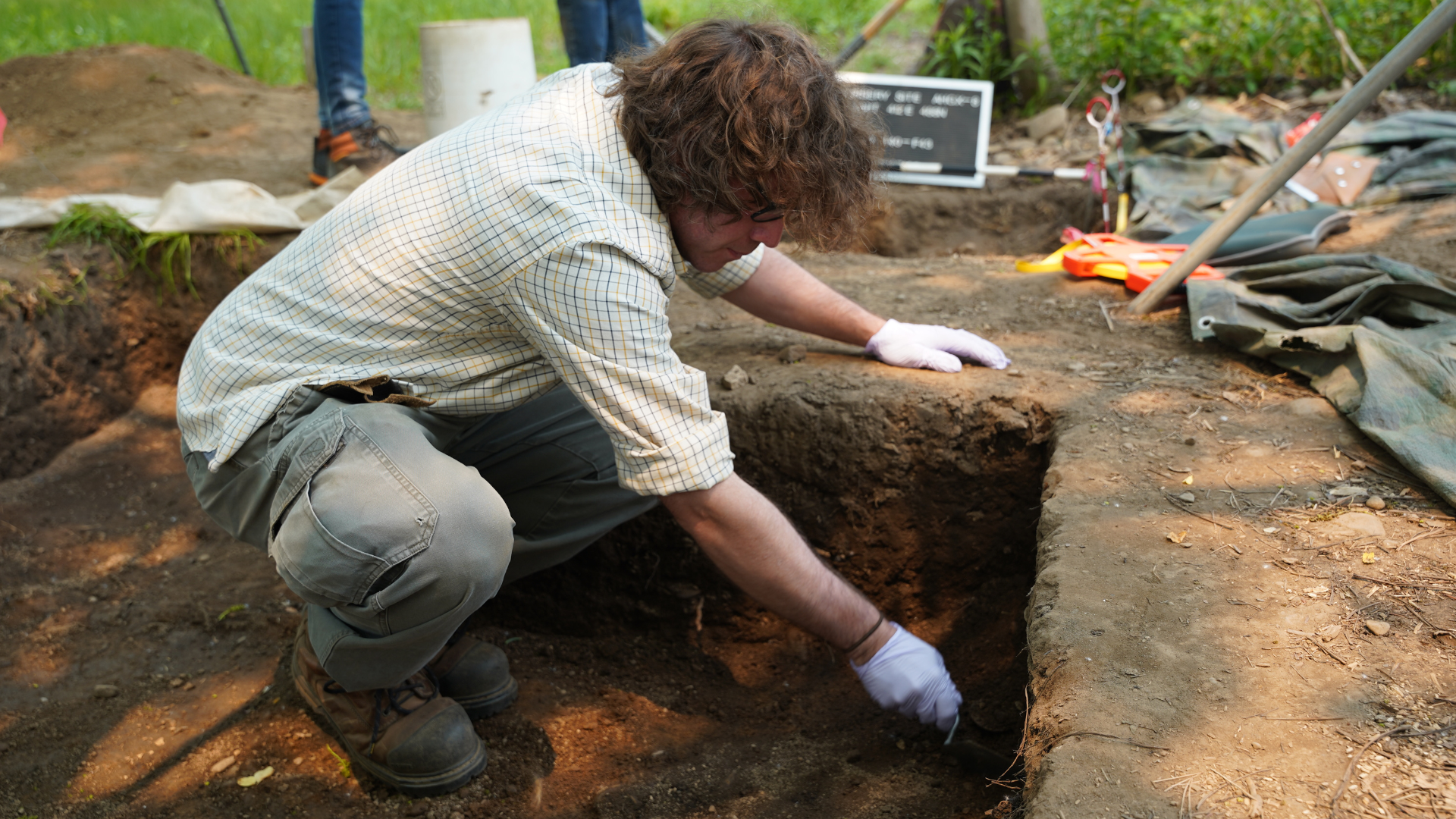 Minimally invasive techniques 
The sherds have been examined in the lab after researchers used minimally invasive techniques to take food residues off them, said Rylan Godbout, an anthropology student.   
First, the sherds are rubbed with a dry finger to remove surface-level residue, which can be examined under a microscope for starch grains. 
Then, ultrapure water is used to wash the pot before a sonicated wash, using sound waves, or even an electric toothbrush, to dislodge more starch grains. 
"From there, we can identify starch grains," said Godbout. "So you can understand what plants are being used and get a better understanding of the ingredients for some of the recipes that these people were making in the past." 
What food tells us about Indigenous histories
The analysis recovered residues from corn, grasses and geophytes (such as tubers and roots) cooked in the pots.  
There is also evidence for beans, squash, nuts, and berries, but they were less common. 
In the second stage, researchers scraped a small section of the ceramic off the pot to analyze using gas chromatography-mass spectrometry, a sophisticated method that can read fat signatures. That can give the team an idea of the meats that were cooked in the pots. 
Small samples of pottery material were removed from the sherds to understand what fatty, lipid-rich foods — such as stews containing meat — were cooked within these pots. McMaster professor Greg Slater led this work with biomolecular archaeology and archaeological geochemistry expert Kalyan Chakraborty from Ashoka University in India.  
All samples showed mixed fatty residues with specific biomarkers for plant oils, leaf wax, corn, aquatic fats (such as fish) and animal fats. 

"There haven't been a lot of European accounts or archival documents relating to Neutral Iroquoians," said Martin.  
"So most of what we think we know about the Neutral would come from archaeology. They seem to have withstood missionizing attempts by the French and perhaps didn't allow certain traders or explorers to come through." 
Through all of the collections, the team hopes to track the changes in the food found in the pots, which can point to historical changes in the communities that used them. 
"(For instance), Huron-Wendat populations were decimated through the early 1600s," said Martin. "And a lot of that was due to European or foreign-introduced diseases. Populations in some communities may have dropped two-thirds and more.  
"Those upheavals or times of turbulence would have changed the proportion of master potters, for example, and the food getters in the community, the hunters and the cooks." 
Community-driven research
The team is aware that while they're examining the past, this is very much a living process, researching the ancestors of those who inhabit the area today. 
That is why partnering with community members is a vital component of the project. 
And for Tanya Hill-Montour, archaeology supervisor for Six Nations, the partnership goes a long way toward creating a genuine reciprocal relationship that provides agency and autonomy for Indigenous groups over their own heritage.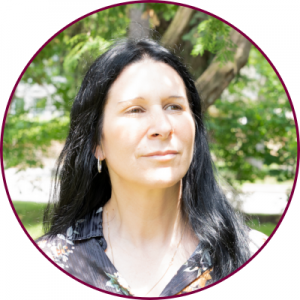 "(McMaster) has been able to recognize that there is a gap that needs to be closed within the decolonization of heritage … the heritage of Indigenous people who never really had that voice prior," Hill-Montour said. "And now we're moving towards that. 
"McMaster has, honestly, set the bar really high here, and it's going to set a precedent of establishing autonomy." 
Jackie Porter, an anthropology student at McMaster, sees this project as a vital part of the decolonization process at the university. 
"I come from Six Nations and work for Six Nations Band Council, and the involvement is important to me because it's a small step towards possibly doing a repatriation process," Porter said.  
"So we would get archaeological artifacts back to Six Nations, where we may be able to present them to Indigenous youth and whoever else wants to see their own history and culture. 
"And I think that it's an important step to decolonization. So that's my main focus by doing this work, to help decolonize the archaeology department at McMaster." 
One goal for the team is to create an atmosphere of community-driven research shaped by input from Indigenous communities.  
"Relationship building is about being open and having communication and actually being able to say, 'I will listen when you tell me, and I will not assume that I know what you want to know'," said Lickers Xavier.  
"Because if research is community-based, if it is community-led, then (Indigenous groups can be) the ones who are asking the questions:  
"What could we do with existing artifacts? What would you like to know from them?"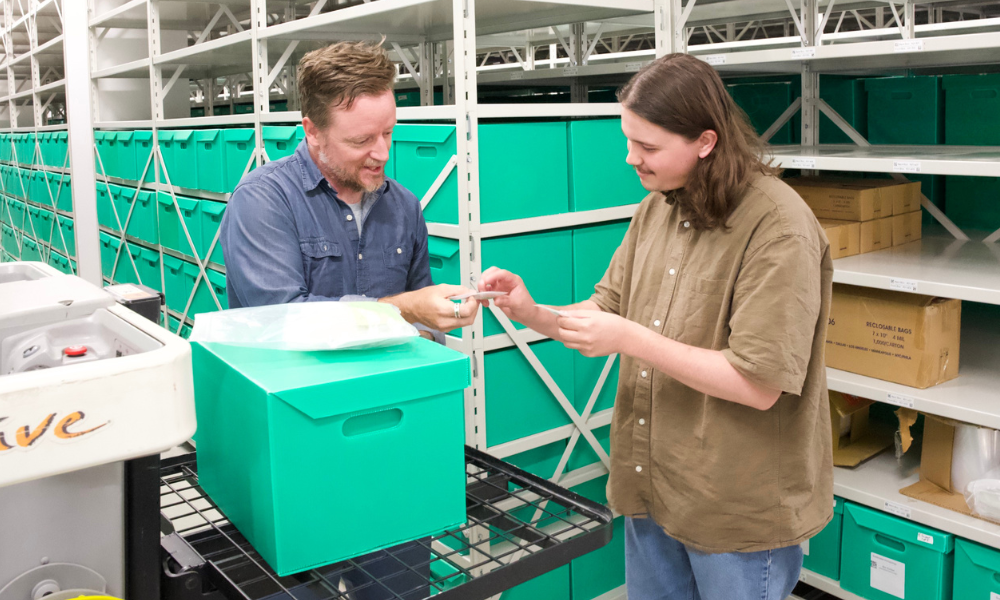 For Andrew Roddick, associate professor and chair of the Department of Anthropology, this work represents a sweeping change in archaeology and anthropology, away from an extractivist approach. 
"We've seen great inroads to diversifying the field," Roddick said. "For a long time, it was all white males doing the research. Now it's much more diverse, including getting Indigenous community members into archaeology, into training as monitors across the province and indeed into academic programs. 
"This is an exciting moment to go back to communities where these things come from and really initiating conversations as to what community is interested in." 
**This story was updated Aug. 4 to correct the fact that five sites being studied are in the Hamilton area, with researchers also studying pots uncovered in Cootes Paradise.**
---
What was The Neutral Nation?
The Neutral Nation is a contentious term for a confederacy of Iroquoian nations who lived in what is today the Hamilton-Niagara area and into western New York before the mid-17th century. 
The term "Neutral" is a settler term that can be traced back to French explorer Samuel de Champlain. The name was chosen since the group stayed neutral in the conflicts between the various Indigenous and settler groups. 
The confederacy may also go by the name Attawandaron in the Wendat language, though there is the suggestion that this may refer to just one nation within the multi-nation confederacy. 
One of the reasons for the lack of acceptance on the name is that the Neutral Nation did not survive and were assimilated or died out. That's why one of the aims of the CA project is to shine more light on this lesser-known Indigenous group.