Indigenous Nurses celebrated during Aboriginal Students Health Sciences event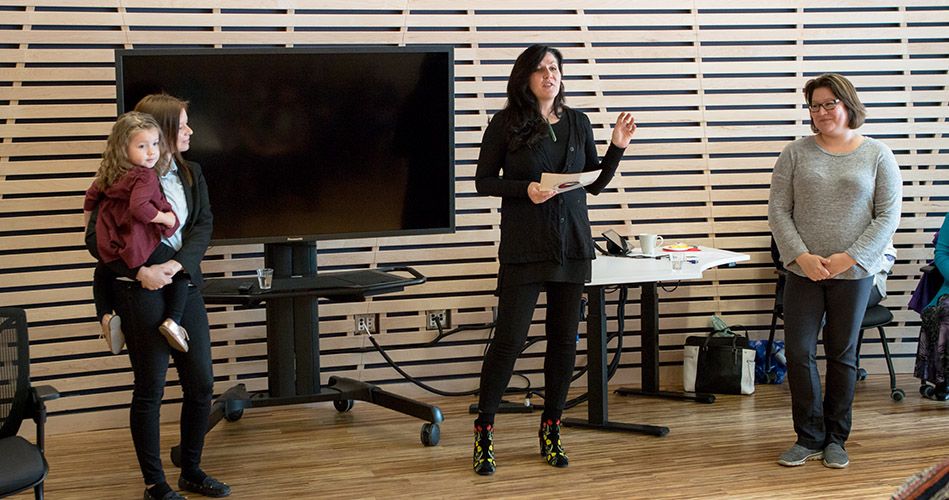 Rachel Bomberry (left) and Lacey VanEvery (far right) being introduced by Danielle N. Soucy(centre), Director & Program Coordinator, ASHS
---
May 11, 2017
The School of Nursing and the Aboriginal Students Health Science Office hosted a celebration and recognition event for Indigenous Nurses.
"42 years ago there began a focus on situating Indigenous nursing knowledge," said Bernice Downey, Assistant Professor, School of Nursing.
"Today is about acknowledging the past, present, and future of Indigenous Nursing at McMaster."
Invited guests, students in the Masters of Public Health program, were Rachel Bomberry and Lacey VanEvery, who are graduates of the collaborative nursing program (the combined program through Mohawk College and Six Nations).
"I've always been interested in science and health. Seeing community members participate in these programs gives Indigenous nurses a voice," remarked VanEvery.
The ceremony also honoured nurse Charlotte Edith Anderson Monture, a member of the Six Nations of the Grand River territory. In 1914 Monture had to leave Canada and move to the United States for nursing school because of discrimination and restrictions on higher education for Indigenous people. Monture worked in the United States as a nurse and during World War I volunteered as a Nursing Sister with the U.S. Army Nursing Corps before returning to Six Nations. Her grandson, Dr. Rick Monture, Assistant Professor of English & Cultural Studies, spoke fondly about his grandmother's fascinating stories during her 106 years of life.
Rachel Bomberry 
A Grand River Mohawk, turtle clan and resides with her partner and two children on Six Nations of the Grand River Territory. Rachel is a graduate of the RPN to BScN program; a Mentor with the ASHS office and currently a Master of Public Health Candidate, class of 2018. She is an Indigenous scholar, a Research Assistant with the McMaster School of Nursing and a Pediatric Nurse with the Victorian Order of Nurses. Bomberry is also a Harvey E. Longboat OGS Scholarship recipient. Notably as a member of the McMaster Marauders Fast pitch team, received bronze medal in Ontario Intercollegiate Women's Fast Pitch Association 2016. An emerging leader and scholar within Indigenous health and is grounded in researching community child health and policy development.
Lacey VanEvery
Lacey VanEvery is Hodenosaunne from Six Nations of the Grand River Territory, a partner and mother. Also a graduate of the RPN to BScN collaborative program and graduating with her Masters of Public Health.  VanEvery has served as a mentor to our current MPH students and has been a vocal leader for Indigenous students throughout her undergraduate and graduate degrees. She held an Indigenous Learning Pathways to Prevention (ILLP) Award where she served as a researcher for the Canadian Indigenous Nurses Association of Canada and the Ontario HIV Treatment Network working on the "How Can Indigenous Nurses Better Support Living in Wellness for Indigenous People Living with HIV?" project. She is a Harvey E. Longboat OGS Scholarship recipient and currently working with the "screening for life [mobile] coach program within her community.