Innovation Showcase highlights growing impact of student-entrepreneurs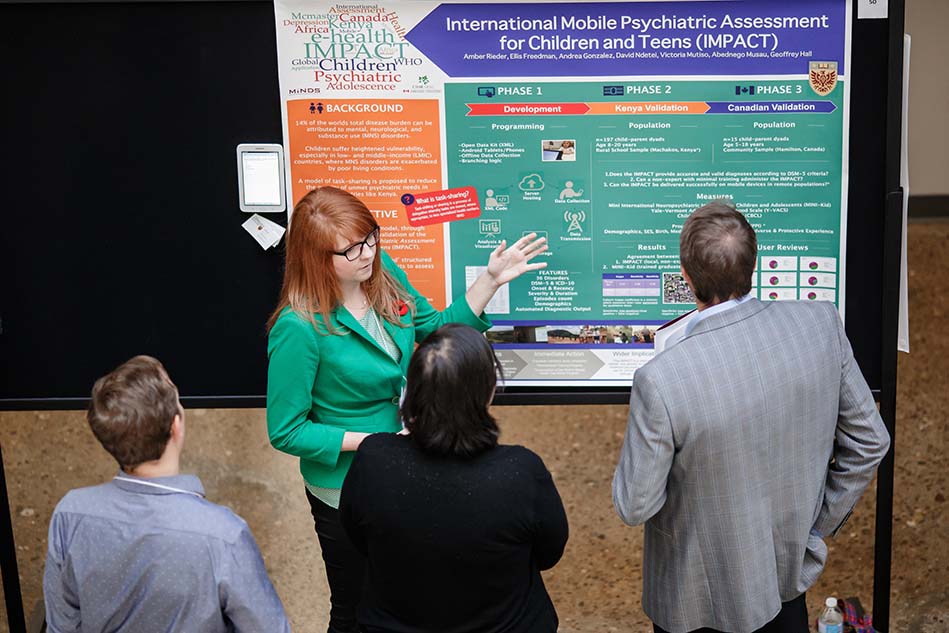 BY Danelle D'Alvise, Research Communications
November 18, 2016
This year's Innovation Showcase focused on the entrepreneurial spirit and creativity exhibited by students, graduate students, post doctoral fellows and researchers from across McMaster's campus.
More than 230 participants attended IS16 to listen to speakers chronicle their own path to capturing the social and economic value of their research; a panel featuring legal, financial, and investment experts; as well as presentations by the Natural Sciences and Engineering Research Council (NSERC) and the Ontario Centres of Excellence (OCE) agencies highlighting their funding opportunities.
"One of McMaster's key priorities is to identify opportunities to build on our culture of entrepreneurship and to capitalize on the innovation ecosystem that resides here in Hamilton," said Rob Baker, vice-president, research.
"We want to ensure our research plays a pivotal role in driving our region's social and economic prosperity, and certainly the Innovation Showcase serves as an important catalyst."
Nowhere was the entrepreneurial spirit more evident than in the record number of poster submissions – some 60 entries – which were judged in the categories of Commercialization Impact, Social Impact and the People's Choice.
Below are the awardees recognized at the reception following the day-long Showcase, which took place on November 10 at the McMaster Innovation Park. More than forty individuals and teams – ranging from entrepreneurial students with innovative approaches to social and commercial problems, to pioneering researchers — were celebrated for their contributions to McMaster's burgeoning entrepreneurial culture.
Lifetime Innovator Award: the late Dr. Jan Irvine, for her contributions to the development of the Intestinal Bowel Disease Questionnaire(IBDQ). Dr. Irvine's work with academics, clinicians, and pharmaceutical companies world-wide, has made the IBDQ the gold standard in studying inflammatory bowel disease, like Crohn's and Colitis.
Innovator of the Year: Gerry Wright, for his work on the clinical development of a novel antibiotic adjuvant, his on-going industry collaborations enabling the pre-clinical validation of several antibiotics in the development pipeline and his efforts to establish a novel drug discovery platform.
Synergy Award: Matthew Woolhouse, was awarded for his work in collaboration with researchers at Hamilton Health Sciences and in the faculties of Health Sciences and Engineering and the Hamilton City Ballet for collectively developing a program for technology-based dance, benefiting those with Parkinson's Disease.
Poster Competition:
Pedram Madadkar, Rahul Sadavarte, Umatheny Umatheva, Sergio Luna Nino, Qijiayu Wu and Raja Ghosh won the Commercialization Potential category for their poster Laterally-fed membrane chromatography (LFMC): high-resolution purification, ultra-fast analysis
Amber Rieder, Ellis Freedman, Andrea Gonzalez, David Ndetei, Victoria Mutiso and Geoffrey Hall won the Social Impact category for: The Development and Validation of the International Mobile Psychiatric Assessment for Children and Teens (IMPACT)
Nicholas Allenand Suraj Gopinathbirla won the People's Choice category for their  poster: Development of low-cost, portable, and intuitive gene-based analysis device.
There were also eight certificates given out to Innovators of Distinction – individuals or teams who were issued patents for their promising technologies.
Scott Fitzpatrick, Mohammad Mazumderand Heather Sheardown: Biodegradable Polymer System
Ali Emadiand Yinye Yang: Electro-Mechanical Double-Rotor Compound Hybrid Transmission
Ali Emadiand Piranavan Suntharalingam: Integrated Electro-Mechanical Powertrain System for Hybrid Vehicles
Ali Emadiand Piranavan Suntharalingam: Powertrain System for Hybrid Vehicles Having Compound and Split Modes of Operation
Tayyab Hameedand David Potter: Crosslinking of Reactive Polyolefin Prepolymers Using a Co-reactant
John Brennan, Carlos Filipe, Zakir Hossain, Julie Lebert, Roger Luckham, Robert Peltonand Anne Smith: Biosensors Utilizing Ink Jet-Printed Biomolecule Compatible Sol Gel Inks and Uses Thereof
Ali Emadiand Piranavan Suntharalingam: Hybrid Powertrain System
Robert Drysdale, Michael Taitand Hamid Toopchinezhad: Self-Reinforced Masonry Blocks, Walls Made From Self-Reinforced Masonry Blocks, and Method for Making Self- Reinforced Masonry Block
CLICK HERE FOR COMPLETE AWARDS CITATIONS AND WINNING POSTER ABSTRACTS. PHOTO GALLERY CAN BE FOUND HERE.