It's a long, long game: Judy Fudge on improving workers' rights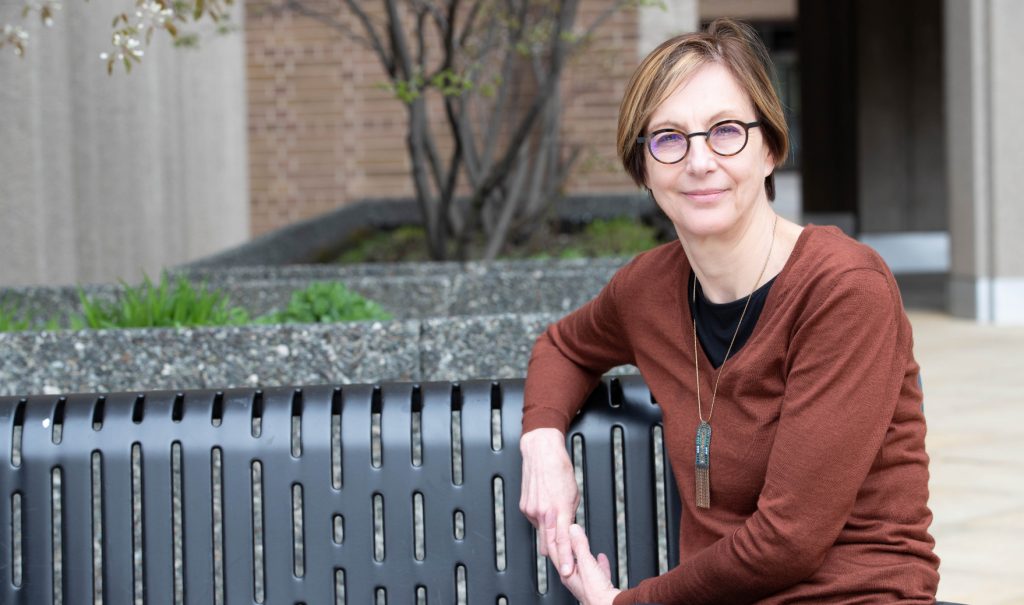 Labour law expert and scholar Judy Fudge is McMaster's new LIUNA Enrico Henry Mancinelli Professor of Global Labour Issues. Her research explores how campaigns again "modern slavery" often take attention from deeper labour problems that put workers at risk. (Photo by Georgia Kirkos, McMaster University)
---
BY Sonia Verma
August 4, 2019
Judy Fudge is a world-renowned labour lawyer and scholar. A Fellow of the Royal Society of Canada, she is McMaster's LIUNA Enrico Henry Mancinelli Professor of Global Labour Issues.
Fudge's research into gender equity, employment standards and labour rights has shaped policy in Canada and abroad.
Before joining McMaster in 2018, Fudge taught at York University's Osgoode Hall Law School, the University of Victoria, and the University of Kent, and has held visiting professorships and fellowships at the Institute for Research on Migration, Ethnicity and Society (REMESO) at Linköping University in Sweden, the NORMA research environment at the University of Lund in Sweden, the European University Institute in Florence, the Institute of Advanced Studies in Nantes, France, and the Re:Work: IGK Work and Human Lifecycle in Global History at Humboldt-Universität zu Berlin.
Here, Fudge talks about why she prefers teaching in McMaster's labour studies department to law school, why corporate and state opposition to "modern slavery" is often a front for xenophobia, and why she loves teaching undergraduates.
On her move away from law schools
In Canada, students can pay $75,000 to $100,000 of tuition for three years of law school. It shapes and limits what they want to study, and the kind of work that they're able to do. I found over the 19 years of teaching law in Ontario, fewer and fewer of my students were able to do work that was socially progressive, because they couldn't afford it. They had huge debt loads, and they couldn't afford to pursue the less lucrative kind of work that might have led them to study law.
Law school began to feel like an environment that structurally disadvantages students who want to pursue those interests, and that's not a comfortable environment in which to teach.
On the many points of view at McMaster
Another reason I came to Mac is that its School of Labour Studies is known for interdisciplinary work.
Law schools have to teach property law, constitutional law, civil procedure — a very diverse range of courses, but you still look at everything from the point of view of a legal scholar.
In labour studies, people from different fields think about questions in different ways.
On teaching
I love teaching. And I'm happy I get to teach undergraduates here. They're so open to new ideas.
Unlike graduate students, they're not as uncomfortable with what they do not know. If it takes them a few weeks and a lot of reading to figure out something complicated, they're fine with it. And the students are very pleasant.
On the impact of her work
I think that one of the things profs don't recognize as scholars is how much impact we have on students.
Because I taught in law schools for a long time, I could see the kind of impact that some of my students could have as judges or lawyers. And here in labour studies, our students go off and do a range of things from working for and with trade unions, community organizations, and political parties and as human resource professionals. Some go into academia and they teach the next generations of students.  It is surprising the people I have run into who have read some of my articles.
On modern slavery
I was in the United Kingdom when they enacted the Modern Slavery Act of 2015, which creates a series of crimes and imposes transparency regulations on businesses which requires firms with substantial revenue to report what they've done to detect and eradicate modern slavery. Australia now has similar legislation, and the United Nations made the eradication of modern slavery one of its Sustainable Development Goals for 2030. The International Labour Organization came out with a new protocol on forced labour in 2014.
My concern is that all this attention on eradicating modern slavery and forced labour is actually distracting us from deeper problems like footloose financial capital and supply chains that shift risk to workers.
All of the attention on slavery and the criminal gangs involved in it reinforce the idea that labour markets are functioning smoothly and all we need is to get rid of criminal activity. The focus on modern slavery has also gone hand-in-hand with securitizing borders.
"Modern slavery" functions more like a slogan than an analytic category or legal harm. It's an easy sell.
Who's going to say, "Well, I oppose those laws against modern slavery!"
I'm trying to understand the politics of these laws and the effect of making slavery a crime in a context in which labour markets are producing precarious jobs.
On affecting policy and legislation
I definitely think I've helped shape Canadian constitutional labour discourse, but I don't think it's actually helped the people I cared about. Changes in legislation and policy usually take about 25 years to really affect people.
Some of the legislative changes to Ontario's Employment Standards Act that I have been advocating for since 1991 were finally introduced in 2017, but when the Conservative government was elected, it repealed them.
Obtaining laws that improve working people's rights and standards of living is a long, long, game.