Housing, health and social services: Dunn connects the dots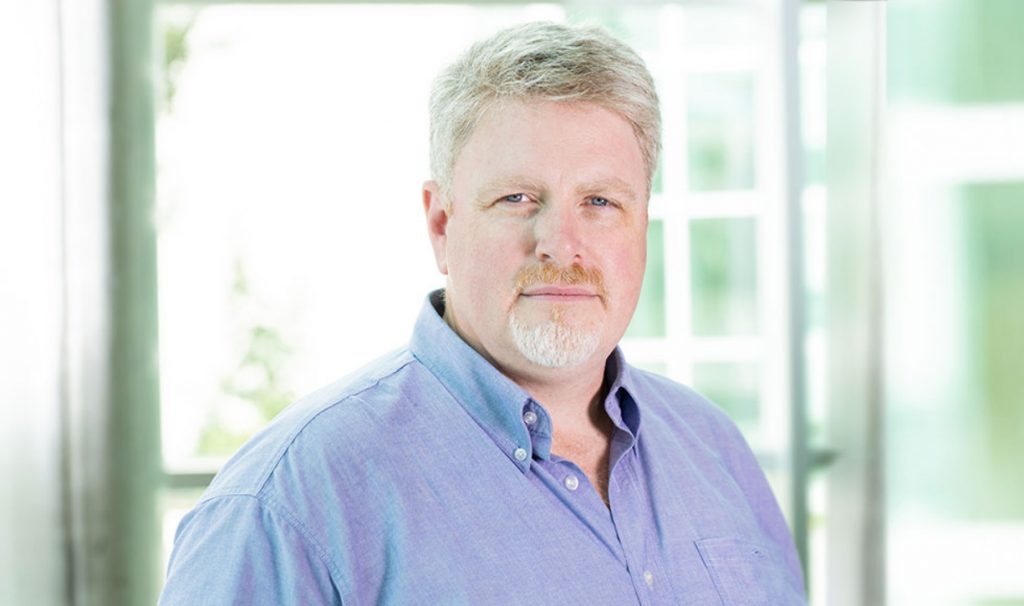 James Dunn, professor and chair of the Department of Health, Aging and Society, looks to launch next generation of research on health inequalities in cities.
---
March 18, 2019
Over the last 20 years, James Dunn's research has revealed clear relationships between inequality in cities and people's health. Working with communities in southern Ontario and beyond, he has explored how housing, economic inequality and attributes of neighbourhoods affect residents' mental and physical health.
"People's income and other socio-economic conditions are incredibly important to their health — and way more actionable than we'd like to believe," says Dunn, whose background in urban geography and social epidemiology is well-suited to the study of urban health equity.
Recently appointed the Senator William McMaster Chair in Urban Health Equity, Dunn plans to use his five-year term to launch a major new project on income inequality and population health in Canadian and U.S. cities, with new analyses of the role public services, social mobility and housing play in health inequality.
He will also launch new research on the health impacts of the current affordable-housing crisis and continuing his longstanding research on housing and health, which will include a book.
"I'm delighted to have this opportunity to expand my program of research on understanding and addressing health inequalities in cities," Dunn says.
"Although my research transcends any one city, Hamilton is a city of great challenges and great opportunities for innovation in reducing health inequalities, and McMaster is a rich environment for pursuing such a research agenda."
Since 2005, Dunn has been following residents of Toronto's Regent Park public housing complex through a redevelopment project, finding clear evidence that people who feel safer and more satisfied with their housing also enjoy improvements to their overall health.
He has also spent more than a decade studying the impact subsidized housing has on the mental health of its residents in the Greater Toronto and Hamilton Area.
Locally, he's been active in researching the impacts of Hamilton's Neighbourhood Action Strategy, an  attempt to address interconnected social, economic and health concerns in inner-city neighbourhoods.
"This research chair will allow me to finish off some of these longer-term projects, get them disseminated in an effective way and also start the next generation of research looking at how housing intersects with other sectors like heath care and social services," says Dunn, who held a Chair in Applied Public Health from the Canadian Institutes of Health Research and the Public Health Agency of Canada from 2008-2014.
"Jim is a world-class researcher whose work is helping to create healthier communities for us all," says Jeremiah Hurley, dean of the Faculty of Social Sciences. "He is an insightful scholar and an extraordinary teacher, and I've no doubt that his work over the coming years will continue to inform social policy."
After completing a Bachelor of Arts & Science and an MA in geography at McMaster, Dunn earned a PhD in urban health geography at Simon Fraser University. And went on to postdoctoral studies in social epidemiology at the University of British Columbia. He returned to McMaster as a faculty member in 2009.
Dunn holds a research scientist post at the Centre for Urban Health Solutions at St. Michael's Hospital in Toronto and was the William Lyon Mackenzie King Visiting Chair in Canadian Studies at Harvard University in 2011-12.
Co-editor in chief of the Journal of Epidemiology and Community Health, Dunn also holds adjunct appointments in planning at the University of Waterloo and geography and planning at the University of Toronto.
In the coming years, Dunn plans to undertake research into income security. A co-principal investigator for the evaluation of Ontario's recently cancelled Basic Income pilot project, he will turn his attention to the Canada Child Benefit program to consider how guaranteed income might improve the health outcomes of recipients.
"I am convinced that this is an idea whose time has come," he says. "The impact on the economy, and on health and well-being, are potentially so profound that we'll have no choice but to take some action in the future that's more effective than what we currently do around income security."
In May 2004, McMaster University established five prestigious endowed research chairs in the Humanities and Social Sciences. Named for McMaster's founder, the Senator William McMaster Chair is awarded to individuals whose scholarship has put them in the upper echelon of academic achievement. Research excellence, distinguished and sustained scholarly work, and a commitment to education are the main criteria for appointment.