Keeping grandparents and grandchildren together for as long as possible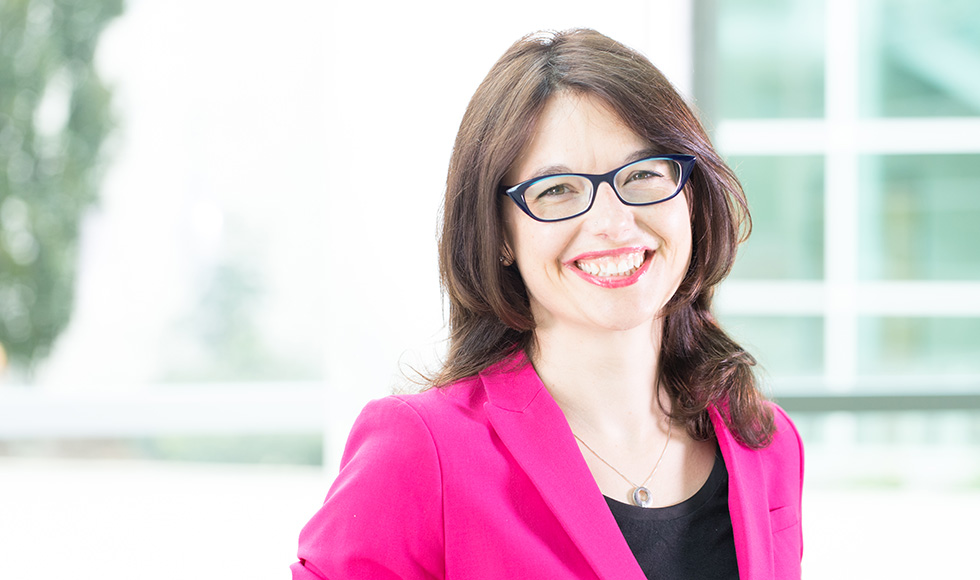 BY Tina Depko
November 13, 2018
Academic scientist Dawn Bowdish has come full circle.
Raised in Hamilton, Bowdish was inspired to pursue a career in science after a high school co-op placement at McMaster University.
She moved away to complete undergraduate and doctorate degrees in microbiology, as well as a postdoc at Oxford, but returned home to Hamilton and McMaster in 2009.
Bowdish is an associate professor in pathology and molecular medicine, and a member of the Michael G. DeGroote Institute for Infectious Disease Research and the McMaster Immunology Research Centre, and the McMaster Institute for Research on Aging.
"I got my bug for science here at McMaster when I was a student at Hill Park," she says.
"I took the bus to McMaster every lunch hour for a semester in Grade 12 and I worked in Dr. Edwin E. Daniel's lab with an amazing postdoc named Amy Low. I thought she had the most glamorous job in the world because she got to travel the world to present her work and have passionate arguments about science. It just seemed like the job for me."
Bowdish's research interest is immunology and aging, with a focus on the role of specialized white blood cells called macrophages.
Read: Lessons from the oldest of the old
These blood cells are important in detecting and clearing pathogens, and mobilizing an appropriate immune response. Further study of the role of macrophages and how they are impacted by age can help develop new treatments for infectious disease.
"I explain to people that I study why we get sick and how we get better," she says.
"I have a particular interest in aging and immune systems, and understanding why as we get older we are more susceptible to some kinds of infections but not others, and what we can do to change that."
Bowdish has published more than 80 peer-reviewed papers and reviews. She has received awards for research excellence from organizations including the Society of Leukocyte Biology and the Ontario Lung Association.
She also holds the Canada Research Chair in Aging and Immunity (Tier 2).
"Older adults are important to our communities and our families, and we want to keep them as healthy and active for as long as possible because they contribute to our society," she says.
"One of the consequences of them getting sick, especially with pneumonia, is that it can accelerate the development of other diseases, like dementia, heart disease and metabolic disorders. By preventing pneumonia, we can slow down the rate of disease and give everyone the old age they deserve."
Bowdish says providing mentorship to students is an important part of her life as an academic researcher. Her lab is filled with students and she has an active social media presence.
Her team boasts being able to work with Canada's only aging mice colony. Researchers also collaborate with the Farncombe Family Digestive Health Research Institute to work with aging germ-free mice.
"We're the only people in the world who have aging mice with no microbes on them and are completely sterile," she says.
"We've been able to show how that influences the aging trajectory and that's really a McMaster success story. I don't think there is a better place than McMaster to do collaborative research."
Gerry Wright, director of the Michael G. DeGroote Institute for Infectious Disease Research, recalls being wowed by Bowdish's knowledge during a chance lunch meeting, so much so that he helped in her recruitment to McMaster.
He says her innovative research at the university in the emerging area of the aging immune system is comprehensive, spanning the entire spectrum from test tubes to humans.
"I was immediately impressed by her amazing research on macrophage receptors, her obvious superior intelligence, her ability to communicate her research to a non-expert and her infectious enthusiasm," Wright says.
"This is a combination of attributes that spells success in my experience. She's an amazing addition to our research community and, in particular, to our infectious diseases institute."
Gut Microbes Contribute to Age-Associated Inflammation in Mice | The Scientist Magazine® https://t.co/8A6d0Akn3F

— Dawn Bowdish (@MsMacrophage) April 13, 2017
Bowdish's teaching methods make her well-liked among her students. As such, she is the recipient of the Best Teacher Award from the Department of Pathology and Molecular Medicine.
"I've been able to supervise a number of graduate students who have gone on to do great things, which is incredibly gratifying," she says.
"To realize you've impacted someone's career development is a great milestone. I like to think I'm creating colleagues, not trainees."
Bowdish, a mother of two, says it is her own family that inspires her research and keeps her searching for a better understanding of why and how we get sick, especially as we age.
"I think about how intergenerational interaction enriches the lives of both grandparents and grandkids," she says.
"I often say the point of our research is keeping grandparents and grandchildren together for as long as possible."
Bowdish's lab hosts high school students as her way to give back.
She says she is thankful to have the career she craved during her time at McMaster as a teen.
"Through my research I have been able to see a bit of the world in the past few years because the research community has been excited to hear about our work. I have been able to travel the world and have conversations about science," she says.
"My team and I get to make discoveries and learn things that no one else in the world knows. That's what keeps me going."