Lack of diversity data on MD/PhD programs hinders inclusivity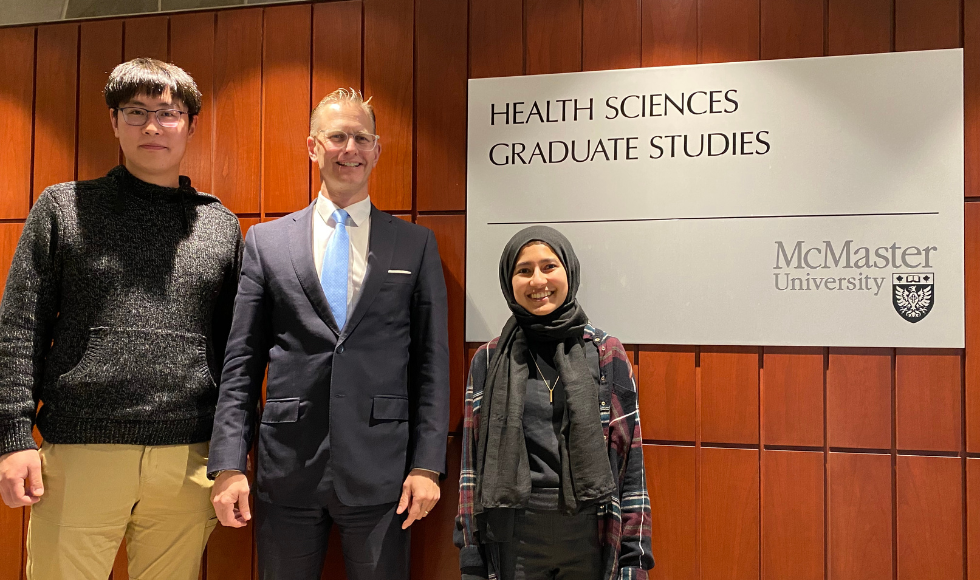 MD/PhD students Ali Zhang (left) and Sawayra Owais (right) and Ryan Van Lieshout, MD/PHD program director (centre)
---
November 4, 2022
The lack of data on MD/PhD students from minority backgrounds could hinder efforts to make these programs more inclusive, says a McMaster University study published by Academic Medicine.
The researchers found existing studies approach MD/PhD student diversity separately in terms of gender and racial and ethnic origins, without examining how students' individual identities may intersect.
For example, data from the United States shows that while the number of Black female medical school students has increased in recent years, it has dropped for women of American Indian or Alaska Native backgrounds. Research examining students' gender or race separately would not reveal this trend, say co-authors Ali Zhang and Alice Cavanagh, who are also McMaster MD/PhD students.
The authors add that such incomplete data can hamper the implementation of best practices for improving the representation of equity-deserving communities in MD/PhD programs.
"Interventions aimed at diversifying MD/PhD programs that work in one context may not be effective in others, as each region of North America strives to reconcile different histories, social structures, peoples and consequences of oppression," said Saad Syed, another author of the paper and a MD/PhD student in the Department of Biochemistry and Biomedical Sciences.
"Taking an intersectional approach can guide diverse and inclusive research agendas and promote a richer understanding of the impact of multiple identities on the student experience."
Other measures the authors say can help students from equity-deserving groups flourish include offering a safe space for them to express their true identities and more prominently featuring their voices in academic research.
"There is very little information on this topic, but the existing data suggests that barriers exist to equity-deserving groups accessing MD/PhD programs, including their long duration, lack of flexibility and lack of mentorship," said Sawayra Owais, a study author and a MD/PhD student in neuroscience.
"We hope that this work will help move the field forward and highlight that programs can help students by providing mentorship and being flexible."
The research team conducted the scoping review of 16 existing studies relating to MD/PhD program admissions. They examined data relating to population diversity, equity considerations and representation among MD/PhD applicants, students and/or graduates; as well as factors helping or hindering entry into such programs.
The research team was led by senior author Ryan Van Lieshout, MD/PhD program director and associate professor of the Department of Psychiatry and Behavioural Neurosciences.
No external funding was received for this study.