Learning, discovery, new friends highlight summer program for Indigenous undergrad scholar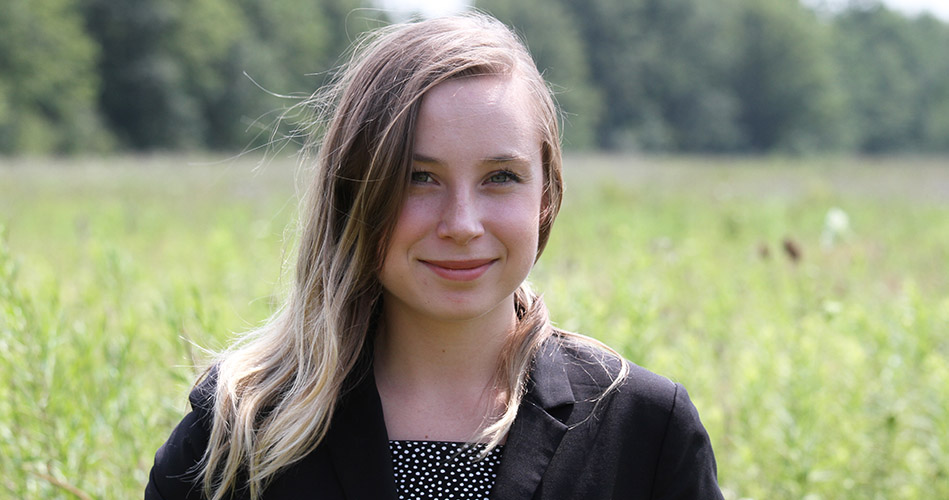 July 28, 2017
The summer has been special for McMaster student Rebecca Crawford.
Crawford is one of 17 undergraduate students who spent the past eight weeks participating in the Indigenous Undergraduate Summer Research Scholars (IUSRS) program.
Crawford has been working under the supervision of Dr. M. Constantine Samaan, associate professor in pediatrics at McMaster University and a staff physician at the McMaster Children's Hospital. Her IUSRS experience has been wide ranging – from working in the lab to conducting research to connecting with other Indigenous students and members of Six Nations of the Grand River community.
We caught up with Rebecca and asked her about her summer experience.
Before this program began, you said that you hoped to become a doctor. After spending several weeks working with a pediatric researcher and physician, is that still your goal?
This experience has not only cemented my goal to become a doctor but also kindled a sense of great excitement and determination to reach this goal. In my research, I have explored the crisis that is Indigenous health in Canada. This issue is something very important to me and something I want to dedicate my life to.
What has the experience of working with Dr. Samaan meant to you?
Over the last few months, working with Dr. Samaan has proven to be an incredible opportunity. He is more than just a mentor – he is a teacher, a listener, and role model. Dr. Samaan has an infectious passion for helping others, learning and finding answers, and has given me countless opportunities to develop and grow. Being paired with a mentor with so much experience, patience and knowledge have been so rewarding. I am excited to follow in his footsteps and enter the field of pediatrics one day.
What are some of the activities you've participated in during the IURSR? 
My internship consisted of two parts: lab work and research work. For the lab component, I shadowed in Dr. Samaan's Medical Sciences Lab and helped the lab coordinator perform Western Blots on muscle samples. This gave me a hands-on opportunity to see how medical research is conducted and to gain valuable laboratory skills. I also led a team of five students in a systematic review. We explored the effectiveness of prevention programs in decreasing the incidence of diabetes and obesity in Canadian Indigenous children. Through this process, I learned so much about conducting scientific research, leading a research group and the importance of medical research in helping people live healthier, happier lives!
The IUSRS includes a community component – opportunities for IUS Scholars to learn from Indigenous researchers and community leaders. How has the community connection benefitted you? 
Bonding with Indigenous students has been wonderful. My home community is about 6 hours away in the Ottawa Valley, so I often feel distant from other Indigenous people. I've developed friendships with other Indigenous students and feel a sense of community, even when I'm miles and miles away from my own. Every Monday, we venture off to different places to learn more about Indigenous culture, the importance of Indigenous research and poignant Indigenous issues. We've taken part in many different activities, but my favourite was the medicine walk at Six Nations, where we learned so much about what the land has to offer to keep us healthy.
Now that you've completed the IUSRS program, what would you say to other Indigenous undergrads who may consider applying in 2018?
Go for it. I was on the fence when I received the email saying that I'd been accepted into this program. I had a very busy summer planned, including prepping for my MCAT exam. I was worried about the workload. But I have absolutely nothing but positive things to say about the IUSRS. The skills, experiences, and connections this program provides are so important for Indigenous Undergraduate students. It's an incredible opportunity to learn more about Indigenous culture, to work with people who are passionate about the same things you are, to learn from an experienced and knowledgeable mentor. And to spend your summer working on a project that you are passionate and excited about!
—
Rebecca Crawford is a member of the Snimikobi Algonquin Nation. She just completed an Honours Life Science degree at McMaster University and plans to write her Medical College Admissions Test this fall.
The 2017 Indigenous Undergraduate Summer Research Scholars program hosted 17 students from across Canada. These students worked under the guidance of 17 McMaster faculty researchers, many of whom have been a part of the program since the two-year pilot began in 2015 – 2016.
For more information about the IUSRS, visit the Graduate Studies website.