Like her reign, Queen Elizabeth II's funeral will be unprecedented: Expert Justin Vovk in the news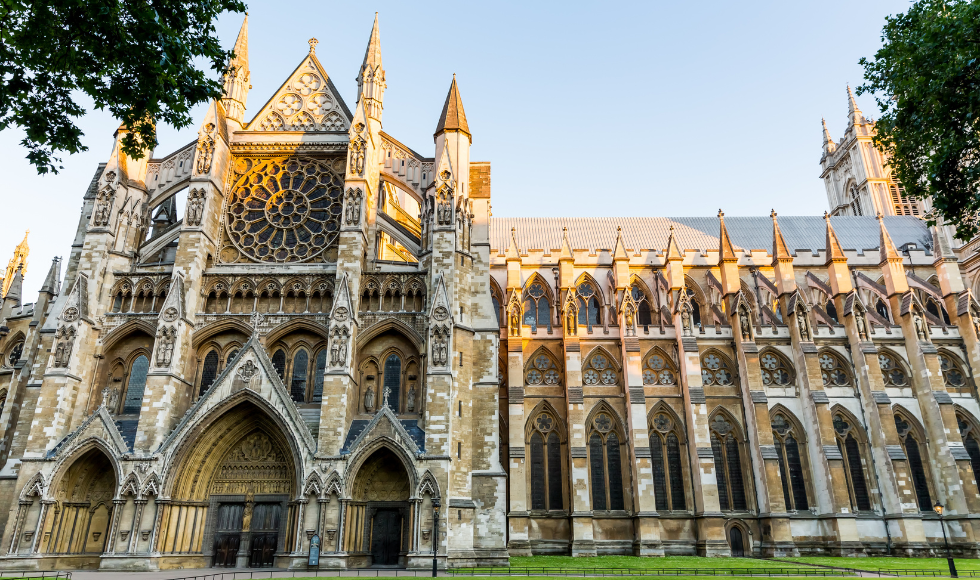 Queen Elizabeth II's state funeral is expected to take place at Westminster Abbey. The historic church was the site of the queen's coronation in 1953 and where she married Prince Philip in 1947.
---
September 9, 2022
The funeral and the flood of tributes for Queen Elizabeth II will be unprecedented, much like the British monarch's reign, says Justin Vovk, a PhD candidate in the Department of History at McMaster.
While it is too early to definitively state what the queen's legacy will be, Vovk says the global outpouring of grief indicates the longest reigning monarch in British history will likely be remembered fondly.
"The overwhelming sense of mourning around the world and really just this coming together and paying tribute to her by people — people who are monarchists, people who are republicans, people who maybe felt indifferent — everyone's coming out to pay tribute to her and I think that is speaking to the fact that she is already, and will continue to be, remembered extremely well," said Vovk in an interview with AM 1150 News.
The queen, who died Thursday afternoon at Balmoral Castle in Scotland at the age of 96, had a way of "disarming" people, said Vovk.
"The tributes that are pouring in for her around the world, from leaders, heads of state, politicians, and average people are all using the same vocabulary," Vovk told CBC News Network.
"Her duty, her self sacrifice, her ability and willingness to modernize the monarchy, then her tremendous skill at putting people at ease, meeting people, talking to people. These, I think, are going to be the abiding images that we associate with her legacy for years to come."
And while the queen's seven-decade-long reign was not without controversy, Vovk told CBC News Hamilton many will consider her time as the Queen of the United Kingdom as largely successful.
"It's important to commemorate the fact that she presided over […] a rapidly developing, technologically advanced world in which mass media and the monarchy itself were placed under constant public scrutiny."
Vovk, who specializes in the impact of royal ceremonies on ethnic and national identity, says death, and in particular the deaths of significant people, can prompt many to look for a sense of connection as they share in the mourning.
"This is the funeral for the person who's meant to embody the entire state, and in our case, the entire Commonwealth community — Canada included. Death always is a process and experience that causes people to question and causes people to look for bonds of community," he told CBC Radio One.
We should expect to continue to see people in the coming days share their memories of lining up to see, or perhaps meet, the queen, said Vovk. "That's something that millions of people share in common."
Preparations are underway for a "massive" funeral, and there are reports the queen's body will lie in state in Westminster Hall for up to five days with the public allowed to visit and pay their respects for up to 23 hours a day, Vovk told CBC News Network.
"We can expect this to be quite possibly the largest funeral Britain has seen, possibly in centuries."
While the funeral will mark the life of a "remarkable person," it can also be seen as a study of interconnectivity and how Queen Elizabeth II, through her death, is uniting people all over the world, Vovk said.
"Examining the rituals around how people come to terms with death — especially the death of somebody who we have known all of our lives but most of us have never met — how we come to terms with that and how we process that through ceremony is really something that sheds light on how we handle big questions of life and death and our place in the world."