Mac researcher to harness big data to tackle superbugs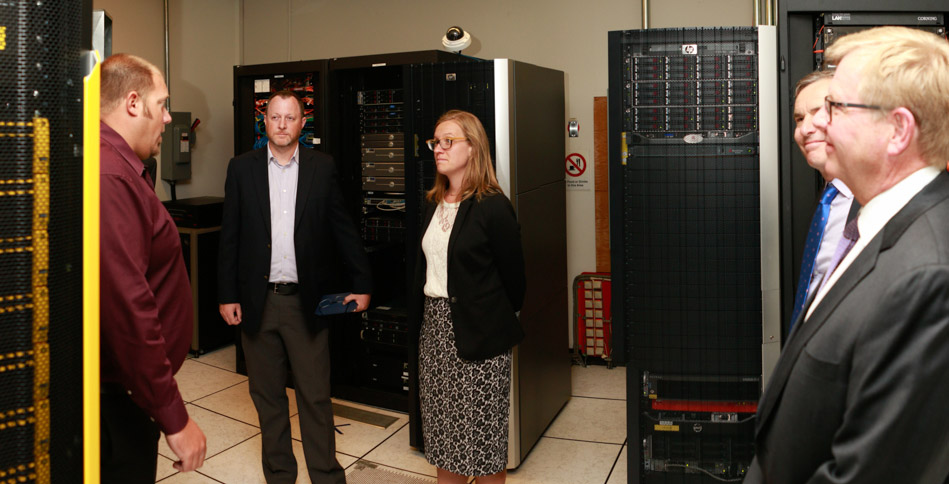 From left, Graig Kelly, infrastructure technology manager of the Faculty of Health Sciences Computer Services Unit, talks with Andrew McArthur, McMaster's Cisco Chair in Bioinformatics; Karina Gould, MP and parliamentary secretary to the minister of international development; Marc LePage, president and CEO of Genome Canada, and Robin Harkness, vice-president, research of Ontario Genomics during a tour of the server room before the announcement.
---
September 13, 2016
A cross-national research consortia co-led by McMaster's Dr. Andrew McArthur is receiving two of 16 federal grants to further develop a big data solution to the growing problem of antimicrobial resistance (AMR).
The government's investment, totalling more than $4M, is the result of Genome Canada's 2015 Bioinformatics and Computational Biology Competition, a partnership with the Canadian Institutes of Health Research (CIHR).
Dr. McArthur and his colleagues will receive $500,000 over four years.
Karina Gould, Parliamentary Secretary to the Minister of International Development, on behalf of the Honourable Kirsty Duncan, Minister of Science, made the announcement at McMaster on Tuesday.
"The Government of Canada is pleased to support these important bioinformatics and computational biology projects that will maximize Canada's return on investment in genomics research, including innovation, jobs and growth," said Gould.
Dr. McArthur, McMaster's inaugural Cisco Research Chair in Bioinformatics, will work closely with researchers from the University of British Columbia, Simon Fraser University and Dalhousie University to design and develop novel software and database systems that will empower public health agencies and the agri-food sector to rapidly respond to threats posed by infectious disease outbreaks and food-borne illnesses.
"McMaster is the birthplace of evidence-based medicine, and we now know that the next round of evidence is personalized genomics – either sequencing patient or pathogen genomes," said Dr. McArthur.
"These are very large data sets, and you need a cadre of specialists and the appropriate tools to translate basic research into clinical practice. This funding will allow us to focus on technical, computational and mathematical problems, in an effort to improve clinical outcomes and public health surveillance."
McMaster is already home to the Comprehensive Antibiotic Resistance Database, or CARD, a central repository of molecular AMR information and bioinformatics tools to interrogate sequence data.
Spearheaded by Dr. McArthur and Dr. Gerry Wright, scientific director of the Michael G. DeGroote Institute for Infectious Disease Research (IIDR), CARD is a rigorously curated collection of data on antibiotics, targets and resistance determinants, providing researchers and clinicians with timely data, models and algorithms relating to the molecular basis of AMR.
Large-scale, milestone-driven genomics research is a priority for Genome Canada, said Mark LePage, president and CEO, adding that there is a "growing need for enhanced tools and methodologies to make sense of the huge and growing influx of data stemming from genomics research."
"These projects will advance the useful application of genomics across multiple sectors, harnessing the power of this technology for the benefit of all Canadians."