Major federal investment renews national research platform on aging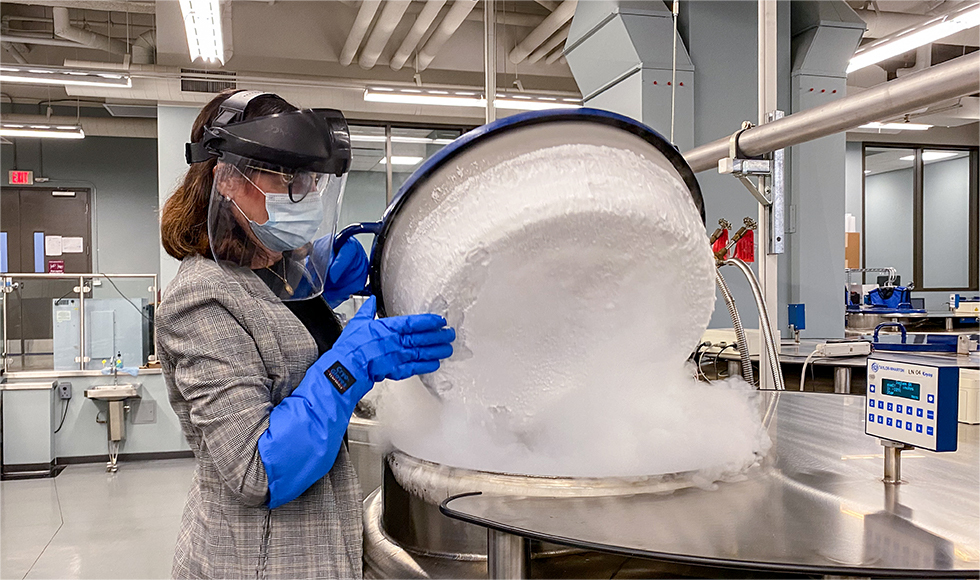 Labour Minister Filomena Tassi inspects a liquid nitrogen freezer containing blood samples Aug. 12 at the announcement of $61.5 million in federal funding for the Canadian Longitudinal Study on Aging. (Photo by Fram Dinshaw, McMaster University)
---
BY Laura Lawson, Canadian Longitudinal Study on Aging
August 12, 2021
Labour Minister Filomena Tassi today announced grants totaling $61.5 million to support the next phase of the Canadian Longitudinal Study on Aging (CLSA) hosted at McMaster.
The funds include $52 million through the Canadian Institutes of Health Research (CIHR) to ensure researchers have ongoing and timely access to a world-class data platform focused on health and aging. It also includes $9.5 million from the Canada Foundation for Innovation.
The $52 million supports research activities at McMaster, including funding for all the participating institutions across Canada to ensure the collection of data from CLSA participants until 2027.
The investment also supports the introduction of several new or expanded assessments in the areas of sexual health, mobility, vision, sense of smell and health-care experiences.
Launched in 2010, the CLSA is Canada's largest study of aging,  following more than 50,000 individuals who were between the ages of 45 and 85 at recruitment, for 20 years.
The platform is led by lead principal investigator Parminder Raina of  McMaster University, principal investigators Christina Wolfson of McGill University, and Susan Kirkland of Dalhousie University, along with co-principal investigators Lauren Griffith and Cynthia Balion of McMaster University.
"Over the last decade, the CLSA has established itself as one of the largest, most comprehensive research platforms on aging in the world," said Raina, a professor of Health Research Methods, Evidence, and Impact at McMaster and the scientific director of the McMaster Institute for Research on Aging.
"We are grateful to the Government of Canada for its ongoing support. This investment paves the way for researchers in Canada and around the world to have ongoing access to high-quality data that will yield critical insights into the aging process."
Paul O'Byrne, McMaster's dean and vice-president of the Faculty of Health Sciences, added: "This is a tremendous boost of confidence in this important and inclusive national data platform, which is going to provide high-impact research to influence our knowledge of all aspects of health and aging for generations to come."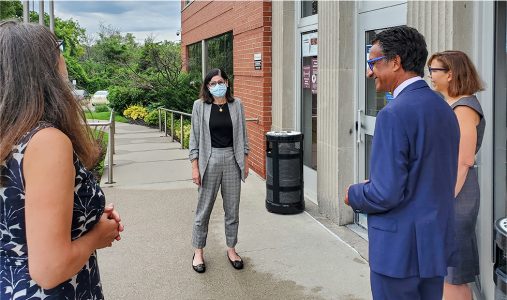 The funding renewal marks the third investment from CIHR, which has previously provided $73.1 million to support recruitment and the baseline assessment and two follow-up waves of data collection.
In addition, earlier this year the federal government announced $9.6 million for renewal of the CLSA's research platform infrastructure through the Canada Foundation for Innovation. The new funding will provide support for two additional follow-ups, the first of which will launch this summer.
"Congratulations to Dr. Parminder Raina at McMaster and his team across the country for building a world-leading research platform," said Tassi,  MP for Hamilton West-Ancaster-Dundas, who made the announcement on behalf of Patty Hajdu, minister of health.
"The funding will allow the CLSA team to continue to augment our knowledge of the social and health factors that affect how people age and support our Government's efforts to help all Canadians live long, healthy and fulfilling lives."
The CLSA is supported by a national team of researchers who lead research sites at Memorial University, Université de Sherbrooke, Bruyère Research Institute/University of Ottawa, University of Manitoba, University of Calgary, Simon Fraser University, University of British Columbia and the University of Victoria.
Since 2015, more than 340 research teams in Canada and around the world have accessed the CLSA data and have generated more than 150 peer-reviewed publications. Nationally representative data from the CLSA are also included in the Baseline Report for the World Health Organization's Decade of Healthy Ageing, which runs from 2021 until 2030.
CLSA data collection activities that will be supported by the investment include:
Wearable technology to capture data on physical activity, sedentary behaviour, mobility and sleep
A new vision contrast sensitivity test that will provide data to understand the link between changes in vision and aging
A new assessment of olfactory function, or sense of smell. Research suggests olfactory dysfunction may be an early warning sign of certain neurological conditions including cognitive impairment
Questions about sexual health and aging to improve research capacity in this area
3D analysis of gait speed, or how a person walks, which has been shown to be associated with changes to the brain and adverse events such as falls
The next application deadline to access the CLSA data is Sept. 8, 2021. For more information on how to apply, visit www.clsa-elcv.ca/data-access.