McMaster among the first Canadian universities to track COVID-19 in campus wastewater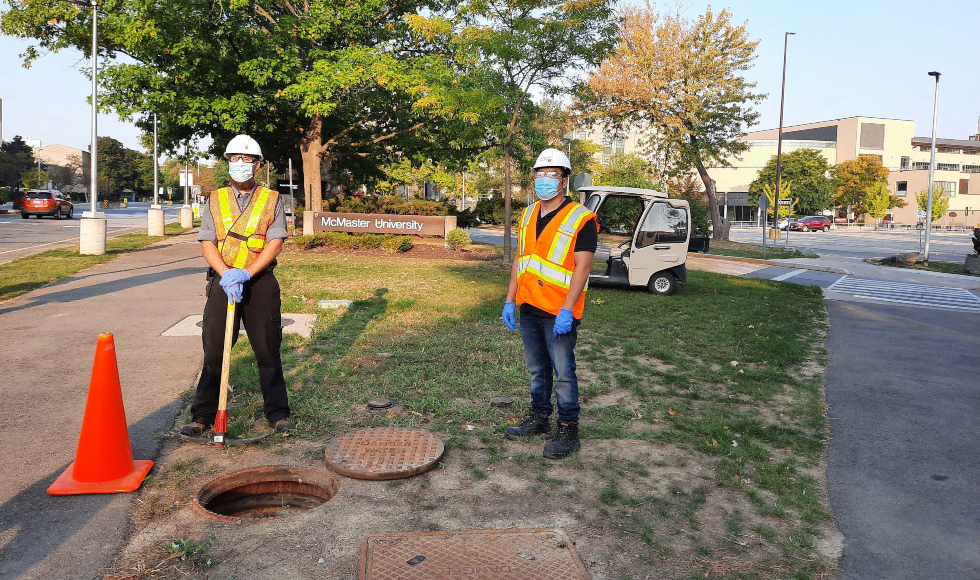 Staff with McMaster Facilities Services (Utilities), working with the COVID-19 wastewater tracking project. Photo by Zobia Jawed
---
BY Michelle Donovan
September 30, 2020
McMaster is among the first Canadian universities to implement a tracking system on campus to identify coronavirus in raw sewage, which could serve as an early warning sign for any outbreaks and inform future reopening plans.
Scientists suggest tracking COVID-19 through wastewater—in combination with clinical tests—is a quick and effective tool to detect community spread, one of the biggest challenges facing public health experts as Ontario enters the second wave of the pandemic.
"While testing the population for the presence of the virus is critically important, some carriers of the illness are asymptomatic and don't get tested. Others get false negatives.  Since those infected shed the virus in their feces, testing wastewater captures the reality of COVID-19 in the community," says Gail Krantzberg, a professor at the W. Booth School of Engineering Practice and Technology, who is working with colleague and wastewater expert Zobia Jawed on the research project.
The tests will be carried out at approximately 13 locations across campus, including academic buildings, student residences and the McMaster Children's Hospital.
"If wastewater samples come back positive from a dorm, then we should be able to isolate the dorm, take immediate public health actions, and deploy remedial measures to avoid the broader spread of COVID-19 within the campus. In reality, it can become a very effective, non-invasive tool for continuous campus monitoring for any potential outbreak," says Jawed.
This project will become part of a broader provincial initiative called the COVID-19 Wastewater Consortium of Ontario (CWCO), which is led by Krantzberg and Jawed. They are developing a roadmap for best practices that could be adopted, through partners, across the province, and in fact, across Canada.
The project will determine the capacity of local facilities to detect COVID-19 earlier and more effectively, measure the effectiveness of future vaccines, and expand the scope of detectable harmful pathogens.
Researchers believe once the methodology is developed and implemented, they can then tactically collect wastewater samples throughout the campus at various locations and timeframes to assess the presence of SARS-CoV-2 as an early warning sign and possibly prevent a sizable outbreak on campus.
"Our priority at McMaster has been, and will continue to be, the health and well-being of our campus community. COVID-19  research is at the forefront of all of our minds as we slowly resume activities on campus. We are very excited to be part of this initiative," says Debbie Martin, assistant vice-president, Facility Services.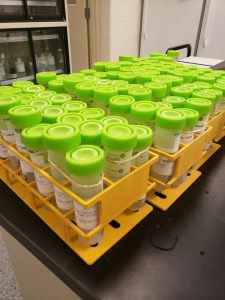 Scientists hope testing wastewater will address the current limitations of clinical COVID-19 testing which include the availability of reliable test kits, false positives, logistical costs and the continuing challenge of identifying those who may be mildly symptomatic or asymptomatic.
"During these unprecedented times, we are dedicated to providing faculty and staff with essential building services. More importantly, we are committed to advancing COVID-19 research and testing programs," says Joe Emberson, director of Engineering Operations at McMaster, who will provide logistical support.
"Supporting the COVID-19 wastewater tracking is one of the very first steps in preventing potential outbreaks," he says.
Classes for McMaster's fall and winter terms will be conducted online and the campus is not expected to fully reopen for many months. The research team will use the time to collect control samples, establish testing methodologies and have a tracking system in place to support re-opening plans.
Common lab techniques have been used effectively with wastewater to detect pathological and chemical biomarkers for decades such as polio, E. coli and pharmaceuticals in wastewater. The virus that causes COVID-19 has been detected in untreated wastewater in a number of locations worldwide including the USA, Netherlands, Spain, Italy, Turkey, and others.
For further information please visit CWCO at www.cwco.ca.