McMaster and adMare partner to bring life sciences innovations to the market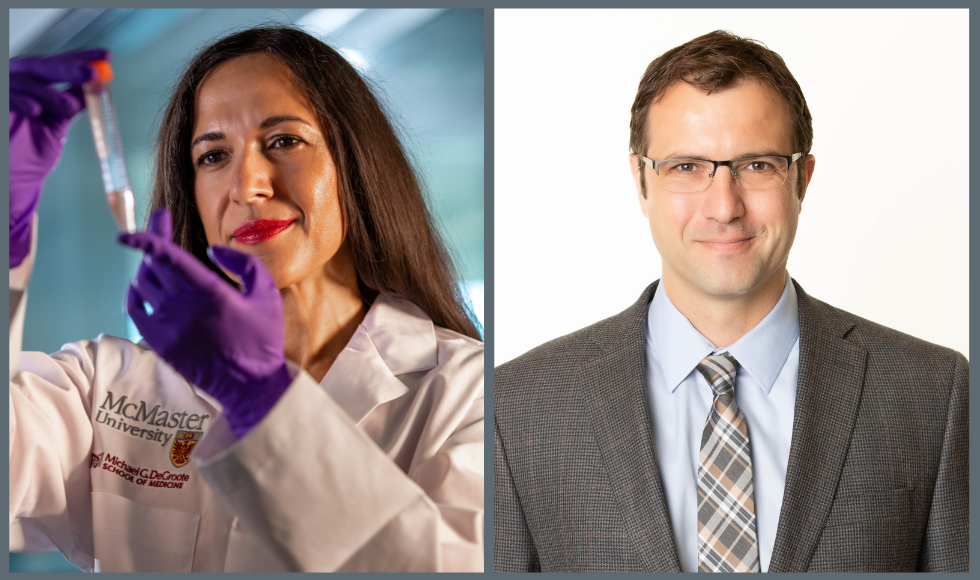 BY Daniella Fiorentino
November 3, 2022
McMaster University and adMare BioInnovations are partnering to advance research and technology commercialization in the life sciences sector.
adMare — a Canadian non-profit organization working to identify and de-risk promising discoveries in health and drug technologies — provides industrial scientific expertise, research infrastructure and critical funding for innovative research and development projects with strong commercial potential.
As part of the partnership with McMaster, adMare has identified a clinical research program led by neurosurgeon and surgery professor Sheila Singh and Jakob Magolan, associate professor in the department of Biochemistry and Biomedical Sciences.
With adMare's support, critical experiments and studies will be performed at McMaster to develop a targeted therapy and approach that could prevent the formation of metastases in patients with brain cancer.
"Patients with brain metastases have traditionally been excluded from clinical trials due to the advanced and intractable state of their disease, and they currently lack targeted therapeutic options," Singh says.
"An anticipatory therapy that blocks brain metastases could transform the field, converting a previously untreatable disease to a treatable and preventable one."
Industrial expertise and research excellence
Claudio Sturino, head of chemistry at adMare, will collaborate with Singh and Magolan, working together on the technology that will form the basis of a new Canadian biotech company.
"We are delighted that adMare has recognized the promise of our research," says Magolan. "I'm excited to work with Dr. Sturino and the adMare team. Their expertise in medicinal chemistry and commercialization will help us translate our work into a life-saving therapy."
The partnership stemmed from an adMare team visit to McMaster in the spring that included educational seminars for all faculty and students on commercializing therapeutic products, as well as one-on-one meetings with McMaster researchers, says Gay Yuyitung, executive director of McMaster's Industry Liaison Office.
"adMare is such an important partner for our research community, and this project with Drs. Singh and Magolan is the first of many collaborations that will help translate therapeutic academic discoveries made at McMaster to the market — and to clinicians and patients across the globe," Yuyitung says.
"Collaboratively translating academic research into novel health innovations is one of adMare's core pillars, so seeing this partnership come to life is really thrilling for our team," says Amie Phinney, adMare's senior director. "We are proud to be working with Drs. Singh and Magolan, and we look forward to watching the continued impact this relationship will have on the Canadian life sciences landscape."
The next generation of biotech leaders
adMare also has a mandate to build the next generation of leaders in biotechnology to grow the life sciences sector in Canada. Frances Lasowski, adjunct assistant professor in McMaster's W Booth School of Engineering Practice and Technology, and CEO of 20|20 Optimeyes Technologies, has been selected to join the 2022-2023 cohort of the adMare Academy's Executive Institute — a 10-month program designed to help professionals strengthen their life sciences leadership skills and enhance their strategic abilities.
"McMaster is home to so many incredible innovations in life sciences – and adMare's expertise will no doubt be a key resource for our researchers to translate their ideas into successful ventures and bring new therapeutics to the clinic to improve patient care around the world," says Yuyitung.
adMare will be at MILO's Innovation Showcase on Thursday Nov. 10, and Phinney will participate in a commercialization expert panel.
Agata Kieliszek from the Singh lab will also be presenting as part of the Technology Showcase.
Click here to register for the Innovation Showcase to meet the adMare team and learn more about Hamilton's innovation community.