McMaster and medical isotope partners awarded $35M from federal government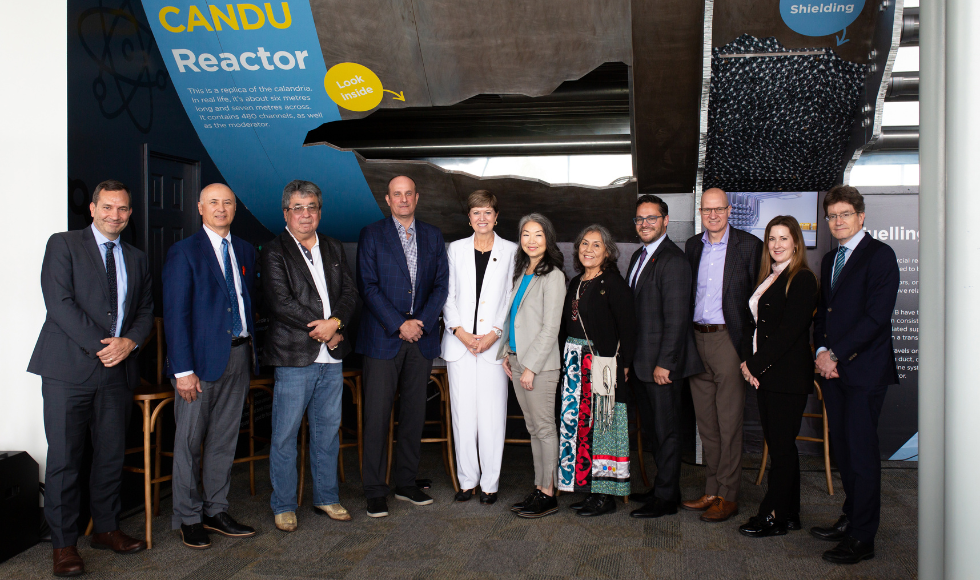 The Government of Canada announced funding that will support the development of a medical isotope ecosystem in Canada, consisting of Indigenous communities, Ontario's nuclear industry, and leading research facilities, academics, and firms working to commercialize novel therapies.
---
June 28, 2023
McMaster University has received $6.8M from the federal government as part of a national initiative to create a Canadian Medical Isotope Ecosystem (CMIE) – a pan-Canadian network for medical isotope research and innovation.
The investment was announced at Bruce Power in Tiverton, Ontario by Pam Damoff, Parliamentary Secretary to the Minister of Public Safety and the Member of Parliament for Oakville North-Burlington, on behalf of the Honourable François-Philippe Champagne, Minister of Innovation, Science and Industry.
"With this investment in the creation of the Canadian Medical Isotope Ecosystem, the Government of Canada is taking another major step towards building resiliency in our domestic medical production capabilities, which will help to ensure the health and safety of Canadians in the event of any potential future global supply chain disruptions," said Damoff.
"This investment will not only grow the economy, as the Ecosystem is expected to attract over $75 million in investment and create or maintain over 600 highly skilled, well-paying jobs, but also contribute to economic reconciliation with the Saugeen Ojibway Nation."
The CMIE partners – Bruce Power, the Saugeen Ojibway Nation, BWXT Medical, Canadian Nuclear Laboratories, the Centre for Probe Development and Commercialization (headquartered at McMaster), McMaster University and TRIUMF Innovations – received a total of $35 million to build the ecosystem, which will help strengthen Canada's role as a global leader in medical isotopes.
Medical isotopes are used to diagnose and treat approximately 1.5 million Canadians every year. The CMIE will create pathways for Canadian scientists to advance new medical isotope technologies from the research laboratory to preclinical testing to routine use in hospitals – creating a robust supply of next-generation medical isotopes for use in Canada and for export to the global marketplace.
The funding for McMaster will be used to expand reactor staffing and operating hours at the McMaster Nuclear Reactor (MNR), enhancing MNR's capacity for medical isotope research and production of custom isotopes for clinical trials. It's part of a $25 million expansion program at MNR to increase the diversity and quantity of isotopes produced and builds upon the $6.8M investment made earlier this year by the Government of Ontario.
Dave Tucker, McMaster's chief nuclear officer and associate vice-president, nuclear, says the investment will ensure Canadians have earlier access to advanced radioisotope-based therapies produced at McMaster.
"As the home of Canada's only major nuclear research reactor and a world-leading supplier of medical isotopes, McMaster has a critical role to play in the Canadian Medical Isotope Ecosystem. With expertise in the development, translation and commercialization of medical isotope-based technologies, we are well-positioned to work alongside our partners in the ecosystem to advance innovation in nuclear medicine, create high-paying jobs in the field and improve access to life-saving isotopes in Canada and around the world," he says.
McMaster is the world's leading supplier of Iodine-125 – a medical isotope used to treat prostate and other cancers in approximately 70,000 patients each year. The federal investment will support development and production of two medical isotopes at MNR: a made-in-Canada technology for clinical quality Lutetium-177 and a new Holmium-166 liver cancer therapy that will be extended to North American hospitals.
Karen Mossman, McMaster's vice-president, research, says the investment speaks to McMaster's history of excellence and leadership in medical isotope research and innovation.
"These investments from our federal and provincial partners highlight the important role that McMaster plays in Canada's medical isotope sector and their confidence in our research to develop next-generation medicines that improve the lives of Canadians," she says.
In its first five years, the CMIE is projected to create over 600 highly skilled jobs in diverse sectors across Canada, strengthening Canada's position as a hub for medical isotope innovation and advanced biomanufacturing.