McMaster and University of South-Eastern Norway receive funding to tackle global health issues in northern communities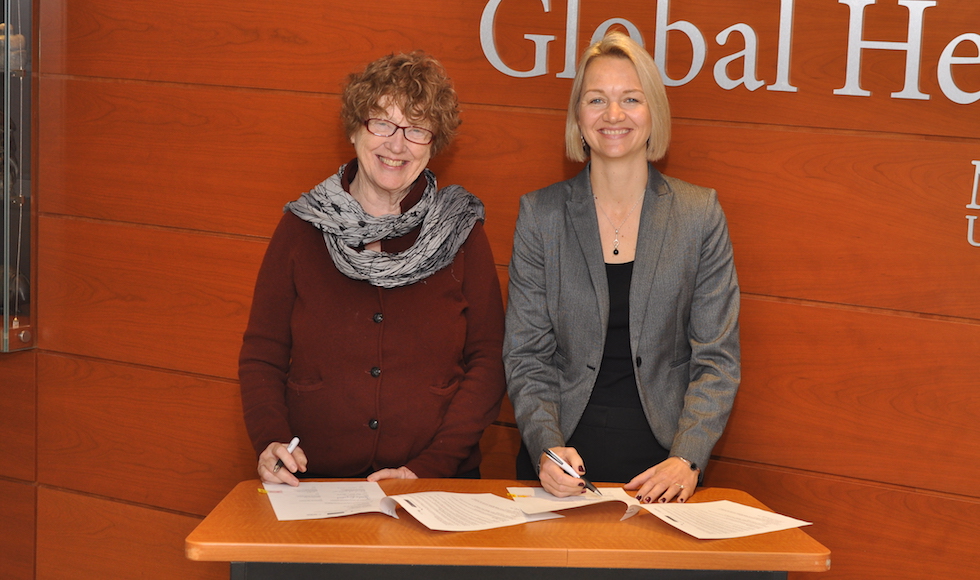 Andrea Baumann, associate vice-president global health at McMaster University (left) and Pia Bing-Jonsson, vice-dean, Faculty of Health and Social Sciences at University of South-Eastern Norway.
---
BY Ruth Adair
March 14, 2019
McMaster University and the University of South-Eastern Norway (USN) have received funding from the Norwegian Agency for International Cooperation and Quality Enhancement in Higher Education(Diku) to continue their collaborative work in tackling global health issues impacting Canada's and Norway's high north regions.
McMaster and USN have been partners since 2015 when they received four-year funding from the Norwegian Centre for International Cooperation in Education (SIU) to enhance education in global health policy, focusing on challenges including climate change and mental health, which are facing circumpolar populations in Canada and Norway. The people living in these high north regions share similar historical and geographic contexts and face similar threats to their natural resources, their health, and their rights.
Over the four years, the universities have developed a joint global health semester to complement McMaster's MSc Global Health program and USN's Health Promotion program. Titled Global transitions within local communities: Small places, big changes, the semester has been designed to give voice to global health issues that disproportionately affect northern communities, both in Canada and Norway.
Students and faculty have benefited from mobility opportunities that have included placements in Norway's high north, working with academics and the indigenous Sami population, as well as practicums that have provided unique insights into the local and community aspects of health care.
"We are looking forward to continuing this important work, which explores critical issues facing marginalized populations," said Andrea Baumann, associate vice-president of global health at McMaster and director of the MSc Global Health program.
This latest funding will allow further student participation in the joint semester, as well as contribute to the preparation of a master's program in global health at USN, and provide additional opportunities for faculty mobility for lectureships and supervision of students.
"The new methods of teaching, learning and working offered by the partnership are evolving rapidly with increased globalization, and have strengthened the quality of – and increased demand for – distance education in higher learning," said Baumann. "Partnerships like this allow McMaster to continue to meet this demand moving forward."