McMaster-based company now able to distribute breakthrough neurotechnology in Canada and the U.S.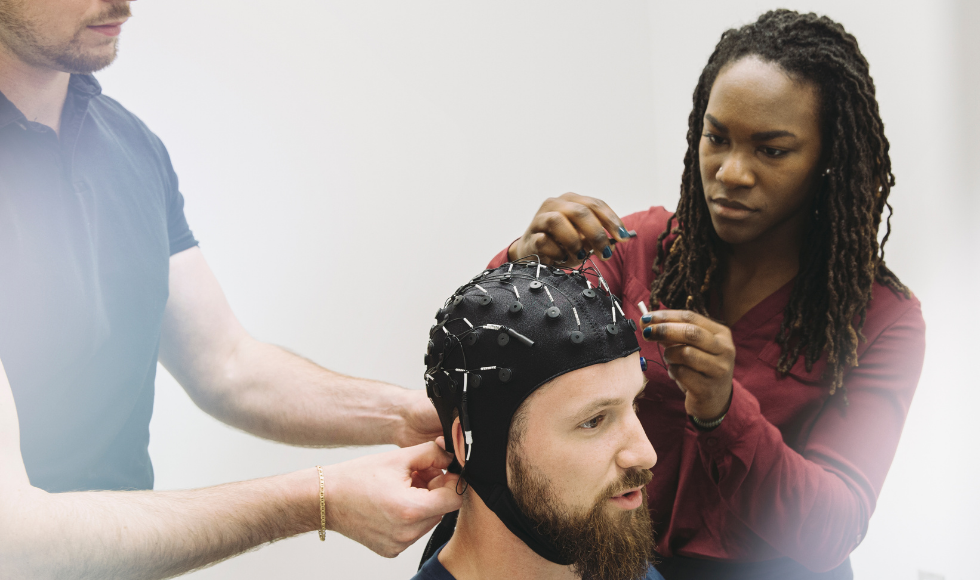 VoxNeuro registers with FDA as a medical device establishment, enabling them to distribute their cognitive assessment system to the U.S.
---
BY Sara Laux, Faculty of Humanities
August 3, 2021
This article was originally published on May 12, 2021, and updated on August 3, 2021.
A breakthrough brain health technology developed at McMaster is closer than ever to changing how brain injury, dementia and cognitive impairment are evaluated.
Co-founded by linguistics professor John Connolly, VoxNeuro, a neuroscience and health technology company, has received Health Canada Class II Medical Device designation for their Cognitive Health Assessment Management Platform (CHAMP), which will enable the company to roll out the software as a medical device across its Canadian test centres.
In May, the company successfully registered with the U.S. Federal Drug Administration (FDA) as a medical device establishment, which allowed them to distribute CHAMP in the United States.
CHAMP, along with VoxNeuro's Cognitive Health Assessment, helps clinicians track cognitive health throughout aging and evaluate cognitive function if an injury or disease is suspected.
The software uses data obtained through electroencephalography (EEG) to track the brain's activity during a series of neuropsychological tests. Results are then compared to a database of normal brain readings to evaluate four key cognitive functions: memory, information processing, attention and concentration.
Unlike traditional cognitive evaluations, which are based on patient self-reporting or observable symptoms and can have a high margin of error, VoxNeuro's protocols provide objective, real-time data.
"This is a great day for people suffering from neurological disorders and the dedicated clinicians who are always searching for better ways to evaluate them," says Connolly, who is the Senator William McMaster Chair in the Cognitive Neuroscience of Language, and the chief science officer of VoxNeuro. "Clinicians will have more certainty, with more objective information about how a patient's brain is functioning. That certainty will help facilitate faster and better diagnoses and more effective treatments for patients."
VoxNeuro is based at the McMaster Innovation Park (MIP), which has provided support by connecting the team with industry experts.
"Our goal is to drive new collaborations and we rely on the expertise of our advisors and investors who are pivotal in the continued success of MIP's thriving ecosystem," says Ty Shattuck, chief executive of MIP. "The team at VoxNeuro is exceptional to work with. They are focused on their mission and receptive to the recommendations we provide. All of MIP is celebrating with them on reaching such an exciting milestone."
Ultimately, VoxNeuro's success demonstrates the importance of providing support for researchers looking to commercialize their work, says Karen Mossman, McMaster's vice-president, research.
"This is a significant milestone for VoxNeuro and a testament to the transformative research that's being created at McMaster – research that advances patient health and well-being," said Mossman. "Our collective goal – through the McMaster Industry Liaison Office and our business incubator, the Forge – is to support and partner with entrepreneurs like the founders of VoxNeuro in their efforts to turn their innovations into products and grow their businesses right here in Hamilton."
Last September, VoxNeuro was selected by a panel of venture capitalists and digital health leaders as one of 11 companies to participate in the Canadian Technology Accelerators Digital Health Program, a bi-coastal U.S. program led by the Consulate General of Canada that connected VoxNeuro with resources to help facilitate their U.S. expansion.
Recently, they have been working closely with the Western New York Medical Imaging Group on their U.S. market entrance strategy.
"VoxNeuro's technology is the breakthrough the medical field has been looking for, for decades. No other neuroimaging tool can quantify cognitive function with the speed and precision provided by VoxNeuro." said Joseph Serghany, diagnostic radiology specialist. "This milestone is the trigger to activate our plans to use VoxNeuro across our practice. We're very excited by the impact VoxNeuro's technology will have on our industry and our ability to better serve our patients and our network with the most accurate information available on cognitive function."