McMaster researchers among group 'inspiring' Bill Gates in the fight against malaria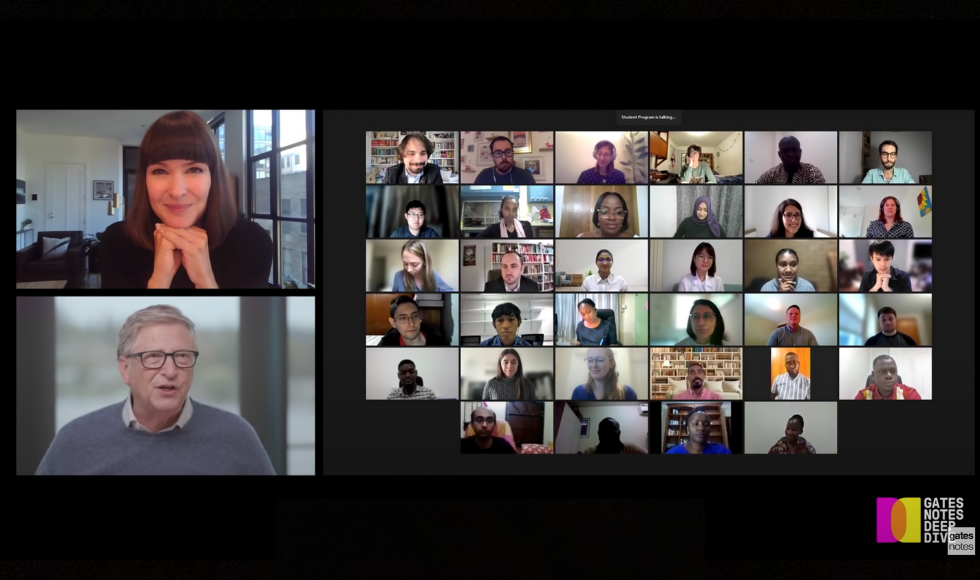 A screenshot of a video of a Gates Notes Deep Dive on malaria that featured two McMaster researchers. (Image courtesy the Bill & Melinda Gates Foundation).
---
November 24, 2021
Two global health researchers from McMaster's Institute on Ethics and Policy for Innovation (IEPI) were recently selected to be a part of a conversation with philanthropist Bill Gates that was centred around malaria.
IEPI works on identifying and addressing ethical challenges and policy gaps in the global health sphere.
IEPI Graduate Research Assistant Aaron Roberts, and Priscilla Cesar, a postdoctoral fellow who works for ReCoDID — a project within IEPI that aims to help infectious disease researchers share data — both say the virtual event left them hopeful about the fight against the disease.
The "Gates Notes Deep Dive" online discussion saw Roberts and Cesar join 34 other researchers from around the world to share their perspectives on eradicating malaria. Roberts and Cesar also both got the chance to pose questions to Gates himself.
"As it stands, over 400,00 people are dying of malaria every year. Over 200 million suffer from malaria every year. Of those who die, around 70 per cent of them are kids under five. And 90 per cent of all this burden is in Africa. So, it's a really, really big problem still," says Roberts.
And the fight against that problem has been complicated by the COVID-19 pandemic, according to Gates, whose foundation lists the eradication of the disease as a top priority.
"It sapped the financial resources of wealthy countries, forcing them to think about health needs in their own countries. It also interrupted the supply of commodities we need for fighting malaria and other diseases," wrote the philanthropist in an online post about the event.
Roberts says that although the number of deaths from malaria have been cut in half over the last decade, drug and pesticide resistance are proving to be barriers to eradication.
"Our tools – which are very old tools – such as insecticides, mosquito bed nets, drugs […] are losing efficacy, and so for the past five years or so we haven't been seeing the numbers go down. They've sort of hit a plateau and if we don't develop new tools we are going to start losing ground," says the ethicist.
A new tool that could help in the fight? Gene drives, or genetic editing to augment or control mosquito populations.
"If [gene drives] are as promising as they appear to be, they could really, really change the tide towards eradication," says Roberts. "It promises to be a very powerful technology and so there are a lot of ethical issues to sort out around it."
Furthering the technology while working out the ethics and governance aspect is going to require collaboration, says Cesar.
"[The Gates Foundation] is very well aware of all the complexities around what they are dealing with," says Cesar. "It was great seeing seeing young scientists in different countries and people that are really passionate about discussing different ideas."
Cesar says one upside of the global pandemic is that "the scientific community came out and they became activists in a sense for data sharing."
She hopes this, combined with political will and open dialogue and transparency, will lead to change.
"It's a good moment and we need to leverage things and keep pushing," says Cesar.
Gates, for his part, says Roberts, Cesar and the 34 other global health researchers left him inspired, writing, "defeating this parasite will take a heroic effort. But the intelligence and passion I saw in those students made me more optimistic than ever that we can do it."