McMaster biomed students tout anti-COVID molecular medium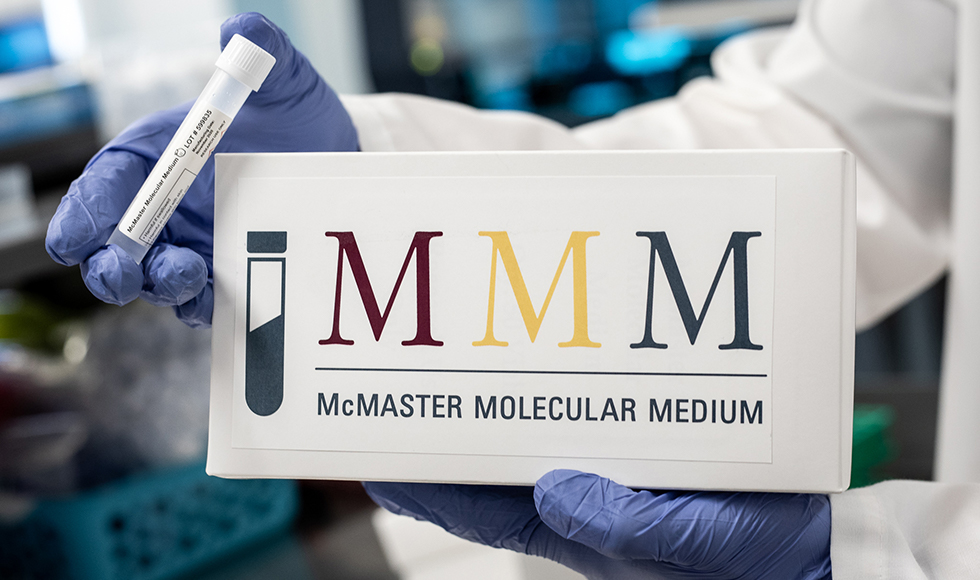 August 4, 2021
Rachael Gregoris sees herself as a mere foot soldier in the global fight against COVID-19.
She is nonetheless a highly-trained one, thanks to McMaster University's Biomedical Discovery and Commercialization (BDC) program, the program that combines biosciences, business education and internships at life science firms.
Gregoris' mission, as an intern at the McMaster Industry Liaison Office (MILO), is vital: Secure a patent for the McMaster Molecular Medium (MMM) to be used in labs worldwide.
The MMM is a chemical solution that deactivates COVID-19 viruses at the point of collection and protects researchers from infection, freeing up bottlenecks at labs. The chemical medium was first developed by researchers at St. Joseph's Healthcare Hamilton in the pandemic's first months.
For Gregoris, the ongoing war against COVID-19 is a personal one.
"I often think of my colleagues, mentors, and friends, who will start depending on the MMM to keep them safe during sample collection and processing," said Gregoris.
"I'm glad to do my part on this project, even if it is only a small step, as I know many people in Hamilton's hospitals and labs who will benefit from this, and they are going through a lot right now."
The first step in the MMM's road to commercialization is Gregoris comparing the medium's formula to others, to ensure that Hamilton-area researchers have their own inventive product, which does not infringe on anyone else's patent.
This typically means checking global patent databases and scientific journals for records of any similar formulation.
"I think the MMM is a great step for Canada's biotechnology space as it pushes us to expand and compete with other leading countries, such as the United States, the UK, China and India," said Gregoris.
"We may never surpass them, but this is still really important to our researchers, as we want to grow our own science and keep it here at home. The cross-Canada effort and innovation from scientists to combat COVID-19 has been pretty incredible."
The BDC program aims to do just that, by training students seeking careers in the health sciences sector. Drug discovery and development is strongly emphasized throughout the course as well as growing business acumen.
Offered by the Department of Biochemistry and Biomedical Sciences with instruction from the DeGroote School of Business, the BDC encompasses the third and fourth years of undergraduate studies as well as a 12-month course-based master's program. The program also includes a four-to-eight-month internship in the health sciences sector.
The program currently has more than 140 students, up from a handful when it launched in 2015, and it will soon launch a marketing campaign to recruit more international students.
BDC students have gained considerable experience interning with start-ups in the health sciences sector or as external consultants working to commercialize biotech products.
"The BDC is a really exciting program, as it provides a truly unique training opportunity to next-generation talents like Rachael Gregoris, who wants to make a difference in the pharmaceutical and biotech sectors, in Canada and beyond," said Yingfu Li, acting director of the BDC program.
"We are especially delighted to see our students using their knowledge to help Canadian researchers and companies to commercialize their inventions in a timely fashion."
"This BDC internship has been a really good opportunity for me to explore a career in biotech intellectual property law, where I hope to continue helping researchers by protecting their discoveries." said Gregoris.
Her classmate Tyrie joined the battle against COVID-19 as an intern at a regional contract service provider of integrated drug discovery, development and manufacturing services, which has already coordinated two print marketing campaigns promoting the MMM.
Tyrie said they were able to quickly and effectively adapt its liquid filling capabilities to manufacture the MMM for COVID-19 test kits.
Tyrie's facility is producing 100,000 MMM-infused test tubes per week and is seeking to scale up even further meet demand, both in Canada and abroad.
That is where John Hands at Bay Area Health Trust (BAHT) comes in. Getting the MMM into the hands of foreign clients means submitting the MMM for regulatory approval both in Canada and the United States, a huge market for the product.
"This will open up, at least within the Canadian context, a much larger market that will allow us to use the MMM in a more fulsome way. At the same time, we are preparing for the US Food and Drug Administration's regulatory process," said Hands, director of business development at BAHT.
Three companies have already expressed interest in using MMM, and hot potential markets include Boston and San Diego, home to major American biotech firms.
Hands said the MMM is presently only being used for research purposes and he has attended three trade shows with Ontario's Ministry of Economic Development, Job Creation and Trade to market the product. He has also met with Ottawa's federal trade commissioners.
"I'm feeling very excited about this opportunity, not just because of the MMM, but also as part of the BAHT's raison d'être. It's an example of the beautiful cohesion of a product developed in Hamilton and licensed by the BAHT, so it can be commercialized into international markets."
BAHT's CEO Peter Kalra said the MMM is a "win-win-win" that allows rapid COVID tests for the public, royalties for its inventors and an investment in the public healthcare system.
He said BAHT has no shareholders making money from the MMM, rather beneficiaries like McMaster, which is now seeing one of its discoveries being commercialized.
"We acquired the worldwide rights for this project and working closely with MILO, we are obliged to commercialize the MMM globally, so we're actively looking for partners to help us do that," said Kalra.