Drone delivery project will deliver medical isotopes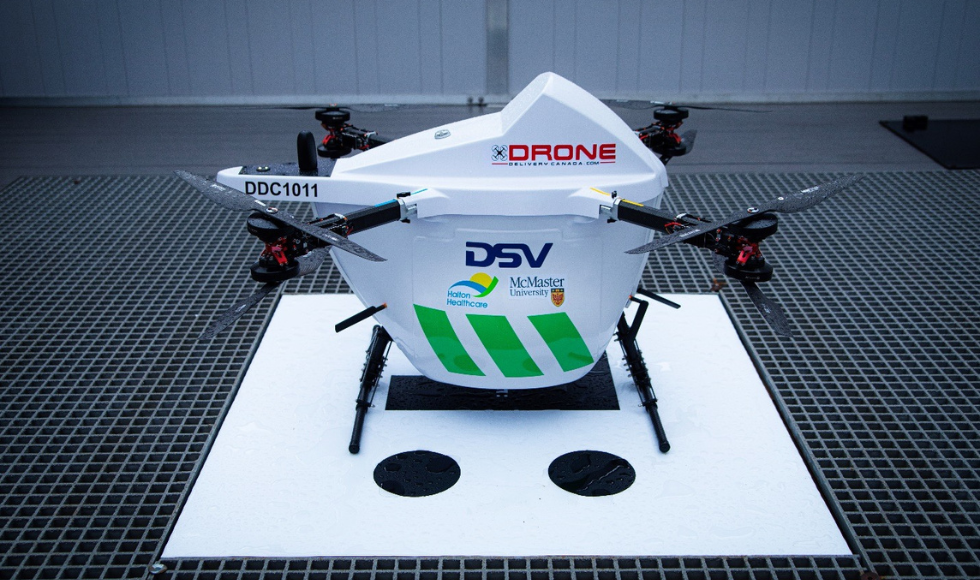 McMaster is working with partners in the region to develop drones that will deliver medical goods to the Oakville Trafalgar Memorial Hospital. (Photo courtesy of Drone Delivery Canada.)
---
BY Daniella Fiorentino, Office of the VP (Research)
October 19, 2022
McMaster is partnering with Halton Healthcare, Drone Delivery Canada (DDC), Air Canada Cargo and DSV Canada to develop a drone delivery system that will revolutionize how medical goods — including medical isotopes made at McMaster — reach hospitals and patients across Halton Region.
The first of its kind in Canada, the Care by Air project will assess the use of an autonomous drone delivery system as a safe, reliable and efficient method for transporting medical supplies and products directly to hospitals.
The project launched Oct. 13 with a test flight demonstration at DSV Global Transport and Logistics in Milton. Using DDC's Sparrow drone, its DroneSpot takeoff and landing zones and its proprietary FLYTE software, the technology will transport health-care goods, including medical isotopes, to Halton Healthcare's Oakville Trafalgar Memorial Hospital for on-site patient diagnosis and treatment.
McMaster is one the world's leading suppliers of iodine-125 — a medical isotope made at the McMaster Nuclear Reactor and used to treat prostate cancer. McMaster's medical isotopes provide cancer treatments for more than 70,000 patients each year.
Andrea Armstrong, research scientist at the reactor and adjunct professor of chemistry and chemical biology, says Care by Air will enhance McMaster's ability to secure quick and efficient transportation of its nuclear medicines.
"McMaster is a recognized leader in the discovery and commercialization of medical isotope technologies — some of the most time-critical medical supplies in the world," Armstrong says.
"We are excited to be collaborating with the Care by Air team to create an innovative transportation solution that will improve access to medical diagnostics and therapies for patients not only in Canada, but around the world."
"McMaster is incredibly excited to be working with our partners in health care, technology and transportation to develop innovative delivery solutions that will transform access to life-saving nuclear medicines and make medical goods more readily available to hospitals, health-care professionals and the patients that need them," says Dave Tucker, assistant vice-president, Research (Nuclear) at McMaster.
The pilot project is the first step to realizing the partners' vision of using the drone technology to connect hospitals across Halton, says DDC chief executive Steve Magirias.
"We are very proud to commence operations and look forward to supporting other hospitals in Ontario as well as in Canada," he says. "Our proprietary drone logistics platform is a perfect fit for delivering high-value and high-risk cargo, as is typical in the health-care market.