McMaster creates virtual reality anatomy app that combines old and new technologies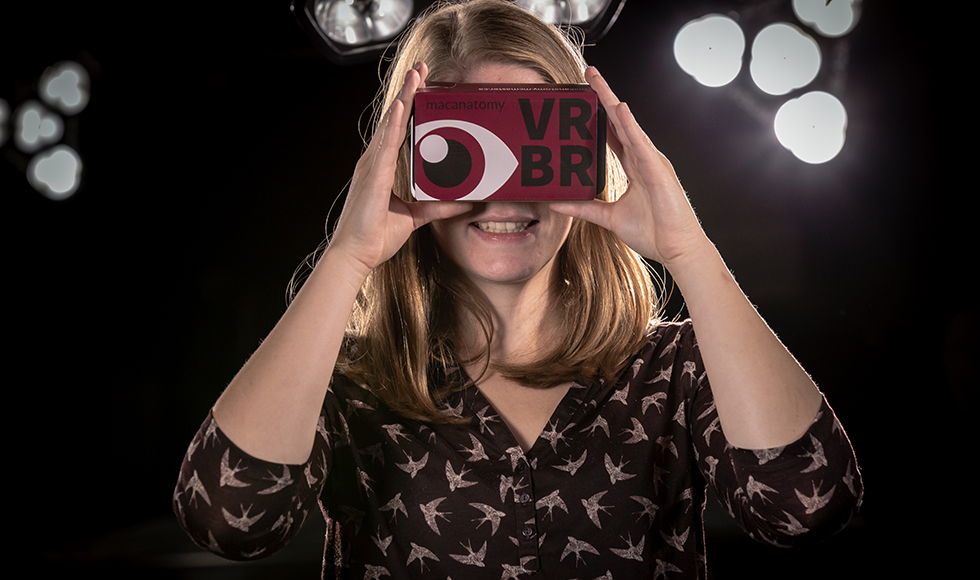 Mary Goodwin, a McMaster midwifery student, uses the MacAnatomy VRBR app and headset.
---
BY Tina Depko, Health Sciences
September 14, 2018
This fall, McMaster University students are using a new, virtual reality app to hone their anatomy expertise outside of the classroom.
A savvy group of professors and students at the university worked together to create the app, called MacAnatomy Virtual Reality Bell Ringer, or MacAnatomy VRBR for short.
The app uses a Google Cardboard virtual reality headset to deliver stereoscopic 3D images that serve as the basis for practice questions for undergraduate anatomy and physiology students.
"One of the major challenges of our course is the bell ringer exam, where students sit down in front of a real dissection and identify what it is and what its function is," said Bruce Wainman, professor of pathology and molecular medicine and director of the McMaster Education Program in Anatomy. "The exam can be difficult, but this app gives students the ability to learn when and where they want to, in a very cool way."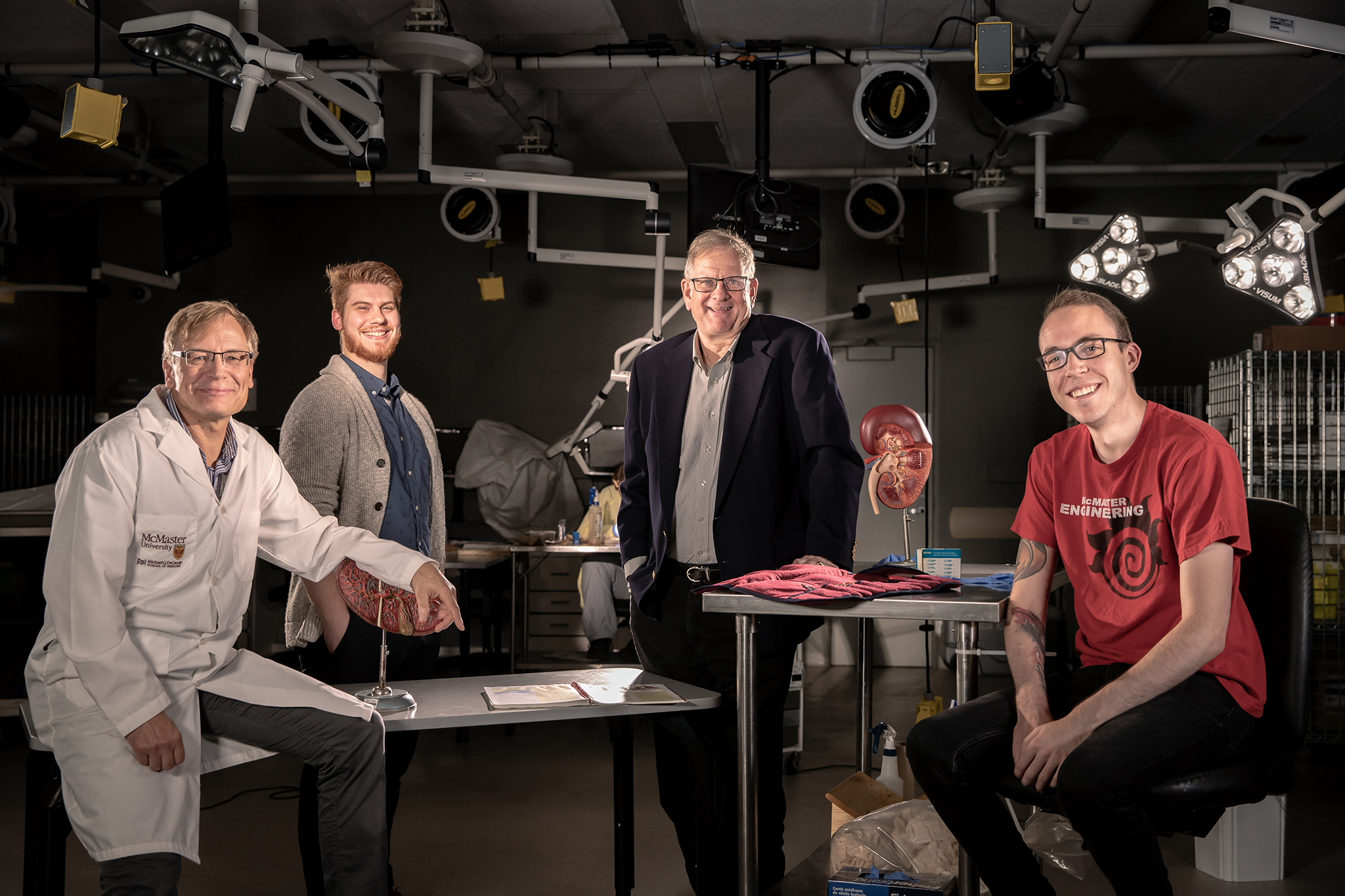 While the app – created by Josh Mitchell, a software engineering student in his final year of studies, and Anthony Saraco, a master's student in the Faculty of Health Sciences –  is brand new, the images featured within are anything but.
In fact, they are from the 1962 publication A Stereoscopic Atlas of Human Anatomy by David Bassett, an American physician, and William Gruber, inventor of the View-Master system. The atlas features a 25-volume collection that includes 1,500 stereo pairs of exquisite cadaveric dissections originally meant for the View-Master 3D viewing system.
McMaster's copy of the atlas and the slides were archived in the storage closet of the anatomy program office by Alexander Ball, a professor in pathology and molecular medicine in the anatomy division. He had saved them from several attempts to clean out unused teaching resources over the years.
"They have basically been buried since the 1960s," said Ball, who noted that he was taught with the slides in medical school at Dalhousie University. "When I first came to McMaster in the 1980s, the View-Master projector was here and the screen was on the back wall, but no one ever used the slides because they are so complicated to sort through. You didn't have the time to find and use these amazing specimens, and they were not easily accessible.
"The other barrier to their use as a teaching aid was the inability to accurately point to a structure in 3D."
Ball and Wainman wanted to find a new way to use the images for instruction, and the seed of the idea for an app was planted.
Mitchell and Saraco worked from May through August on transforming digital photos of Bassett's images from Stanford University into stereoscopic 3D on a smartphone screen, creating additional 3D images for a lab safety exercise on the app, finding a supplier for 1,000 pairs of cardboard VR headsets and ensuring these headsets arrived in time for the start of the school year.
"While we had the content, we had many obstacles to overcome," said Mitchell. "We needed to find the right platform, figure out how to create a 3D pin for the images to base the questions on, among other challenges. Our end goal was to create a user experience that was as seamless as possible and easy for students to use."
MacAnatomy-branded VR headsets are being distributed to approximately 900 students enrolled in programs from health sciences to engineering at the university this fall.
MacAnatomy VRBR features a series of labs focused on specific topics, ranging from gastrointestinal to respiratory anatomy. The quizzes in each lab and the answers, including rationale and where you can find the information in the course, have been crafted by the app team and made available on McMaster's web-based course management system, Avenue to Learn.
"The questions are quite difficult, so students can learn far before they are tested in the classroom and start a discussion with faculty, teaching assistants and other students about what they are viewing on the app," said Saraco.
"Our teaching assistants were over the moon when we introduced the app and headsets to them the week before classes, and they were excited about this new teaching and learning opportunity. They had the app downloaded and were using it before I even finished introducing it to them."
The app doubles as a study for Wainman, whose research focuses on virtual and augmented reality. He will be conducting qualitative analysis on how students rank their experience of using the app, as well as investigating whether 2D or 3D learning is superior. His research to date suggests that 3D stereopsis is the key feature that is missing from virtual reality to make it a more effective learning tool.
Wainman says that to his knowledge, McMaster is the first medical school to take the Bassett slides and turn them into a 3D stereoscopic virtual reality app for learning.
He noted it is fascinating to think about how an old technology could be the key to unlocking virtual learning.
"We want to be on the cutting edge of technology to know what's out there, but more importantly, what works," said Wainman. "When we looked at the slides and learned people were not using them, it was like when they finally opened King Tut's tomb, and you wondered how this could have possibly been there and no one had been using it to learn."
MacAnatomy Virtual Reality Bell Ringer is available at no cost on Android and iOS from the App Store. Download it here.
The MacAnatomy VRBR is expected to take centre stage at the American Association of Anatomists regional meeting at McMaster on Nov. 10, 2018.