McMaster-designed peer support app for first responders launches this spring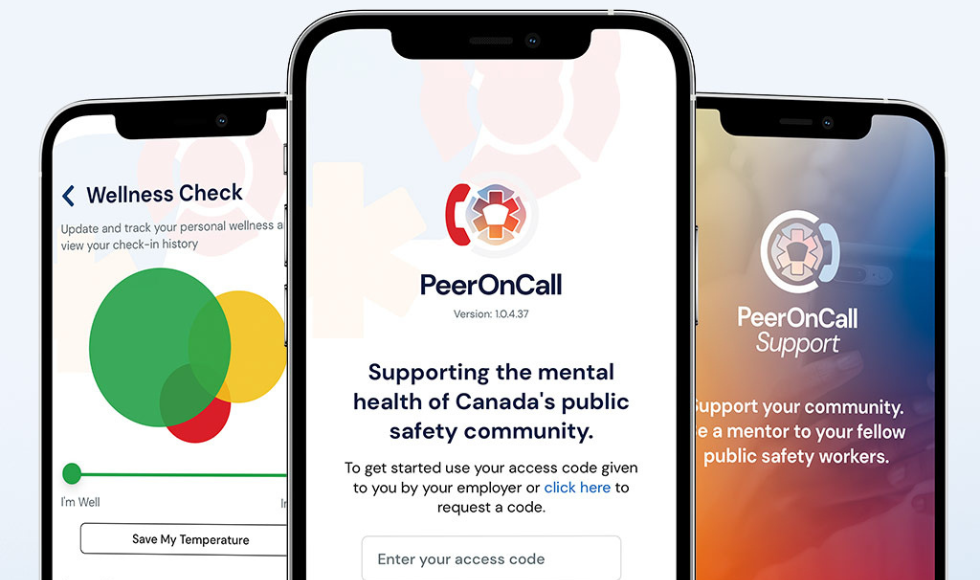 McMaster researchers have designed two mobile applications to better equip Canada's first responders with access to peer-to-peer mental health support and customized resources.
---
April 24, 2023
McMaster researchers have designed two mobile applications to better equip Canada's first responders with access to peer-to-peer mental health support and customized resources.
The apps — PeerOnCall and PeerOnCall Support — will be implemented within public safety organizations this spring.
Designed by and for Canada's public safety communities, the apps will  improve access to private and personalized mental-health resources for frontline workers, and will promote early intervention, mental health support and psychological health and safety in public safety workplaces.
Sandra Moll, associate professor in the School of Rehabilitation Science, led the process of co-designing the apps with public safety personnel from across Canada — including correctional officers, emergency communicators, firefighters, paramedics, and police.
PeerOnCall is for public safety personnel seeking peer support. Users can connect with trained peer support providers via secure, private text or voice chat and access a variety of resources, including peer wisdom videos, evidence-informed articles and lists of local support services, as well as personalized private wellness tools, including a wellness log.
PeerOnCall Support is for trained peer support providers. Providers upload their profiles to the app and are matched with support seekers based on the seeker's preferences.
To create the PeerOnCall apps, Moll's team adapted the source code of Beyond Silence – another mental health support app designed by the team and tailored to healthcare workers.
The app implementation research — led by Moll and funded through the Movember Foundation and the Public Health Agency of Canada — is being conducted in partnership with the Canadian Institute for Public Safety Research and Treatment at the University of Regina, as well as a team of interdisciplinary researchers from McMaster, Memorial University, Wilfred Laurier University and Western University.
"With the help of our research and knowledge user partners, we are preparing to launch the apps within 20 to 30 public safety organizations across Canada this spring — an exciting opportunity to bring this technology to life and gather feedback that will help us optimize the implementation process," says Moll.
A police organization in Ontario with 75 trained peer support providers will be the first to implement the apps.
"It's important that we implement the apps within a diverse group of public safety organizations so that we can better understand the process of implementation in organizations of different sizes, types and locations," says Moll.
"The feedback we gather in this first phase will help us optimize implementation down the road to ensure the applications meet the unique needs of frontline workers."
The McMaster Industry Liaison Office (MILO) played a key role in the app development and publishing process. MILO helped Moll's team and their partners secure intellectual property protection, establish clear terms of use, negotiate data-sharing and collaborative agreements and ensure the highest standard of security and privacy for app users.
"Both applications are built to prioritize the anonymity and privacy of all involved," Moll says. "We wanted to reduce the barriers for first responders to access the help they need, and anonymity plays a big part in that. We have worked hard to ensure that communications between support seekers and providers are private and secure."
Gay Yuyitung, MILO's executive director, says the office will continue to support Moll's team as they prepare to implement the apps in locations across the country.
"The MILO team is excited to be supporting the commercialization of this innovative resource. The PeerOnCall apps will fill a much-needed gap in the public safety community and provide Canada's frontline workers with high quality, anonymous, on-demand mental health information and support," says Yuyitung.
For more information about the apps and the research, visit the PeerOnCall website or email the team at oncall@mcmaster.ca.