McMaster engineering graduate wins 2022 James Dyson Global Sustainability Award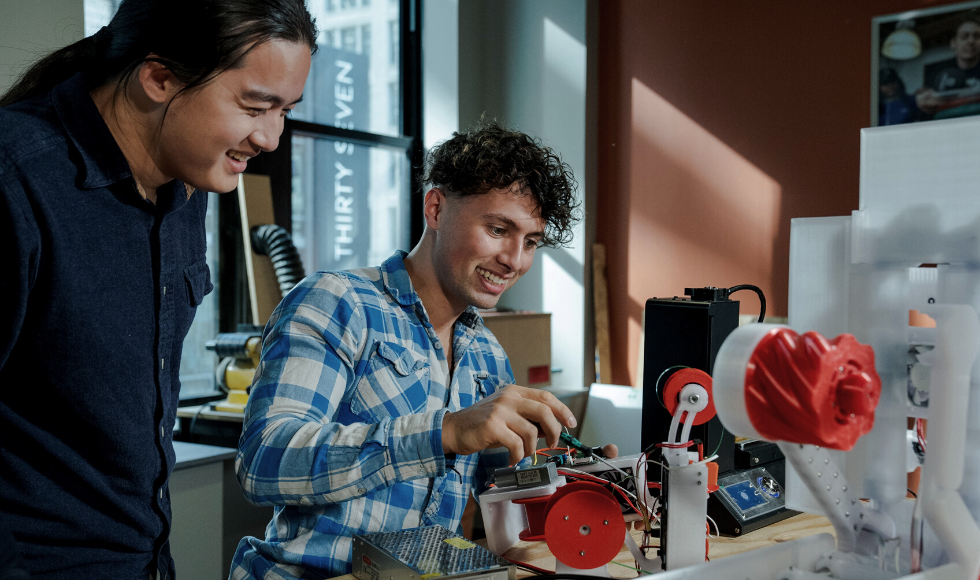 Mechanical engineering graduate Swaleh Owais, right, and business partner Yang Cheng's invention, Polyformer, recycles plastic bottles into precious 3D printer filament. (James Dyson Award photo)
---
BY Naz Kittani, Faculty of Engineering
November 16, 2022
McMaster engineering graduate Swaleh Owais and his business partner Yang Cheng have won the prestigious 2022 James Dyson Global Sustainability Award for Polyformer, an open-source machine that turns used plastic bottles into 3D printer filament.
Polyformer is a financially and environmentally sustainable solution for communities around the globe tackling issues of plastic waste, accessibility and production.
"It is a great honour to be the 2022 JDA international sustainability prize winner," says Cheng, an industrial designer. "We are incredibly thankful to the James Dyson Foundation for running this fantastic competition. Sir James Dyson is a personal hero to both of us."
The idea for Polyformer came together when the pair wanted to solve two problems using one solution. Cheng wanted to create an innovative way to recycle plastic bottles and Owais was passionate about making 3D printer filament cheaper in developing countries.
3D printing has made products and accessories — from wrenches to fidget spinners — accessible to communities where they are otherwise too expensive to produce or purchase. But the price of the filament used in 3D printing is often inflated or too expensive to ship in for these communities.
At a cost-efficient price of $150 total, Polyformer breaks down these barriers.
Not only does Polyformer support the development of affordable 3D-printed products and tools, but it also establishes rewarding recycling infrastructure where there may not be one in place and helps tackle the growing problem of plastic waste.
"We picked the Polyformer because buying the plastic you need for rapid prototyping machines is very, very expensive," says Sir James Dyson, founder and chief engineer of Dyson.
"They're taking ordinary plastic we have around us and turning it into plastic for 3D prototyping. So, it saves money, it's incredibly convenient and in remote places in Africa, it makes rapid prototyping possible".
How it works
The first step is to build a Polyformer machine, which is easier than you'd think. Polyformer is an open-source community project with the CAD, code, and building instructions available for free online. People interested in building this machine can buy the full building kit online.
Once the machine is built the user cuts plastic bottles into a long continuous strip using a custom, easy-to-use bottle cutter mechanism. The user feeds the plastic strip into the machine, where it will turn into 3D printer filament spool that can be released and put directly into a 3D printer.
On the heels of this exciting award announcement, Owais is in Dubai to present Polyformer at this year's Global Grad Show, an international exhibition featuring 100 impact innovation projects.
The pair are also poised to expand Polyformer's reach internationally.
"We're actually moving forward with our plans to deploy Polyformer at other maker spaces around the world because if 3D printing is cheap, its more accessible and that means more people can build amazing things," says Owais.
McMaster Engineering grads Eden Lazar, Clayton MacNeil, Caitlyn Kuzler and Afeef Khan were also recognized with the National James Dyson award this year for their invention, Taco, a knife guide tool designed to improve the lives of those with mobility issues.
In 2021, Lianna Genovese, biomedical and mechanical engineering graduate, won the National James Dyson Award for Guided Hands and in 2017, four electrical and biomedical engineering grads won the International James Dyson Award for sKan.
To find out more about Polyformer, visit their profile on the James Dyson Award website.