McMaster explores research, academic partnerships with universities in Vietnam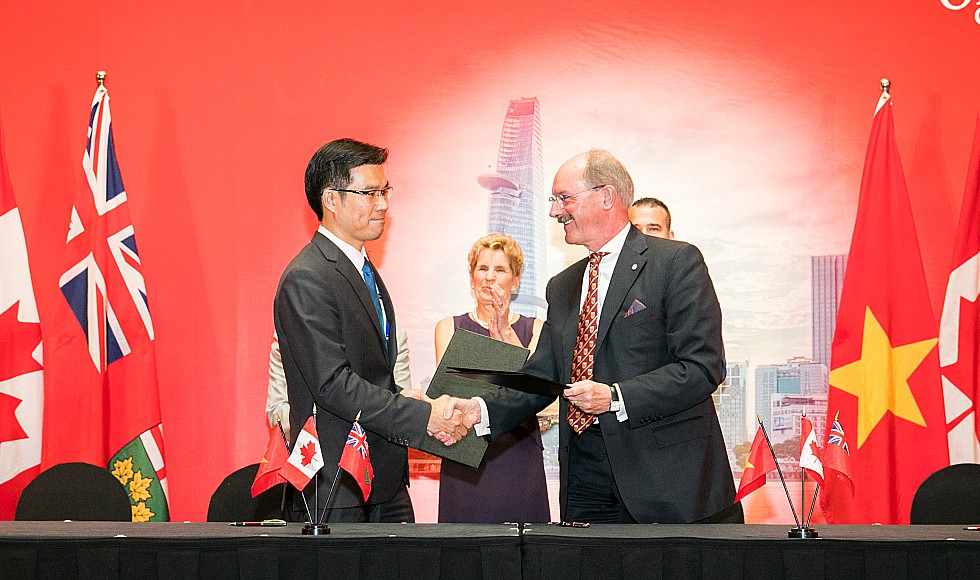 Premier Kathleen Wynne looks on as McMaster's Vice-Provost, International Affairs Peter Mascher shakes hands with Dr. Dao T. Tran, Vice President, Ton Duc Thang University following the signing of a memorandum of unstanding between the two universities.
---
BY Erica Balch
January 3, 2018
McMaster's Vice-Provost, International Affairs Peter Mascher has signed a series of framework agreements with leading universities in Vietnam that lay the groundwork for potential research and academic partnerships.
Mascher, who was in Vietnam as part of a two-week-long business mission to the region led by Ontario Premier, Kathleen Wynne, signed four memoranda of understanding (MOU) with universities in Ho Chi Minh City and Hanoi.
The formalization of these collaborative partnerships will provide opportunities to jointly explore the development of research projects, exchanges of academic and scientific information, faculty and staff exchanges, undergraduate and graduate student mobility, summer research internships, and the joint supervision of Ph.D. students.
In Ho Chi Minh City, Mascher visited Ton Duc Thang University where he met with the university's president Le Vinh Danh and vice president Dao T. Tran to sign an MOU aimed at exploring partnerships in science, technology and education, including the potential for joint research projects, co-hosting international conferences, student and faculty exchanges, and the development of co-tutelle programs.
While in Hanoi, Mascher signed agreements with leading Vietnamese institutions including: Hanoi University of Science and Technology, where he met with Dinh Van Phong, and Vu Tuyet Trinh, the university's Vice-President and Vice-Director of the International Cooperation Department respectively; Hanoi's Graduate University of Science and Technology/Vietnam Academy of Science and Technology, where he met with Tran Dai Lam, Vice Rector in charge of academic and international affairs; and Vietnam National University, Hanoi, where he met with university president, Nguyen Kim Son, and Nguyen Thi Anh Thu, Director of the university's Cooperation and Development Department.
Key areas of mutual interest include materials science and engineering, biotechnology, and the fundamental and environmental sciences.
Mascher also participated in an academic round table hosted by the Ho Chi Minh City University of Technology, where the key topics of discussion were a comparison of best practices towards achieving gender equity in the STEM fields and how to encourage entrepreneurship among students and faculty.
"Vietnam is home to one of the world's fastest growing economies and has made higher education a priority to help maintain that growth," says Mascher. "These agreements will provide opportunities for McMaster to work in partnership with Vietnamese post-secondary institutions and the government of Vietnam to help build research and academic capacity, as well as support research development with the private sector."