McMaster faculty help lead national response to COVID-19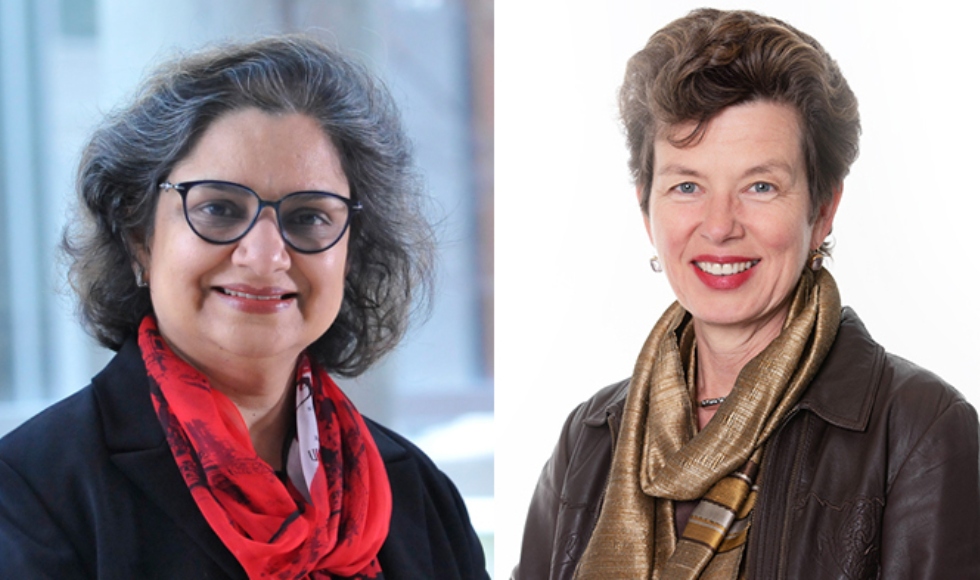 Professor Charu Kaushic, left, and Deborah Cook are two McMaster faculty taking leadership roles in Canada's response to the COVID-19 pandemic
---
May 11, 2020
McMaster University faculty members are taking leadership roles in Canada's response to the COVID-19 pandemic.
Charu Kaushic, professor of pathology and molecular medicine, has been asked to serve on the COVID-19 Immunity Task Force announced by Prime Minister Justin Trudeau. She is also the scientific director of the Canadian Institutes of Health Research's Institute of Infection and Immunity based at McMaster.
Kaushic is part of the task force charged with establishing priorities and overseeing the coordination of a series of country-wide blood test surveys that will tell how widely the virus has spread in Canada and provide reliable estimates of potential immunity and vulnerabilities in Canadian populations.
"I am honoured to be asked to serve on this task force, which has so many brilliant scientists and leaders in this area," said Kaushic. "The task force has an urgent mandate and we need the infection and immunity researchers across Canada to step up and help with this work, so we can recommend the best ways to move forward."
The task force is chaired by David Naylor, former president of the University of Toronto, and Catherine Hankins, professor of public and population health of McGill University and includes Theresa Tam, Canada's chief public health officer, and Mona Nemer, the chief science advisor to the prime minister.
The team has already agreed on an accelerated process that, by mid-May, will enable the scale-up of existing fieldwork on immunity.
Several other McMaster professors are part of federal panels looking at different aspects of COVID-19 response.
Deborah Cook, professor of medicine and health research methods, evidence, and impact, is a member of the multidisciplinary COVID-19 Expert Panel which will advise Nemer on the latest scientific developments related to the disease. Cook is also member of the task force on reprocessing of N95 masks or respirators.
The team will provide recommendations on the use of reprocessing and reusing of N95 face masks in light of the potential shortage. In addition, she is a part of the federal task force on ventilators, to advise on how to ensure that the federally acquired ventilators go to the right places at the right time.
Both Jonathan Dushoff, professor of biology, and David Earn, professor of mathematics, are part of the expert group on modelling approaches. This group will be reviewing approaches to predict and manage disease spreads, identify hot spots in provinces and territories, as well as recovery strategies, data accessibility and data gaps.
Dushoff and Earn are members of McMaster's Michael G. DeGroote Institute for Infectious Disease Research.