McMaster Health Forum expanding the scope of Social Systems Evidence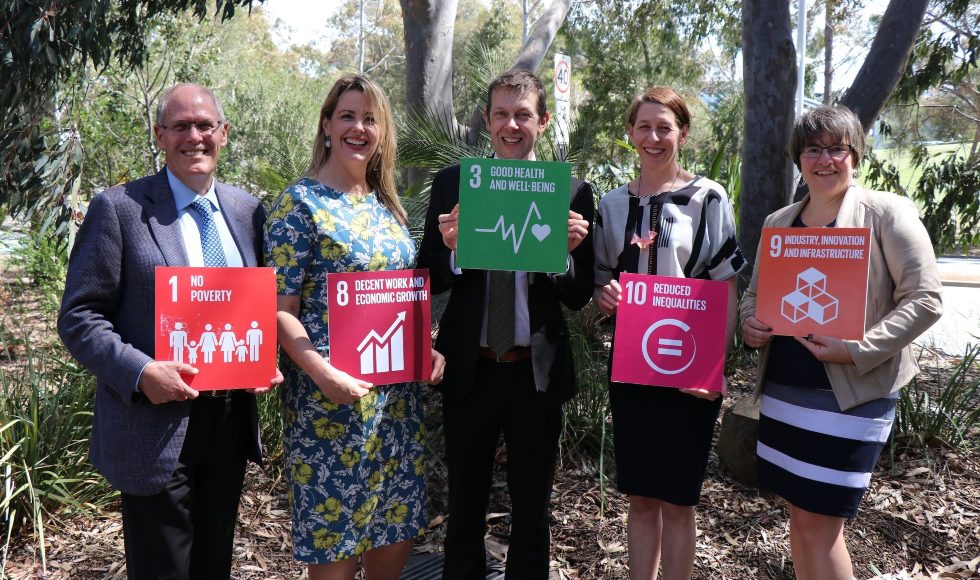 (Left to right) David Farrar, McMaster University; Rebekah Brown, Monash University; Peter Bragge, Monash University; Michelle Armstrong, Monash University; Karen Mossman, McMaster University
---
January 9, 2019
With a growing international focus on evidence-informed policymaking to achieve the UN's Sustainable Development Goals (SDGs), the McMaster Health Forum will soon be expanding the scope of Social Systems Evidence (SSE) to cover all of the SDGs.
SSE provides a repository of research available in many different government sectors and program areas, including community and social services, culture and gender, economic development and growth, education, and transportation. The site provides policymakers and stakeholders with a means to rapidly identify the best available research evidence on a given topic.
The expansion of SSE is made possible by an exciting partnership with the Monash Sustainable Development Institute (MSDI).
"For all those looking for evidence to support policy decisions, we're trying to help you do this better or more efficiently," said John N. Lavis, Director of Forum+, which is an initiative of the McMaster Health Forum that extends its reach beyond the health sector. "We're really excited about this partnership with MSDI, which is internationally recognized for its expertise in addressing the SDGs – especially those focused on energy, the environment and climate change."
Chair of Monash Sustainable Development Institute John Thwaites is also enthusiastic about the potential of the partnership. "As Co-Chair of the Leadership Council of the Sustainable Development Solutions Network, I see great potential in connecting this world-first evidence resource to the 700+ university members of the SDSN. The SDSN member regions and universities are all engaged in the challenge of how to best use evidence to address the SDGs"
Learn more about this new partnership.