McMaster helps arm health-care providers in the battle against COVID-19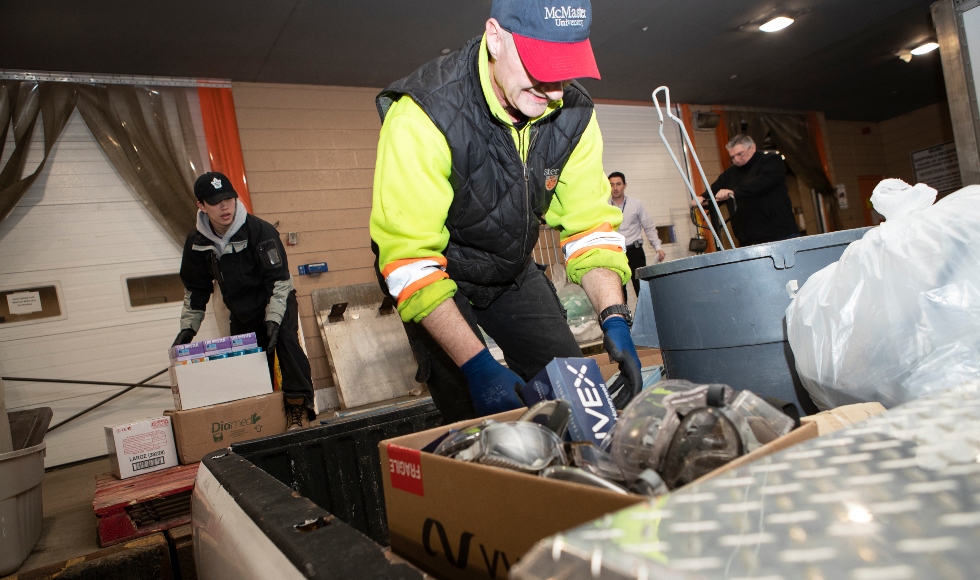 The Faculties of Engineering, Health Sciences and Science are donating masks, gloves, goggles, sanitizer and other vital medical supplies from labs across McMaster to help local hospitals combat COVID–19. (Photo by JD Howell/McMaster University)
---
BY Erica Balch
March 24, 2020
Faculties across McMaster are donating vital medical equipment and supplies to help support local hospitals in the battle against COVID-19.
Responding to a call from Hamilton Health Sciences (HHS), researchers in Engineering, Health Sciences, Science and Humanities have collected thousands of masks, goggles, gloves, face shields, cleanroom suits, sanitizer and swabs for use by local health care providers as they work to combat COVID–19 in the Hamilton community.
"We're renowned for innovation and interdisciplinary collaboration. This is a fine example of how our creativity and partnerships can quickly come up with solutions," said Paul O'Byrne, dean and vice-president, Faculty of Health Sciences.
"The spirit of collaboration has been absolutely terrific," agrees John Preston, associate dean, Research and External Relations in the Faculty of Engineering.
"The response from researchers has been lightning quick and overwhelmingly positive."
Over the past week, many research activities on campus have shut down as part of the university's efforts to slow the spread of COVID–19, freeing up a range of personal protective equipment found in many labs – equipment that local health officials say is in short supply.
All research labs, with the exception of those supporting COVID-related work, and whose work impacts patient health and safety or may be done remotely, must be shut down by 5 p.m. on Tuesday, March 24.
 "If there's a silver lining to closing our labs it's that we're able to support our hospital partners – their staff and the patients in their care," says Karen Mossman, McMaster's acting vice-president, Research.
"Surplus personal protective equipment and other safety-related materials that otherwise would have sat unused in our labs, are now being redeployed to our hospitals where there is an incredibly high demand for these supplies."
"(McMaster's) response has been overwhelming," says Annette LaCivita, manager of supply chain strategy at Hamilton Health Sciences."HHS is extremely grateful for the efforts in this regard."
McMaster's world-leading researchers and institutes have been rapidly mobilizing to help combat COVID-19 in a number of ways.
McMaster Manufacturing Research Institute researchers have been collaborating and consulting with experts at Hamilton Health Sciences on ventilator efficacy and functionality.
As well, Mossman, a member of the McMaster Immunology Research Centre, and Gerry Wright, the director of the Michael G. DeGroote Institute for Infectious Disease Research, have received a combined $1.8 million in funding to support new research projects to help combat COVID-19.
The Population Health Research Institute of McMaster and Hamilton Health Sciences has also announced new clinical research projects which will test potential drugs for COVID-19 treatment.
Dean of Science, Maureen MacDonald, says donating equipment and supplies to support front line health care workers in the Hamilton community is another way McMaster researchers are rallying to help to stem the tide of COVID­–19.
"Thank you to all the researchers from the Faculty of Science and across the university who have stepped up and answered the call from Hamilton Heath Sciences," says MacDonald.
"Nothing is more important than the continued safety and well-being of the nurses, doctors and hospital staff who are providing care for our community at this incredibly challenging time."