McMaster launches new institute focused on Indigenous research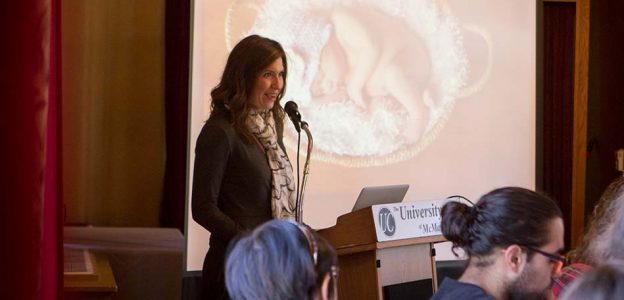 BY Michelle Donovan
November 21, 2017
In a new era of reconciliation and an openness from the Canadian government to right the wrongs that have devastated generations, McMaster has established one of the country's only institutes dedicated to Indigenous ways of knowing and research.
The McMaster Indigenous Research Institute (MIRI) builds on and enhances the university's existing relationships with community networks. The overarching priority is research excellence for all Indigenous-related projects across campus where scholars will focus on issues of health, environment, gender, language and culture, peace studies and conflict resolution.
"We are well-positioned to educate and to build an awareness across the broader community concerning the history of Indigenous peoples in Canada," says Rob Baker, vice-president of research.
"This institute supports research in a way that can have a real and positive impact," he says.
Take for example the work of Chelsea Gabel, acting director of the institute, who is exploring relationships between Indigenous elders and youth, relationships which have been fractured by the devastating effects of colonization and the residential school system. She hopes to revitalize those connections through the use of digital technology.
"Digital technology can enable intergenerational communication for Indigenous communities when it empowers elders who want important knowledge to be available to youth, and empowers youth as agents in the preservation of this knowledge," she says.
Gabel's research is premised on the idea that Indigenous knowledge is valid scientific knowledge, a core value of MIRI.
Other researchers are looking at issues such as traditional medicines and well-being, making space for the voices of Indigenous sex workers, the philosophies and intellectual traditions that have shaped Six Nations, how Indigenous ways of knowledge can influence the life experiences of those with HIV and the origins of Indigenous language and culture.
A number of initiatives are in the works, including a symposium on Indigenous governance, slated to take place in February 2018 at McMaster, in partnership with the Indigenous Studies program and the Centre for Indigenous Governance at Ryerson University.
"McMaster is the only research intensive university in the province with strong relationships and a physical proximity to local Indigenous communities," explains Gabel. "We are poised to take a leadership role and be at the forefront of this important work."
For more information on MIRI please visit miri.mcmaster.ca