McMaster leads global ranking for impact on health and well-being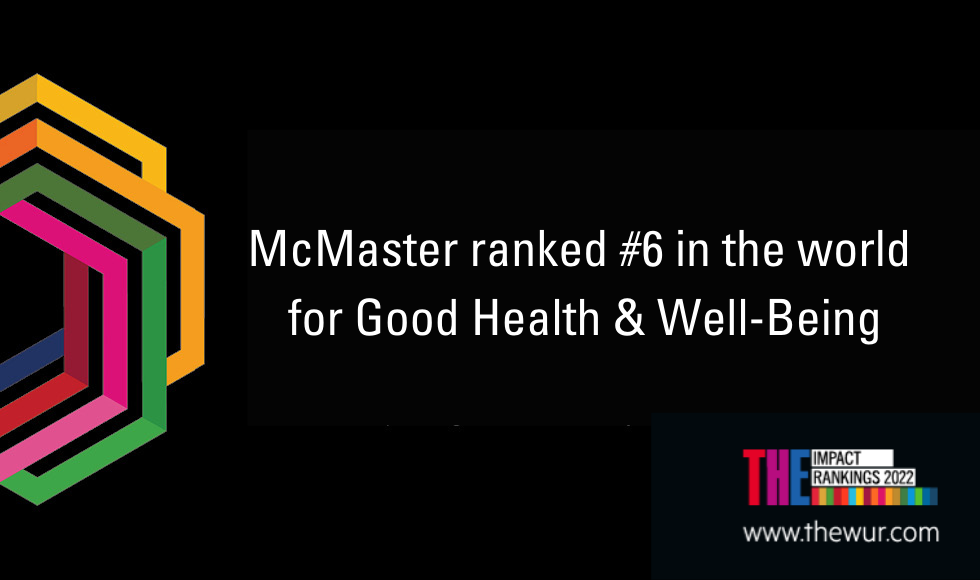 McMaster's pandemic leadership and commitment to health innovation has earned it the top spot in Canada in Times Higher Education's 2022 Impact Ranking of institutions around the world.
---
April 27, 2022
Vaccine discovery. Solutions for health inequity. Innovations in pandemic preparedness.
McMaster's established record for advancing better health solutions, care, equity and growth has earned the university the top rank in Canada and sixth worldwide for impact on health and well-being in an international ranking of more than 1,400 universities.
Overall, the university ranked 37th in the world in this year's Times Higher Education (THE) Impact Rankings, the fourth annual, which recognizes the contributions of universities worldwide as they work to make the world a safer, more sustainable place.
"The rankings published today demonstrate the positive impact of the research undertaken by our students, researchers and community members as they work to find solutions that save and improve lives across the planet," says President and Vice-Chancellor David Farrar.
"With our focus on cross-cutting, transdisciplinary collaboration, and using an integrated approach, McMaster is uniquely positioned to tackle the world's most pressing problems."
One example of that approach is Canada's Global Nexus for Pandemics and Biological Threats, based at McMaster, where researchers are conducting clinical trials on aerosol vaccines that not only fight variants of COVID-19, but have the potential to be modified to treat other respiratory illnesses quickly and efficiently.
"At Canada's Global Nexus, we're building on decades of world-class research in infectious disease and antimicrobial resistance to bring together experts, leaders and global partners," Farrar says. "Together, we will pilot solutions that lay the groundwork for evidence-based decision-making and protect our communities from emerging health threats."
The rankings are based on the United Nations' Sustainable Development Goals (SDGs), a call to action to end poverty and hunger, protect the planet, and enable everyone to live healthy lives in peace and prosperity by the year 2030.
In addition to being No. 1 in Canada for steady and continuous work to advance SDG 3 (Health and Well-being), McMaster is No. 2 in Canada for SDG 10 (Reduced Inequality) and SDG 8 (Decent Work and Economic Growth).
The university has been recognized for its commitment to advancing nearly every SDG, and for creating an ambitious online toolkit to better equip other researchers and institutions to align their work with the goals.
McMaster's SDG-focused website also showcases the cross-disciplinary breadth and commitment to meet the goals, in research as well as shaping a new generation of innovative thinkers who prioritize sustainability.
---
McMaster placed 37th globally, and performed especially well in specific rankings in the following SDGs:
SDG 3 (Good Health and Well-Being) – 6th globally, 1st in Canada
SDG 10 (Reduced Inequalities) — 14th globally, 2nd in Canada
SDG 8 (Decent Work and Economic Growth) — 22nd globally, 2nd in Canada
SDG 9 (Industry, Innovations and Infrastructure) — 56th globally, 5th in Canada
SDG 17 (Partnerships for the Goals) — 37th globally, 6th in Canada
SDG 2 (Zero Hunger) — 56th globally, 9th in Canada