McMaster partners with nuclear industry leaders to advance research and education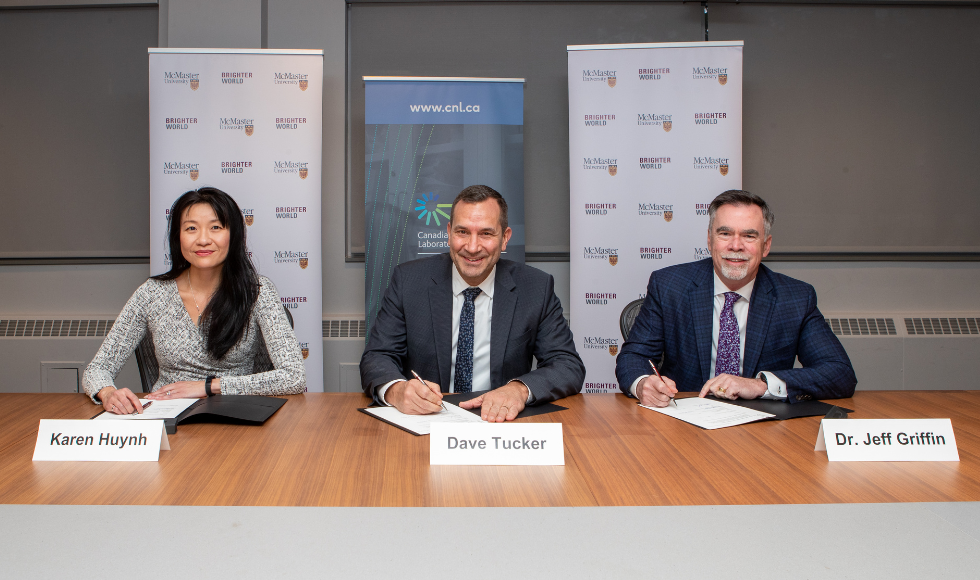 From left to right: Karen Huynh, AECL's Director of Science and Technology Programs, Dave Tucker, McMaster's Assistant Vice-President, Research (Nuclear), and Dr. Jeff Griffin, CNL's Vice-President of Science and Technology. (Photo by Georgia Kirkos/McMaster University)
---
November 29, 2022
McMaster, Canada's Nuclear University, has partnered with Canadian Nuclear Laboratories (CNL) and Atomic Energy of Canada Limited (AECL) to advance nuclear research, education and training.
The partnership will build on McMaster's long-standing history of collaboration with CNL, Canada's premier nuclear science and technology organization, and AECL, a federal Crown Corporation.
The partners will use their highly specialized infrastructure – including the McMaster Nuclear Reactor and other nuclear facilities on campus – to pursue research collaborations in areas with national strategic importance, including small modular reactors, hydrogen, materials characterization, medical isotopes and radiochemistry.
The partners will establish educational programs to train the next generation of talent in the nuclear industry, including undergraduate and graduate experiential learning programs, scholarships, mentorships and networking opportunities for students, as well as workshops, courses, and micro-credentials to upskill and reskill CNL and AECL employees and others in the nuclear energy sector.
Dave Tucker, McMaster's assistant vice-president, research (nuclear) says the partners will work together to advance research that addresses the nation's most pressing challenges, including the growing need for clean energy solutions.
"As Canada's Nuclear University, McMaster is proud to work with CNL and AECL to optimize and expand our complimentary nuclear facilities, research assets and educational programs to create the specialized nuclear workforce and technologies that Canada needs to meet its Net Zero ambitions," he says.
"AECL, CNL and McMaster University all share a long history in advancing Canadian nuclear science and technology, and that serves as a really strong and important foundation for the agreement that we have signed here today," says Dr. Jeff Griffin, CNL's Vice-President of Science and Technology.
"The nuclear industry has the potential to address many of the challenges that we face here in Canada, from climate change to cancer, but it is incumbent upon us as an industry to pool our resources and work together towards shared goals. This includes a focused effort to inspire and enable the next generation of Canadian scientists, technician and engineers. That is the driving force behind CNL's ongoing outreach and engagement with the academic community, and we are thrilled to further grow our relationship with McMaster University as part of that effort."