McMaster opens $33M Biomedical Engineering and Advanced Manufacturing research centre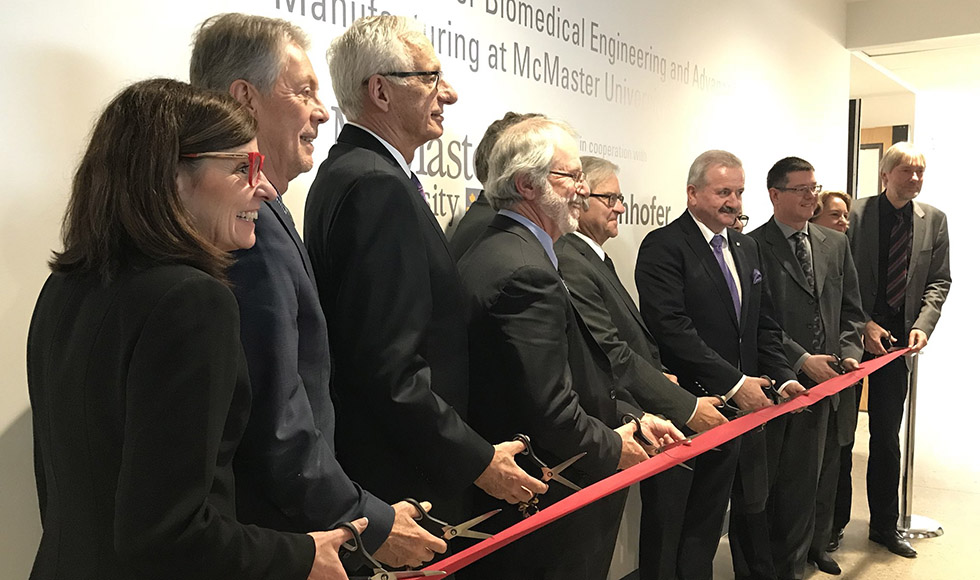 March 7, 2018
The new $33-million Fraunhofer-McMaster Project Centre for Biomedical Engineering and Advanced Manufacturing (BEAM) has opened its doors, bringing together the expertise of researchers from science, health sciences and engineering.
Located at the McMaster Innovation Park, the 20,000-square-foot facility is the result of a joint partnership with the Fraunhofer Institute for Cell Therapy and Immunology (IZI), a world leader in manufacturing cell therapies, based in Leipzig, Germany.
"McMaster is a worldwide leader in life sciences and bioengineering research and we are grateful for this partnership with Fraunhofer IZI, and all levels of government, which will help accelerate our discoveries into the marketplace, creating many health and economic benefits for future generations," says University President Patrick Deane.
"BEAM is a lighthouse…It allows Canada and Germany to express their belief in the power of fact and the power of science-based innovation to benefit our society," says German ambassador Sabine Sparwasser at Mac's new biomedical engineering facility. @MIP_Hamilton #brighterworld pic.twitter.com/JHkohnaUhb

— McMaster University (@McMasterU) March 7, 2018
Funded by all three levels of government – the federal government investing nearly $12-million, with the Government of Ontario and the City of Hamilton investing $4-million each, BEAM is also supported by McMaster, Fraunhofer IZI, and several industry partners.
"BEAM will foster a vibrant bioengineering industry in southern Ontario, directly supporting innovation, transforming regional economies, and redefining Canada's role in advanced manufacturing," says Navdeep Bains, Minister of Innovation, Science and Economic Development. "The Centre is evidence of what can be accomplished when universities, health-care researchers, the business community and governments collaborate to advance innovative technologies that will support areas such as regenerative medicine, cell therapies, and cancer treatments."
It will be home to a team of researchers, from both McMaster and Fraunhofer, who will work to develop and translate new technologies for cancer treatments; new biomarkers for cancer detection; point-of-care tests for rapid diagnosis of infectious and chronic disease; and new biomaterials to aid in treatment of disease.
"I see great potential for both institutions to benefit from their distinct strengths in the development of future-oriented biotechnologies and to generate new scientific value – inside Germany as well as worldwide," says Reimund Nuegebauer, President, Fraunhofer-Gesellschaft. "Both partners contribute complementary competencies in medicine and engineering to develop the tools and technologies needed by companies around the world. We regard BEAM as a fantastic opportunity to expand our expertise while at the same time finding new solutions to the major life science challenges society faces today."
With some 35 current and future industry partners, one of the centre's main tasks is to take existing technologies and prepare them for the marketplace.  It will help to commercialize new products, accelerate growth of small businesses and attract new talent to the region.
"This investment today marks a critical development in our research and commercialization capacity in Hamilton," says Mayor Fred Eisenberger. "Fraunhofer is well-respected in the European Union and the impact it has is on a global level. Its presence in our city now firmly establishes our life sciences sector as a leader not only in Canada, but the world."
When fully operational, BEAM is expected to create nearly 75 jobs.