McMaster partners with Bernhard Nocht Institute for Tropical Medicine to tackle global pandemics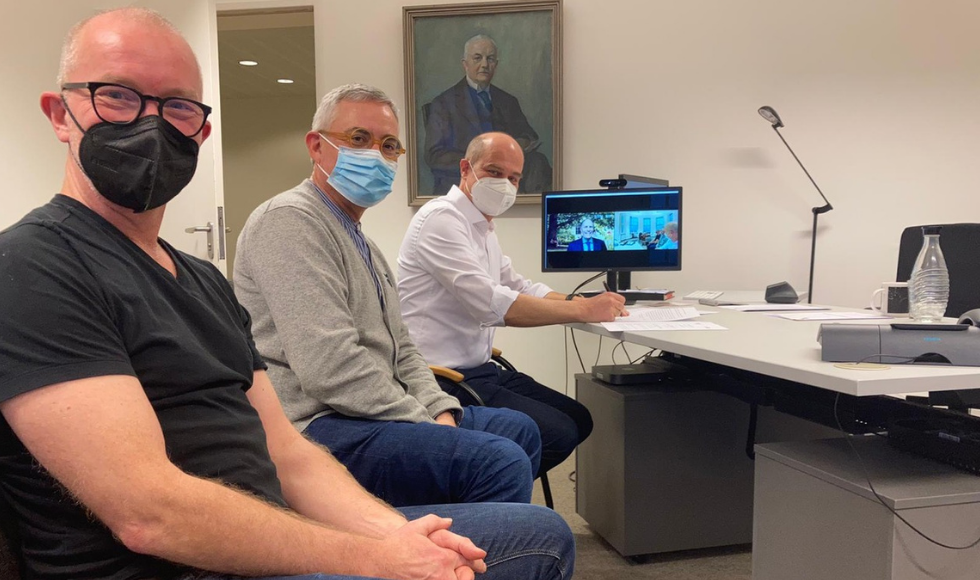 (From left to right) Tim Gilberger, professor at BNITM, Soren Harbel, McMaster's strategic advisor on international research collaborations, Jürgen May, Chairman of BNITM's Board and David Farrar, McMaster's president, sign a partnership agreement.
---
February 23, 2022
McMaster University and the Bernhard Nocht Institute for Tropical Medicine (BNITM) are partnering to further advance research and identify strategies to tackle global health threats.
Both institutions are recognized for their leadership in infectious disease research and the partnership will build on their collective capacity to address future pandemics and biological threats.
Located in Hamburg, Germany, the BNITM has, for more than 100 years, led the fight against some of the world's toughest and most resilient infectious diseases, such as malaria and Ebola. It also has a joint research institute at the University of Kumasi in Ghana, West Africa, where they have been operating a modern research and training centre for over 20 years. It further has a rich history of scientific collaborations in other parts of Africa, as well as in South Asia and South America.
Karen Mossman, leading virologist and McMaster's vice-president, research, says the next major threat to human health could originate anywhere in the world.
"We have to prepare for and expect pandemic challenges to arise anytime and anywhere," she said.
"It's never been more important to share knowledge, infrastructure and expertise to help prepare and fight these threats – whether that's here in Canada or in other parts of the world."
Jürgen May, Chairman of the BNITM's Board, is delighted to have a strong partner in Canada.
"With McMaster's depth of knowledge in virology and antimicrobial resistance we will add new expertise and a strong research partner to our team of collaborators," he said. "How we prepare for and anticipate the next pandemic will determine how quickly we can respond and, potentially, how severely a pandemic will hit all of us."
"McMaster has deep strengths which are very complementary to what we do at the Bernhard Nocht Institute and together we will be able to move the needle faster."
Infectious disease expert Gerry Wright, who heads up Canada's Global Nexus for Pandemics and Global Threats headquartered at McMaster University, says the new partnership will broaden Nexus' research scope.
"The collaboration with BNITM gives Canada's Global Nexus a new lens on parts of the world where we currently have limited access," he said. "This will significantly expand our capacity to anticipate and tackle global health threats."
The collaboration will see a number of research exchanges and programs designed to develop new and sustainable solutions to address global health threats caused by excessive use of antibiotics and reduce the risk of travel-related infectious diseases.