McMaster plays ongoing role in federal government's new small modular reactors plan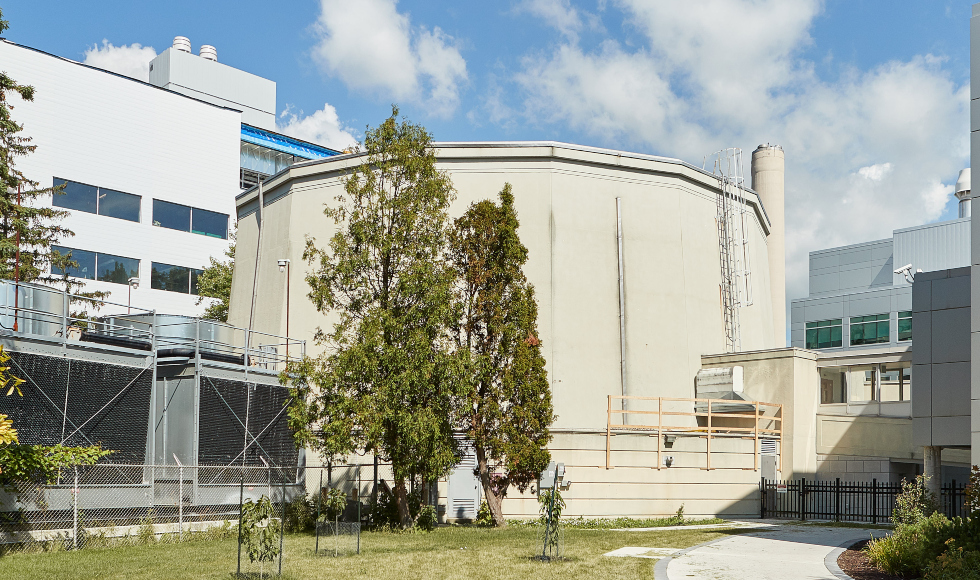 The exterior of McMaster's nuclear reactor
---
BY Lori Dillon
December 18, 2020
After more than two years of national stakeholder engagement that paved the way for Canada's Small Modular Reactors (SMR) Roadmap, the federal government today announced its SMR Action Plan.
The Action Plan, announced by Minister of Natural Resources, the Honourable Seamus O'Regan, is the product of more than 100 partners across the country.
Recognizing McMaster for its contributions to the Plan, Minister O'Regan said the initiative brought together provinces and territories, utilities, industry, academia, labour, civil society and Indigenous voices – and that it offers the next great opportunity for Canada.
"Canada is investing the full suite of the energy technologies we will need to achieve net-zero emissions by 2050," he said. "Nuclear energy is part of achieving these objectives. We also see tremendous potential to expand nuclear technologies in Canada and around the world."
As a global leader in nuclear research, development, training and commercialization, McMaster lent its expertise to the dialogue, contributing a "chapter" to the Action Plan with a proposal to undertake an SMR Deployment Feasibility Study.
McMaster's vice-president of research, Karen Mossman, says the study will capitalize on our track record of innovation and collaboration and build on the University's on-going research programs.
"Our expertise and capacity span across a broad range of SMR-related research," she says. "Our plan is to tap into that expertise and work with the federal government and other leading Canadian academic institutions to evaluate the possibility of McMaster hosting an SMR on- or off-campus, recognizing that desired power output, space requirements and other factors will ultimately determine a preferred site."
Specifically, the study – in consultation with community, business and government stakeholders, including Indigenous communities and municipal councils – will build on McMaster's expertise in SMR technology validation, nuclear safety, waste reduction, nuclear security and site monitoring, and integrated urban energy systems.
Teams of researchers – faculty and students – from across all disciplines will take a holistic approach to investigate the most appropriate SMR technology, addressing safety, security and environmental impacts of site selection; economic and technical aspects of selling excess electricity to the grid; social impacts and public acceptance of nuclear energy technologies.
Mossman says the benefits of the study are twofold.
"Not only will this allow us to train the next generation of leaders for Canada's nuclear industry, but the results of work will provide the government a multi-faceted and unbiased examination of key SMR-related barriers on which to make evidence-based policy and investment decisions."
Both the federal government's recently released Fall Economic Statement  and climate plan, A Healthy Environment and a Healthy Economy, underline SMRs' potential to reduce emissions, decarbonize heavy industry and spur economic development.