McMaster professor's gift establishes spine surgery research chair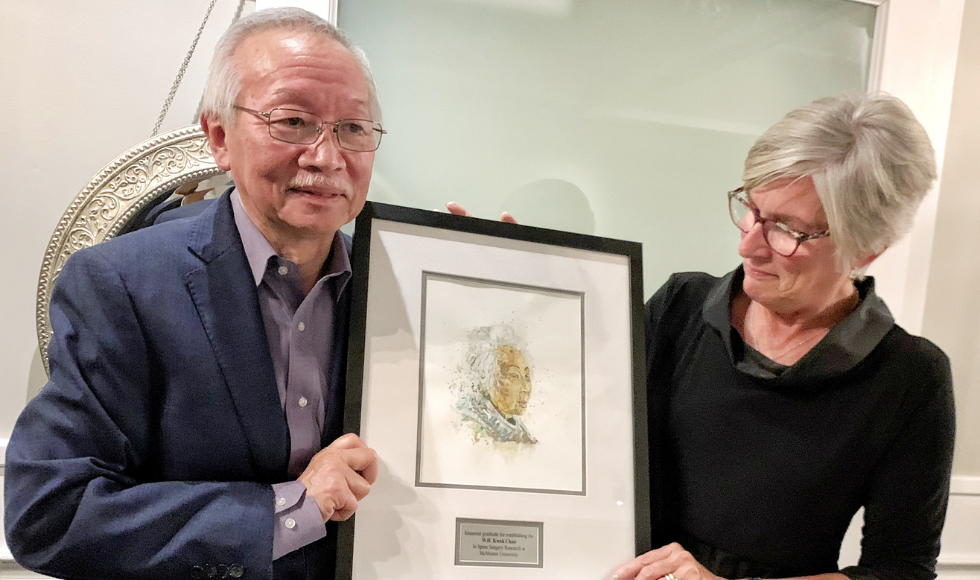 Dr. Desmond Kwok and his partner Earla were given a painting of Kwok's mother, Wai Hing So Kwok, during a small family and faculty celebration on September 27.
---
October 6, 2021
A generous donation from Dr. Desmond Kwok, a McMaster professor in the orthopedic surgery and neurosurgery residency programs, has established the W.H. Kwok Chair in Spine Surgery Research and the W.H. Kwok Spine Surgery Chair Support Fund.
The chair and fund are named in honour of Kwok's mother, Wai Hing So Kwok, who passed away in 2017 at the age of 93.
"My mother touched so many lives with her compassion and unwavering positive outlook on life," said Kwok. "She would have been overjoyed to know that this gift in her honour is advancing research into patient care."
By establishing the Chair, Kwok hopes to encourage other surgeons and researchers to make a difference by donating to research and education efforts.
"Philanthropic gifts empower researchers to make trailblazing discoveries and provide the infrastructure to educate emerging surgeons," explained Kwok. "I believe philanthropy is a vital key to accelerating the spine surgery profession in Hamilton and beyond."
Kwok is a highly revered professor, clinical researcher and surgeon, recognized by his residents for his exceptional mentorship. The W.H. Kwok Chair in Spine Surgery Research will build upon Kwok's legacy by contributing significantly to research and clinical practice, while coaching the next generation of academic health researchers.
The W.H. Kwok Orthopedic Spinal Surgery Chair Support Fund will provide the chairholder with additional funding to access equipment and resources for research initiatives.
"The Faculty is inspired by Dr. Kwok's passion for establishing this chair position," said Dr. Paul O'Byrne, dean and vice-president, Faculty of Health Sciences. "We look forward to welcoming the new chairholder, who will fulfill Dr. Kwok's transformational vision for the future of spine surgery."
A small faculty and family celebration was held on September 27 to commemorate Kwok's generosity.
"The new Chair is a significant step toward building a world-class academic spine program," said Dr. Mohit Bhandari, chair, department of surgery. "Dr. Kwok is a life-long mentor whose guidance has shaped my career journey. It's surreal to be celebrating this transformational gift alongside someone who's been so influential on a personal and professional level."