McMaster researcher building tool for individualized cystic fibrosis treatment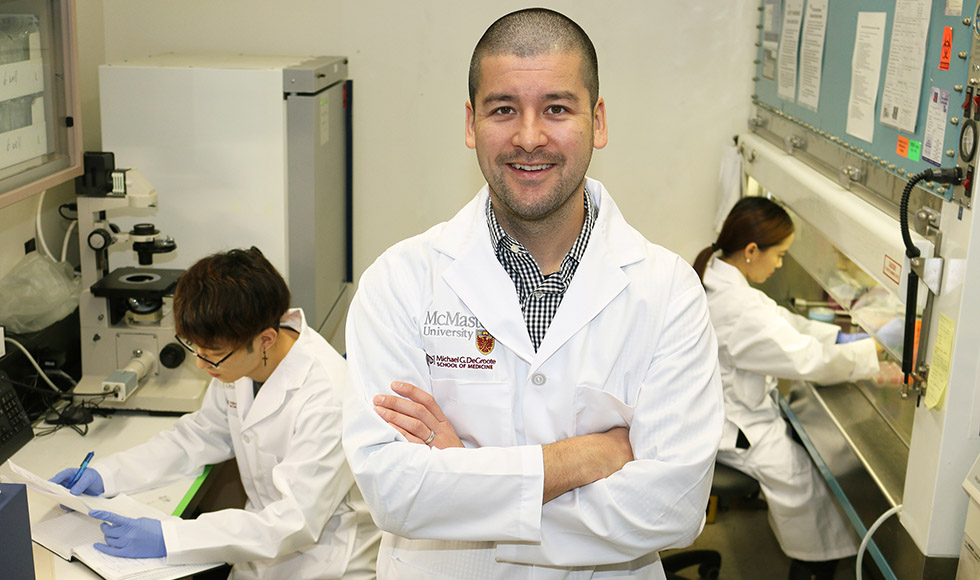 Jeremy Hirota with graduate students Yechan Kim and Jenny Nguyen in his lab at the Firestone Institute for Respiratory Health.
---
BY Tina Depko
December 5, 2017
The future of individualized treatment for cystic fibrosis is a tool that can fit in the palm of your hand.
That's the goal of McMaster University respiratory researcher Jeremy Hirota, who is combining his expertise in biomedical science with innovation in mechanical engineering from researchers in the Faculty of Engineering. 
The new tool for cystic fibrosis will monitor how a gene named cystic fibrosis transmembrane conductance regulator (CFTR) is working. This data will help doctors prescribe individualized medication, known as precision medicine.
Hirota recently received a New Investigators Research Grant for $280,000 over three years to help advance the project from its infancy. The grant is funded by the SickKids Foundation and the Canadian Institutes of Health Research Institute of Human Development, Child and Youth Health.  
"If we can find a way to further show how cystic fibrosis is different in each person and tailor the doses or the combination of drugs they take, then hopefully their medication will be optimized and their care will be improved," said Hirota, assistant professor of medicine in the division of respirology in the Department of Medicine at the Michael G. DeGroote School of Medicine and new Tier 2 Canada Research Chair in Respiratory Mucosal Immunology.
Currently, there are more than 4,100 Canadians living with cystic fibrosis. The majority were diagnosed with the disease in their first year of life.
Understanding how airflow impacts the transport of molecules in lung immune function in individual patients is important to help determine the best treatment for people living with the disease.
Using airway epithelial cells from the lining of the respiratory tract in cystic fibrosis patients, the external precision medicine tool will monitor airflow and pH, as well as measure all-important chloride transport.
Microfluidics, which is the flow of liquids inside micrometre-sized channels, is key to the tool, as well as the development of tiny sensors to measure various characteristics of the cells.
As such, Hirota has assembled an interdisciplinary all-star team to build the project at his lab in the Firestone Institute for Respiratory Health based at St. Joseph's Healthcare Hamilton and affiliated with McMaster.
The team includes graduate students Yechan Kim and Jenny Nguyen in Hirota's lab, with mechanical engineering professor Ravi Selvaganapathy and his post-doctoral fellow Aditya Aryasomayajula, also from McMaster.
"This project enables the use of microfluidics and integrated sensors for developing a personalized medicine tool," said Selvaganapathy, who holds a Tier 2 Canada Research Chair in Biomicrofluidics. "It is a perfect example of synergies that can be obtained with tight collaboration between health sciences and engineering."
Hirota, who hails from Brantford, struggled with allergies and asthma during his youth, especially while playing sports. He also disliked being sick with colds.
As such, he was interested in helping people breathe easier from a young age.
"When I was a child, I told my mom I was going to find a cure for the common cold," he said. "I thought that meant becoming a medical doctor. When I got to university, I realized I wanted to focus on research."
His interest in health sciences brought him to McMaster University, where he completed a Bachelor of Health Sciences degree in 2004. A co-op position with Mark Inman, professor of medicine, in the Firestone Institute stoked his interest in respiratory research.
Hirota subsequently completed a PhD in physiology and pharmacology at McMaster, graduating in 2009.
After spending several years pursuing postdoctoral research and later becoming a faculty member at the University of British Columbia, Hirota returned to McMaster in November 2016 to run his own lab at the Firestone Institute.
"One of McMaster University's main strengths is its focus on interdisciplinary research," he said.
When he is not in the lab, Hirota can be found at his home in Dundas with his wife and young daughter, or running on trails through the escarpment.
Hirota is inviting students to join his lab starting in January 2018.