McMaster researcher plays key role in isolating COVID-19 virus for use in urgent research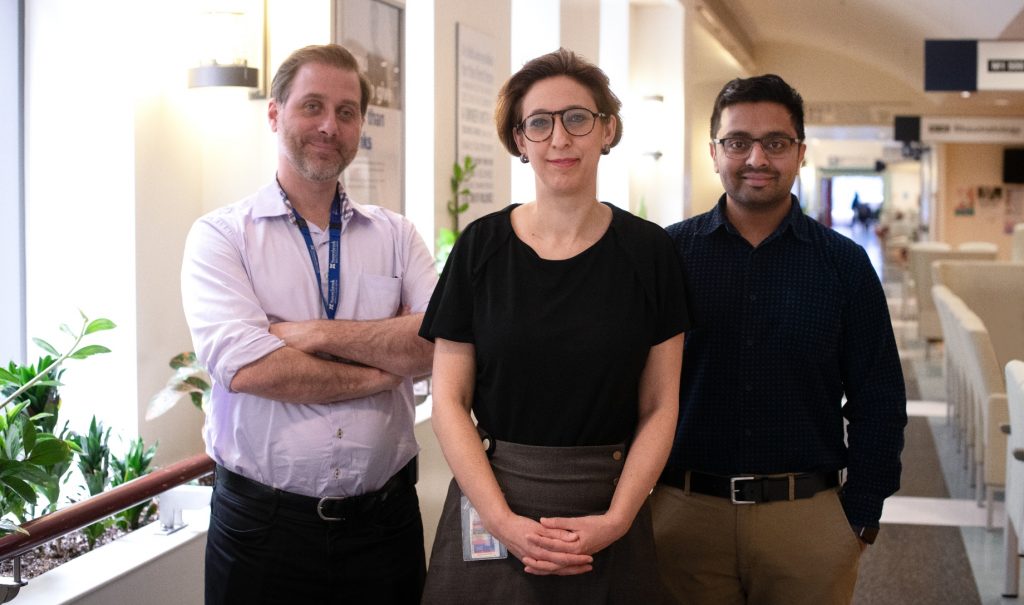 From left: Robert Kozak, Samira Mubareka and Arinjay Banerjee worked together to isolate and grow copies of the virus responsible for COVID-19, enabling urgent Canadian research into how it behaves and how it might be controlled. (Photo by Kevin Van Paassen / Sunnybrook Health Sciences Centre)
---
BY Wade Hemsworth
March 12, 2020
A McMaster researcher has played a critical role on a small team that has successfully isolated and grown copies of the virus responsible for COVID-19, enabling urgent Canadian research into how it behaves and how it might be controlled.
Arinjay Banerjee, a postdoctoral researcher at McMaster's Institute for Infectious Disease Research, specializes in coronaviruses and in bats, a rare combination that gave him the ideal qualifications to collaborate with colleagues from Sunnybrook Health Sciences Centre and the University of Toronto on the project.
The team isolated severe acute respiratory syndrome coronavirus 2 (SARS-CoV-2), the agent responsible for the ongoing outbreak of COVID-19, believed to have jumped to humans from bats.
"I'd always told my friends, 'When I grow up, I want to be a guy who gets called in if there's an outbreak,'" Banerjee said. "What's happening with the outbreak is sad, but I'm glad I can contribute to the process of understanding this and controlling this outbreak."
Working at a secure containment facility at the University of Toronto and using samples taken recently from two patients in Canada, the team was able this week to confirm it had isolated and propagated the virus, creating a source of COVID-19 for study as the world races to develop vaccines and treatments, and to build a better understanding of how the virus behaves.
"You can't validate anything without a virus," Banerjee said.
Banerjee's work means McMaster will have samples to study in its own bio-secure facilities.
"This is the reason we have the Institute for Infectious Disease Research and the David Braley Centre for Antibiotic Discovery," said Karen Mossman, McMaster's acting vice president, research, who is also Banerjee's research supervisor. "This whole infrastructure has been built to respond to crises and outbreaks like this. This is where we can drive research forward."
Mossman said the facilities where McMaster researchers will be working with the virus are highly regulated and secured with multiple layers of protection.
Having the virus enables scientists to start working on solutions before the outbreak peaks in Canada, said Samira Mubareka, a microbiologist and infectious diseases physician at Sunnybrook.
"We need key tools to develop solutions to this pandemic," she said. "While the immediate response is crucial, longer-term solutions come from essential research into this novel virus."
"Researchers from these world-class institutions came together in a grassroots way to successfully isolate the virus in just a few short weeks," said Rob Kozak, a microbiologist at Sunnybrook and the University of Toronto. "It demonstrates the amazing things that can happen when we collaborate."