McMaster researchers collaborate on N95 respirator made and approved in Canada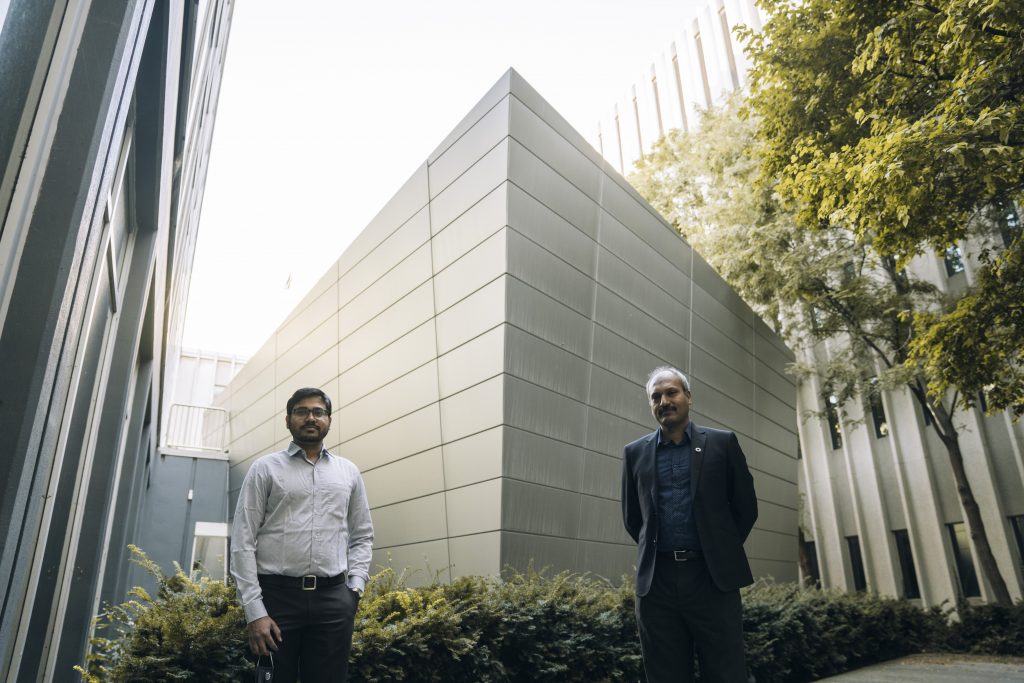 Rakesh Sahu (left) and Ravi Selvaganapathy outside McMaster's Centre of Excellence in Protective Equipment Materials. Photo by Jin Lee
---
BY Jessie Park, Faculty of Engineering
September 29, 2020
A team of engineers, scientists and manufacturers from private industry and McMaster University have successfully created an N95 respirator made and approved for sale in Canada.
The Can95 Respirator, which received approval from Health Canada in late August and is in production now, is manufactured in collaboration with B.C.-based Vitacore Industries and researchers at McMaster's Centre of Excellence in Protective Equipment Materials (CEPEM) who provided expertise to develop the fabric, determine the best machines for production and, most significantly, to test the efficacy of the mask.
The Centre of Excellence was launched this summer to build local expertise in supporting domestic supply chains for PPE, including face masks and shields. To date, the team has worked with more than 50 companies from across Canada.
"The Can95 Respirator is one story of success. We look forward to partnering with more innovative companies like Vitacore to establish Canada as a global leader in PPE research, development and manufacturing," says Ravi Selvaganapathy, CEPEM's director and the Canada Research Chair in Biomicrofluidics.
"We are dedicated to helping Canadian companies to advance PPE products, both to meet immediate needs and to develop the next generation of cutting-edge products."
Testing for the Can95 Respirator was conducted at the Canadian Centre for Electron Microscopy at McMaster University with the help of graduate students and faculty members.
"Early on in the pandemic, we identified the N95 respirator as a piece of personal protective equipment (PPE) that was going to be very hard to acquire as Canadians – we didn't manufacture it locally, and there are many barriers to import it during a pandemic," says Mikhail Moore, president of Vitacore.
Yang Fei, director of research and development at Vitacore says he knew "there would be many hurdles to overcome" to get an N95 respirator out to Canadians.
"I was quite stunned as I was looking around Canada for different testing labs. At that time, we barely had any in Canada," he says.
In March, Moore and Fei approached Selvaganapathy and Rakesh Sahu, a research associate and adjunct assistant professor in materials science and engineering, and the two teams began testing the materials and designs.
"I see so many companies and organizations stepping forward, pivoting and taking initiative. Getting this N95 respirator made and approved happened within a few months, and it is really inspiring when academics can help make things like this happen," says Sahu, who led the testing efforts at McMaster.
Moore says the goal of the Can95 Respirator was not to "reinvent the wheel," but to provide healthcare workers with a safe product as quickly as possible.
He says Vitacore is currently producing about one million respirators per month and hopes to ramp up to 10 million.
"McMaster and the National Research Council Canada really helped us get to where we are," says Moore. "This was a joint venture of Canadians from different walks of life, from the West Coast to Ontario, working on a common goal. What I think this shows is that Canadians are amazingly creative and right now is a time where we had to step up, and we did step up."