McMaster researchers developing homegrown vaccines to fight COVID-19 and prevent future outbreaks, using specialized campus lab and production facility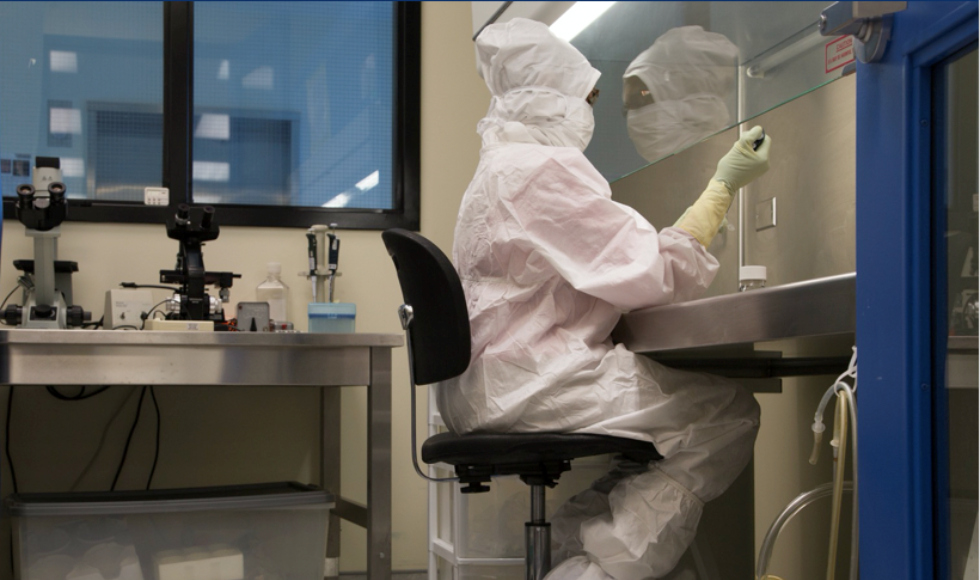 BY Michelle Donovan
February 12, 2021
A team of virologists, infectious disease experts and immunologists at McMaster is developing two new second-generation COVID-19 vaccine candidates, designing and producing them in a specialized facility on campus.
The ability to manufacture a vaccine puts McMaster among a very small number of research facilities attempting to fill the made-in-Canada gap in the race to produce more vaccines.
This critical work is being conducted at McMaster in the Robert E. Fitzhenry Vector Laboratory, the first facility of its kind in Canada and one of a few with the capacity to develop and produce viral-vectored vaccines for clinical testing.
---
Beating COVID-19: Canada's Global Nexus and Saskatchewan-based VIDO join forces to protect Canadians from pandemics and accelerate vaccine and drug development.
---
Although the Vector lab has limited capacity, researchers are manufacturing tens of thousands of vaccine candidate doses there, with the potential to manufacture hundreds of thousands more. With Health Canada approval, they hope to begin human trials with healthy volunteers in Hamilton in the spring and if successful, will expand to the second phase of clinical testing next fall.
The research is part of Canada's Global Nexus for Pandemics and Biological Threats, an international network based at McMaster, with scientists, clinicians, engineers, social scientists and other experts working collaboratively to prevent future pandemics and mitigate global health threats.
"We are at the forefront of finding viable solutions to the ongoing pandemic. Working on something so pivotal to the health and safety of Canadians is evidence of our ongoing commitment," says McMaster president David Farrar.
The vaccines under development are designed to be given in two phases. The first, a priming dose, would be delivered by injection, followed by a booster administered four weeks later by inhalation, which would directly target the common sites for infection — the mucus linings of the lungs and upper airways — using a delivery system similar to an asthma drug inhaler.
"This is intended to start an immune response that is then called into the lungs, where we need it, so it is already there and ready to go if the vaccinated person comes into contact with COVID-19," explains Brian Lichty, an associate professor in the Department of Medicine who is co-leading the vaccine development with McMaster colleagues Fiona Smaill and Zhou Xing.
"This is a very prudent approach, which will give broader immunity against coronaviruses and provide baseline protection against future pandemics," Lichty says.
The research revolves around vectors, the delivery agents used to carry gene therapies or vaccines into a person by eliciting an immune response.  A vector is essentially a disabled common cold virus that has been bioengineered, with the goal of preventing, treating, perhaps even curing illnesses such as breast cancer, or HIV/AIDS and other infectious diseases.
The researchers are focusing on two vectors, which they are testing individually and together:  the first is a human adenovirus, which causes the common cold.  The second uses a chimpanzee adenovirus to deliver the DNA of a component of SARS-CoV-2, the virus responsible for COVID.
"The project is built upon our international reputation and expertise in bench-to-human translation in the area of respiratory infectious disease, immunity and vaccines. Our COVID vaccine strategy aims to engage all-around protective mucosal immunity, different from the current "first-generation" vaccines," says Xing, a professor in the Department of Medicine, who is an expert on mucosal immunity, infectious diseases and tuberculosis vaccine development.
The vaccines are "trivalent", meaning they have three components derived from the current coronavirus, rather than just one component, the spike protein, which is being used in the first-generation COVID vaccines.  While the spike protein is specific to the pandemic coronavirus, the other components in the trivalent vaccine are shared by other bat-derived coronaviruses which could cause future pandemics, the researchers say.
"The hope is that this may provide some level of immunity against variants of the current coronavirus, as well as against future pandemic strains," says Lichty.
Researchers plan to administer inhaled boosters to people who have been previously vaccinated with a "first-generation" vaccine, or who have previously been infected with a mild COVID infection.
The research is funded by the the Canadian Institutes of Health Research.