McMaster researchers named to International Joint Commission advisory boards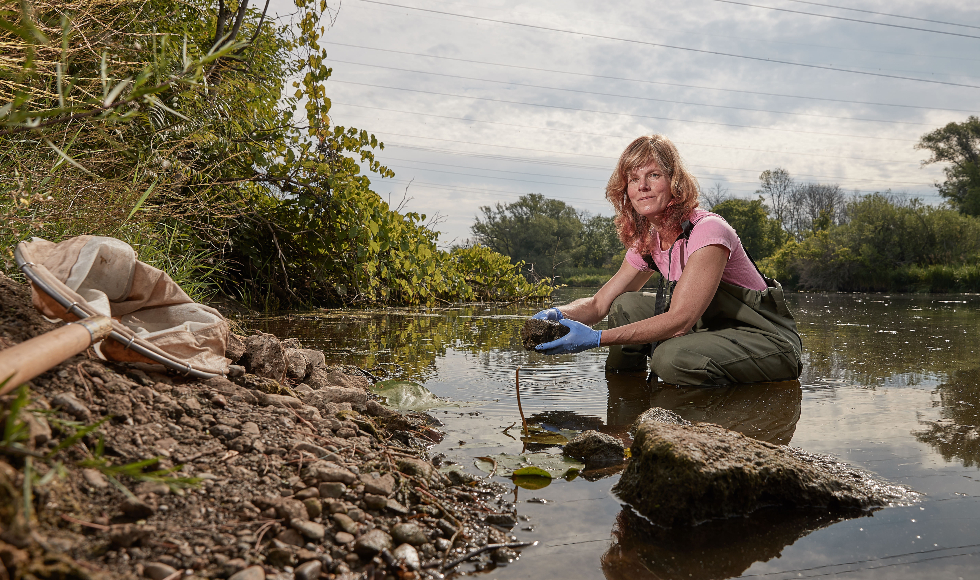 Researcher Karen Kidd at Desjardins Canal in Dundas. Kidd, Gail Krantzberg and Tom Edge are three McMaster researchers named to boards run by the International Joint Commission. Photo by Kevin Patrick Robbins.
---
BY Sara Laux
August 1, 2019
The International Joint Commission, a 110-year-old initiative between the US and Canada to prevent and resolve disputes around the country's shared bodies of water, has appointed three McMaster researchers to two of its advisory boards.
Karen Kidd, a professor in the department of biology and the School of Geography and Earth Sciences, and Gail Krantzberg, a professor with the engineering and public policy program, have been named to the Great Lakes Science Advisory Board, which provides advice to the IJC on scientific matters and research related to the Great Lakes. Board members also complete studies on water quality issues related to the lakes.
Kidd, who holds the Stephen Jarislowsky Chair in Environment and Health, researches the effects of industrial, municipal and agricultural discharge on the health of aquatic organisms. Krantzberg's work focuses on ecosystem rehabilitation and protection, as well as Great Lakes governance.
Tom Edge, a research associate in the department of biology, has been named to the Health Professionals Advisory Board for his expertise in environmental epidemiology, including waterborne threats to water used for drinking, recreation and food production. The Health Professionals Advisory Board provides advice to the IJC and its boards on existing and emerging environmental public health issues.
Along with the McMaster researchers, Chris McLaughlin, the executive director of the Bay Area Restoration Council, which has its headquarters at McMaster, has been named to the Great Lakes Water Quality Board. McLaughlin received his PhD from McMaster in 2011, working with Gail Krantzberg and focusing on Great Lakes policy and governance.