McMaster researchers rally to help Canadian company expedite new mask to meet urgent COVID-19 demand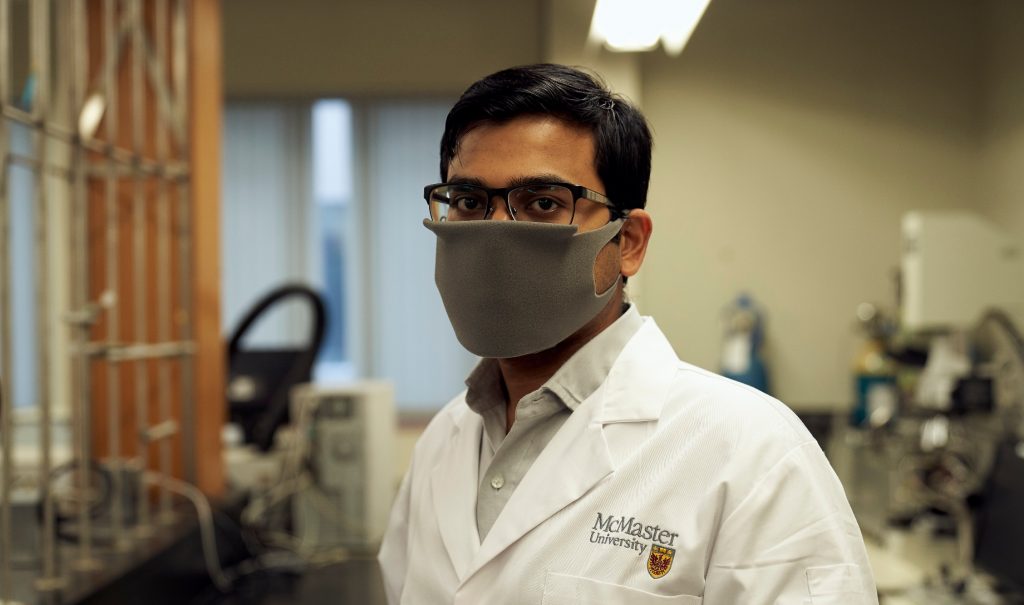 Engineering researcher Rakesh Sahu tries on a Woodbridge mask inside a lab in the John Hodgins Engineering building at McMaster University. Photo by Jin Lee.
---
BY Wade Hemsworth and Michelle Donovan
April 8, 2020
Engineering and medical researchers at McMaster University have been racing to assist Woodbridge Foam Corporation in getting a new made-in-Canada mask designed, tested and certified, as supplies of existing medical masks become less certain.
Woodbridge, primarily a manufacturer of auto parts and materials, has begun manufacturing a new high-filtration mask to supply health-care workers, whose inventories have been dwindling. Premier Doug Ford toured one of the company's manufacturing sites and lauded the project on Tuesday.
McMaster researchers in numerous disciplines are working urgently on COVID-19 projects, including developing tests, treatments and preventions, and improving the availability of personal protective equipment.
Woodbridge, in collaboration with Canada's Automotive Parts Manufacturers' Association, turned to the university two weeks ago for help. McMaster researchers were able to expedite aspects of the design and technology and regulatory certification for the masks, which are an alternative to the masks that are in short supply due to the COVID-19 pandemic.
The company is working with a longstanding Japanese joint-venture partner, INOAC Corp., using Woodbridge foam technology and an INOAC design to make masks in Canada as Woodbridge INOAC Technical Products.
The project aligned well with a program that McMaster's Faculty of Engineering had already started to pivot its research towards COVID-19, including solutions to shortages of personal protective equipment.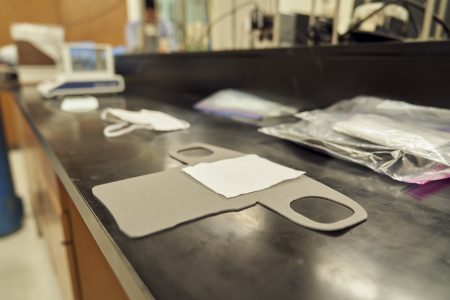 "There is a lot of capacity in our university community, and we immediately started investing in and encouraging innovation," said Dean of Engineering Ishwar Puri. "We are building on connections with industry and health care and our existing culture to move projects immediately from lab to market."
Associate Dean of Engineering John Preston, who is leading the program, quarterbacked the McMaster side of the Woodbridge project, including receiving prototype samples from the company to test for filtration, breathability and comfort.
The Woodbridge project was designated as a priority and the McMaster team was able to turn around results quickly in a time when days and even hours are critical.
"We are enthusiastic to work with Woodbridge to assist in the design and testing of their products," Preston said. "Woodbridge is a recognized company able to pivot quickly, and deliver excellent quality control and reproducibility."
Alison Fox-Robichaud, a professor in the Department of Medicine at McMaster and Director of Medical Education at Hamilton Health Sciences, tested the masks for breathability and comfort in consultation with colleagues at HHS and St. Joseph's Healthcare Hamilton, making design suggestions to improve their viability for use by health-care workers.
"As the worldwide demand for face masks increases, it is essential that the masks provided to health professionals and others at highest risk are of the highest standard," she said.
Fox-Robichaud worked in turn with Ravi Selvaganapathy, Canada Research Chair in Biomicrofluidics and a professor of in McMaster's School of Biomedical Engineering, who tested the filtration capability of prototype materials for the masks, advising the company so it could more quickly earn Health Canada certification permitting use of the masks in health-care settings.
"This is a great opportunity to help in a time of crisis," Selvaganapathy said. "We are so happy to have a chance to play a part in relieving the shortage of masks."
It is anticipated that the masks, which are now certified as Level 3 surgical masks, will soon also be certified as safe for filtering pathogens, after further regulatory testing, which would in turn permit them to be designated as N95.
McMaster is now working to develop internal capacity for testing masks for pathogen filtration to facilitate the rapid development of other materials and products.