McMaster scientists developing a new immunotherapy for ovarian cancer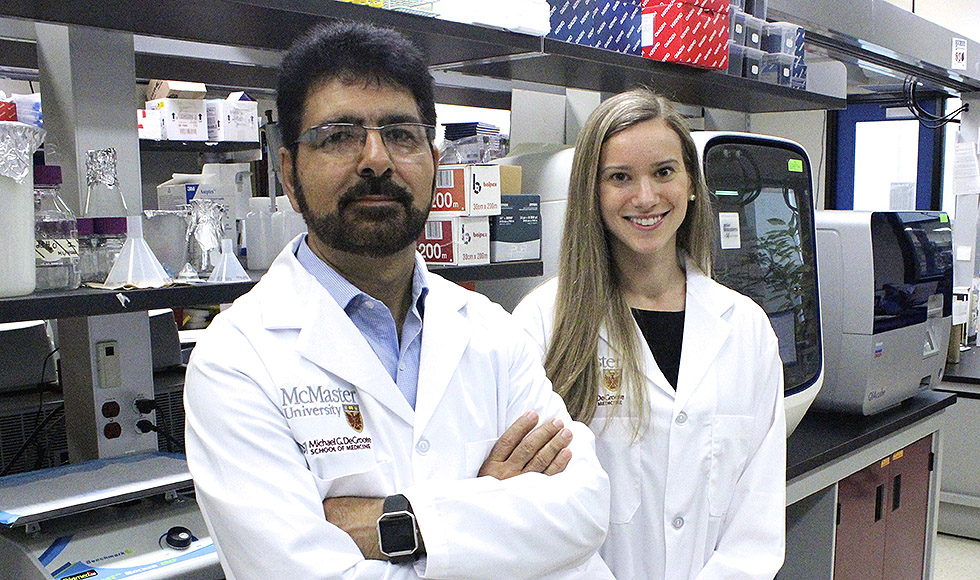 August 10, 2018
McMaster researchers are making advances in discovering how a patient's own immune system may be able to develop immunotherapy treatments for ovarian cancer. Previously, solid tumours have been a hurdle for cancer immunotherapy development because they have strong immunosuppressive qualities.
Natural killer cells, known as NK cells, are part of the body's immune system and have the ability to kill malignant cells without harming healthy cells. These cells are used in developing cancer immunotherapies, particularly for blood cancers.
Now the scientists of McMaster University and Hamilton Health Sciences (HHS) have found success in taking ovarian cancer patients' own natural killer cells and expanding them to activate their antitumor functions. When transferred back into cell and mouse models, the treatment has been successful in reducing the tumor and prolonging survival.
"Ovarian cancer has a poor 5-year survival rate of less than 50 percent. For the majority of ovarian cancer cases, cures remain elusive and new treatment strategies are urgently needed, says Sophie Poznanski, lead author of the study and a PhD student in Dr. Ali Ashkar's lab in the McMaster Immunology Research Centre.
"NK cells play a critical role in protecting the body from cancer, but cancer patient NK cells develop impaired function due to immune suppression by tumours.
"In this study, we converted these immunosuppressed NK cells to highly functional NK cells and found that they maintain strong antitumor function within large suppressive tumours and prolong survival in mouse models by 500 percent," she said.
"These are promising findings that address the hurdles immunotherapies have faced to date against solid tumours."
Ali Ashkar is the senior author on the study and a McMaster professor of pathology and molecular medicine. He said, "This is important progress because ovarian cancer usually develops silently and is not detected until the cancer reaches advanced stages, so we need to be able to tackle the cancer as a tumor.
"NK cell therapy has proven to be safe with minimal side effects in patients with blood cancers. The ability to highly activate NK cells against solid tumors could lead to new and safe treatment options for patients with advanced ovarian cancer and other tumours that currently lack effective therapies."
Dr. Hal Hirte, who is an author of the study, a medical oncologist for HHS and an associate professor of oncology at McMaster, added: "These findings are clinically relevant, and support future clinical investigation to determine whether this approach will provide more effective second line therapy to improve the prognosis of ovarian cancer and other tumors."
The study has been published in the journal Cancer Immunology Research, was funded through a grant from the Juravinski Hospital and Cancer Centre Foundation.