McMaster Seed Fund supports two startups in first round of funding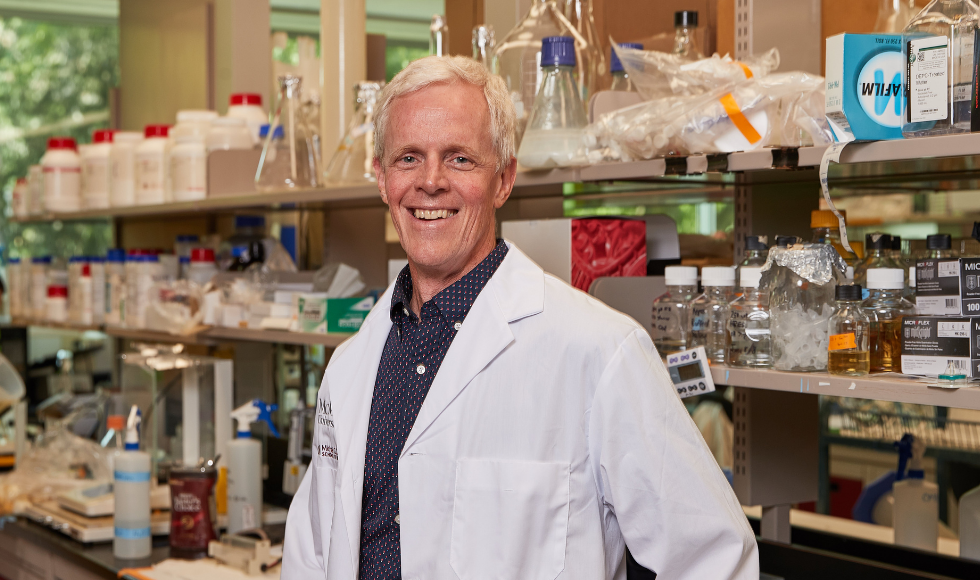 Eric Brown's biotechnology company, Synmedix, is one of two McMaster startups that have received a combined $735,000 to move their innovations closer to reality in the first round of investments of the McMaster Seed Fund. (Georgia Kirkos/ McMaster University)
---
BY Lori Dillon
April 20, 2022
Two McMaster startups — Synmedix and Insight Medbotics — have received a combined $735,000 to move their innovations closer to reality in the first round of investments of the McMaster Seed Fund.
Synmedix — a biotechnology company founded by Eric Brown, Distinguished University Professor of biochemistry and biomedical sciences — received $300,000 to further its novel antibiotic platform. The technology, developed in Brown's lab, enhances the efficacy and spectrum of many antibiotics through the action of bicarbonate and can be broadly applied to antibacterial drug discovery.
The Seed Fund is "an absolute life saver" for Synmedix, says Brown, who's part of the Michael G. DeGroote Institute for Infectious Disease Research and Canada's Global Nexus for Pandemics and Biological Threats.
"It's really game-changing for us," Brown says. "Among other things, it will support the product formulation costs and allow us to move forward to address the medical need for the kind of topical antibiotic that Synmedix is developing."
The company's initial target market is diabetic foot ulcers (DFU), for which there are no effective in-market therapies. Brown says Synmedix will address that therapeutic gap by delivering the first approved topical antibiotic for DFU-related infection care.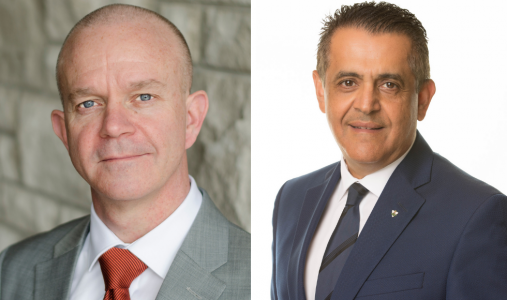 Insight Medbotics Inc (IMI) — a medical devices company co-founded by Mehran Anvari, professor of surgery — received $435,000. The company aims to establish itself as the pre-eminent company in MRI surgical robotic imaging and diagnostics for breast cancer.
Paul Chipperton, CEO and President of IMI, says "crossing the chasm" is a well-known concept in innovation and entrepreneurship and that this investment will help IMI get to the other side.
 "This funding is literally catapulting us across that chasm to a point where we are going to be able to pursue regulatory clearance, which is among the most challenging goals of any medical technology company, and the most valuable inflection point in a company's life," he says.
"We absolutely could not do this without the McMaster Seed Fund money."
Karen Mossman, vice-president, research, says the first call for McMaster's Seed Fund was met with great enthusiasm: 18 proposals were submitted from a variety of disciplines within the faculties of Engineering, Science and Health Sciences; 12 were invited to pitch to the investment committee; and four were invited for additional due diligence.
"The MSF was designed to foster our culture of commercialization and social innovation across the university in an effort to positively impact society and it's certainly living up to its mandate," says Mossman.
"Not only was the quality of proposals excellent, but the external experts, investors and executives on the investment committee were outstanding in sharing their collective knowledge and advice."
Damian Lamb, co-founder and managing director at Genesys Capital, serves on the 11-member investment committee. The Mac grad says he's not only impressed with the commercial potential and breadth of McMaster's research, but also the university's focus on commercialization and its commitment to the Seed Fund.
"McMaster, over the last decade, has made exceptional efforts to develop an ecosystem for commercialization and the Seed Fund is an integral part of that," he says. "Seed funding is fundamentally different than grant funding and is critical to get inventors to their next port of call in bringing their ideas to market."
The Seed Fund and the committee's recommendations focus on helping  companies develop science to make an impact.
"Our goal is to push them down a path of commercialization, to enable them to take their research to the next step where it can impact the lives of patients and of societies at large," he says.
Synmedix and IMI were recommended for funding based on the quality of their teams and the technology, and the potential for this seed investment to enable the companies to complete value-add experiments or validate their market that will best position them for a series A investment, says Gay Yuyitung, executive director of McMaster's Industry Liaison Office (MILO) which manages the Seed Fund.
"The MILO team is fully committed to this initiative and equally keen to play a role in supporting even more start-ups each year," Yuyitung says. "We're excited about the potential of these companies to build and scale in the region and be role models for the next round of applicants."
Yuyitung encourages anyone interested in the next round of MSF — tentatively set for September — to take advantage of MILO's guidance by connecting with Leigh Wilson.