McMaster researchers and industry partners develop new recommendations to combat 'superbugs' in Canada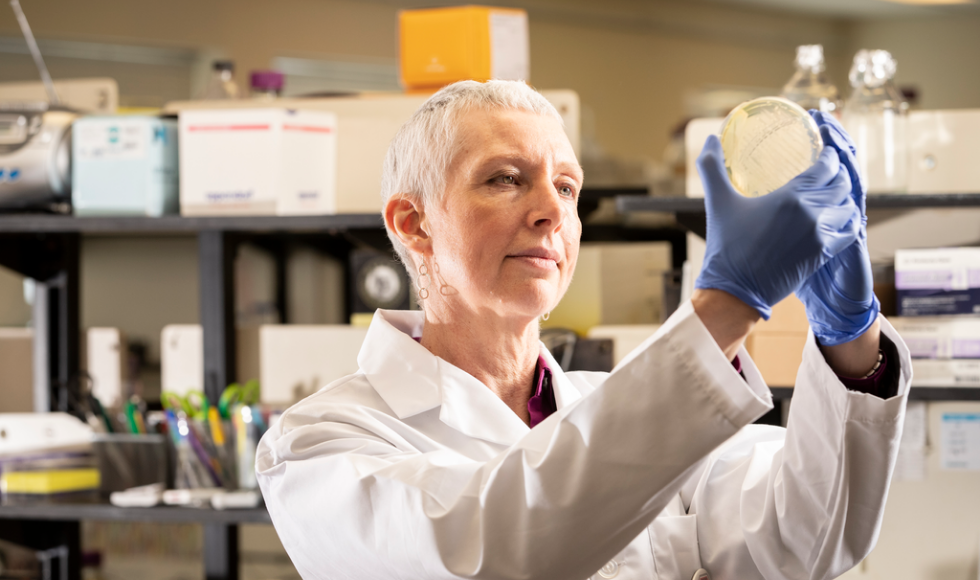 Microbiologist Lori Burrows is leading an interdisciplinary team of McMaster University researchers that have developed a series of recommendations aimed at fighting the growing threat of antimicrobial resistance (AMR) in Canada.
---
February 15, 2022
A new proposal developed by an interdisciplinary team of McMaster University researchers calls upon Canadian public health officials to make necessary changes to how novel antibiotics are approved, procured and accessed in Canada.
Led by Lori Burrows, associate director of the Michael G. DeGroote Institute for Infectious Disease Research (IIDR), this new work is a direct response to the growing threat of antimicrobial resistance (AMR).
AMR occurs when microbes develop ways to protect themselves from the effects of antimicrobial medications, such as antibiotics. These resistant microbes are colloquially known as 'superbugs.'
Today, several novel antibiotics — drugs with efficacy against these superbugs — have been approved for use in other jurisdictions but remain unavailable to Canadian patients.
In fact, new research published in Clinical Infectious Diseases reveals that, of 18 novel antibiotics approved and commercially launched in 14 high-income countries over the past decade, only two have been introduced in Canada — the fewest on the entire list. Meanwhile, other countries like the U.S. have introduced as many as 17 new antibiotics within the same span.
"We believe that this can be rectified through incentivization and regulatory improvements, as other G7 countries are doing," said Burrows.
"But having these newer antibiotics commercially launched here is just part of the equation. Canada must also expand front-line access to these medications through measures related to data, costs, distribution and supply and demand."
Some of the recommendations put forth in this proposal include:
Expediting and streamlining the marketing approval of select priority antibiotics that have already been approved by the EMA in the EU or the FDA in the US
Creating specific funding envelopes to help Canadian hospitals purchase new antibiotics
Establish national forecasts for antibiotics required by Canadian patients, including for those not yet approved here
The proposal also calls upon the Canadian government to encourage pharmaceutical companies to bring their products to the Canadian market through an incentive model that is based on an antibiotic's overall value to the Canadian health-care system, thereby delinking sales volume from pharmaceutical return on investment.
"Part of the reason we're seeing drugs approved elsewhere but not here in Canada is because approval costs are high, our population is relatively small and physicians try to use new antibiotics only as a last resort to reduce the chance of resistance to them developing," Burrows explained.
"These factors make it unlikely that companies will see a return on their investment; however, guaranteeing revenue for manufacturers – similar to what the government did to purchase COVID-19 vaccines – reduces those financial risks and encourages companies to bring these life-saving medications to the Canadian market."
Previous reporting by the Council of Canadian Academies revealed the devastating social and economic consequences of leaving AMR unchecked in Canada. The report, When Antibiotics Fail, shows that 26 per cent of infections in Canada are currently resistant to the drugs used to treat them, but that this rate is expected to rise to 40 per cent by 2050. If these forecasts are accurate, AMR is anticipated to cost nearly 400,000 Canadian lives and $388 billion in GDP losses over the next 30 years. More concerning is the fact that these forecasts were made before the COVID-19 pandemic, which has shown to have exacerbated AMR considerably.
"The COVID-19 pandemic has shown us what life is like when we have an infectious disease for which we have no viable treatments," said Burrows.
"It has also shown us how the federal and provincial governments can coordinate in the face of emerging public health threats. While AMR is a slower-moving pandemic, it is worsening every day. Having more treatment options accessible here in Canada will help slow the development of resistance, saving lives and reducing pressure on our healthcare system in the process."
---
This project was supported by and developed in partnership with the Canadian Antimicrobial Innovation Coalition, a non-profit alliance of industry organizations including Merck, GlaxoSmithKline, Innovative Medicines Canada, and more. 
The full proposal can be read here.